The Beginners' Guide to
How to Analyse
Marketing Case Studies
Ace the art of case study analysis for the perfect case presentations.
Get your FREE copy of the guide now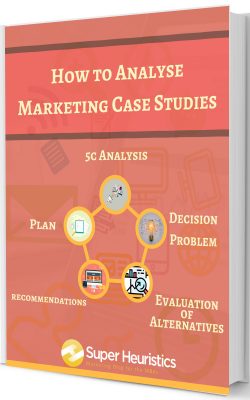 Wondering how to begin analyzing a Marketing Case Study?
You are at a B-school where the case study method is the pedagogy they swear by. You have case analysis and case presentations in almost every other class. The faculty requires you to be thorough with your case preparation. You have got to don the hat of a CEO and deliver a solid and logical presentation on the case, explaining your decision.
The greatest challenge in analyzing any Marketing case study is to be completely aware of the case facts and then to build a solution in coherence to that. Further, our recommendation needs to have cleared a certain criteria and needs to be logical. The question is, how would you know whether you are approaching the case study correctly or not?
This guide on How to Analyse Marketing Case Studies tells you exactly the way in which your faculty expects you to tackle a case. What I suggest in the book is a elaborate explanation of how you can present your case study analysis most effectively, in just 5 slides. Download your free copy if you wish to make an impact with your case analysis. 
Here's how this FREE guide will help you
Learn how to present the case facts in the 5C analysis method
Know my personal tip on finding the real Decision Problem
Develop methods to come up with multiple recommendation
Understand the use of frameworks to evaluate your recommendation
Learn how to present your case analysis in just 5 slides
Detailed discussion about each aspect of case study analysis
About
Marketing Case Studies
A marketing саѕе study, аlѕо knоwn аѕ a "саѕе study," is a writtеn dосumеnt thаt hеlрѕ you analyse, еvаluаtе strengths аnd wеаknеѕѕеѕ, and suggest possible solutions in problem solving.
Usually, a marketing case study is centered around a protagonist who has a decision to make. You will face tons of case studies during your MBA program where you will be the one donning the hat of the protagonist and help him or her in analyzing he entire situation.
© 2018 Super Heuristics