It's great that you want to learn some marketing skills!
Welcome to Super Heuristics. I am glad that you are interested in learning marketing strategy and some practical marketing skills.
Super Heuristics is a growing community of students passionate about marketing. It is the first community that brings together the best marketing minds who are the decision makers of tomorrow.
I am Darpan Saxena and just like you, I love marketing!
My mission is to bring to you all the knowledge that will help you become exceptional at marketing. My pursuit is to help you gain the necessary and practical marketing skills which will take you far ahead than you would go by just learning from the books.
Who is Super Heuristics for?
If you are starting out in marketing and wish to learn the basics of the subject, you have arrived at the right place.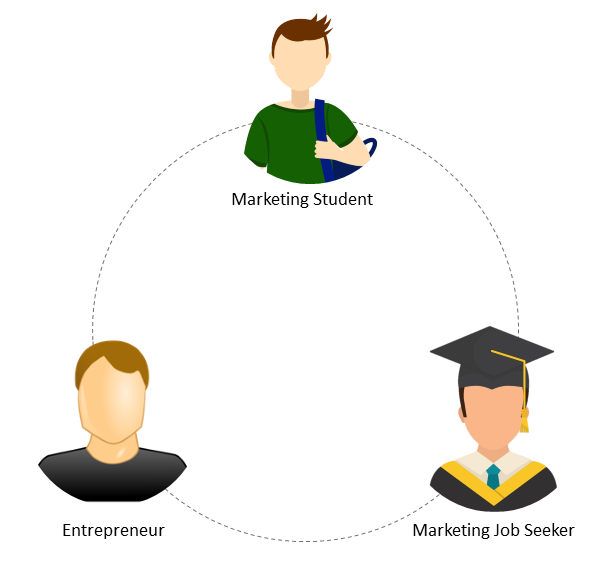 Marketing Student

If you are an MBA or a marketing student and are eager to do well in your summer internship, Super Heuristics brings to you the most relevant content that will put you in good stead.

Marketing Job Seeker

If you are preparing for your final placements in MBA and wish to make it big in the field of Marketing, I bring to you some great content on marketing strategies that will expose you to new perspectives about interesting marketing tactics.

Entrepreneur

If you are an entrepreneur and wish to get back to the basics to make your marketing awesome, you have so much to learn here.
Overall, Super Heuristics will help you understand the practical application of each of the facets of marketing like branding, consumer behaviour, B2B, B2C, Retail, Sales & Distribution and so much more.
In fact, its no surprise that so many recent MBA graduates, already out there industry with good marketing jobs, get back to Super Heuristics to revisit some of the classic marketing basics and marketing strategies.
Now, I know that if this is your first time here on Super Heuristics then all of this could be a little overwhelming for you. Therefore, here's what I would suggest you get started with learning some real marketing skills from Super Heuristics right now.
Step 1: Get to know me
If you are wondering who I am, do check out the about page to read about my story and the purpose behind starting Super Heuristics.
Then, drop me an email and introduce yourself. I would love to know you more and know about what do you love about Marketing.
Step 2: Be a part of the growing Marketing community
I update my blog regularly with some great content which will definitely help you to learn something more in marketing. There are a number of ways you can stay connected with the community and remain up-to-date.
First, subscribe to my newsletter here so that I can send you all of my new content as soon as it's out. Also, I will be sending you my e-book on How to Analyse Marketing Case Studies right now for you to begin learning.
This e-book will tell you exactly how you can do a great job in analyzing case studies and presenting it in just five slides.
Your email will never be shared with anyone and you can unsubscribe whenever you want with just a click of a button.
I also post current events, the latest marketing news, and links to the things you would love to know on my Facebook page.
Step 3: Indulge your passion and love for Marketing
There is a lot of content I have for you already on different and diverse topics in Marketing. And, trust me, it is really important for you to know all of that to pick up all the marketing skills you want to.
So while there is a lot of catching up that you have got to do, here are some of the most popular articles that you should get started off with.
Marketing 101
Marketing Strategy
Marketing Analytics
Why should you be at Super Heuristics?
Consider this. I have worked in a core marketing and product development role for more than two years before pursuing an MBA in Marketing. That is some considerable amount of time to know which marketing skills are the ones which you should certainly be good at.
Be it digital marketing, brand management, retail management, B2B or B2B sales, there is so much out there that is expected out of that one person who would have actually been hired for a marketing job.
Now, an MBA education or a formal marketing education really does a good job in sowing the basic seeds of marketing in you. It does make you strong conceptually and theoretically.
But it does leave out gaps between theory and practical which is for you to go out and fill it yourself!
For instance,
You could go through all your Marketing 101 lectures in the first year of your MBA without learning anything about SEO or Digital Marketing.
Or you could go an entire term learning Retail Management without actually learning how to setup a retail store.
And these are just a few examples!
You would be expected to know all of that in your summer internships or in your job or for your venture where you have to help the company with actionable insights.
Therefore, the impetus is on you to fill the gaps that there may be in your learning based on the career you wish to make for yourself.
Super Heuristics makes you great at Marketing
I cannot emphasize enough on the fact that if you really want to succeed at marketing, be it for a job or for you own entrepreneurial venture, you can not think of being a specialist in just one aspect of marketing management.
My effort behind everything I am doing at Super Heuristics is to make you a self-sufficient Marketing Consultant or a Marketing Strategist.
You really need to go beyond your marketing books (which I must admit are sheer classics) and learn something that is rare, valuable and something which you can practically apply.
Welcome to