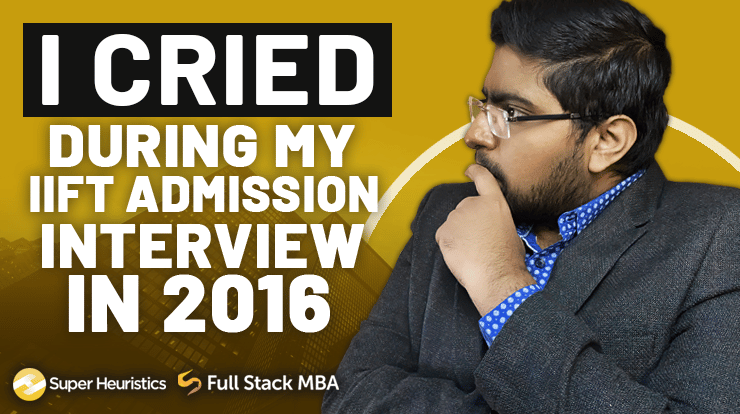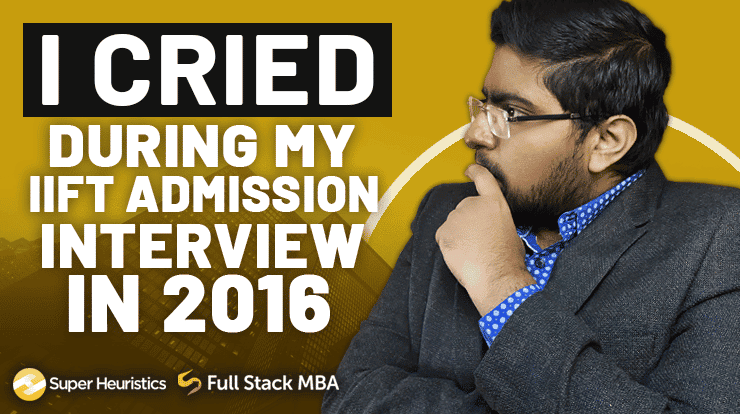 If you are an MBA, you would relate to what I am about to tell you.
It is one of those MBA experiences that I have just silently lived through without mention to anyone.
That's because, I always thought it is embarrassing what happened. And that it is a sign of weakness.
But I also knew that somewhere, each an every MBA aspirant or student has an insecurity of his or her own.
And then I thought that I will share this story with which MBA student or MBA I come across, who I think needs that motivation to do something big in life.
But, before that, let me take a minute to tell you about why am I telling all of this to you.
---
Welcome to my newsletter Full Stack MBA
I welcome you to my newsletter "Full Stack MBA". And this is the first issue of this newsletter that I am releasing today on 1st July 2022.
I have planned starting of a newsletter for MBAs from quite some time.
But it had to begin now because I really have experiences and anecdotes to share with you that will truly help you in your MBA journey.
And with this, each week, every Friday at 8:00 am, you can expect this newsletter to hit your inbox so that I can help you understand how you are so much more than you are.
Why did I name the newsletter 'Full Stack MBA'. I will share this in a later issue.
But, I am sure that from the word Full Stack you can understand that my objective is to remind you that you, within yourself, are 100% complete to take on any career initiative and to succeed in your career.
By the way, if you are excited to receive this newsletter, do send me a reply on this email 
Coming back to what I was telling you about why did I cry during my IIFT admission interview.
---
I cried my way to building a one-person 6-figure per month business after MBA
Back in 2016, during my MBA admission days, I got all the good calls that any MBA aspirant would want to have.
XLRI

IIFT

MDI Gurgaon

IIM Shillong

All New IIMs and

Baby IIMs etc.
And, by the way. This used to happen with me every year.
I was in my third attempt at these MBA entrance exams now, and getting these calls was no longer exciting for me anymore because I knew of my one great problem.
A problem that always used to come in my way in the last 2 years during my admission interviews.
I have had a speech problem since forever, I stammer while I speak.
And back in 2016, it was much worse.
So much so that I used to scribble my answers on a white sheet of paper instead of speaking them out.
And then in my very first interview of the season at IIFT Delhi, the extremely senior lady professor/interviewer said something which was a reality check for me.
The IIFT interviewer asked me, "Darpan, why didn't you apply through the PWD category instead of applying through the General category"
Obviously, she was trying to suggest to me for my own good - because whatever I was trying to speak wasn't making any sense to her.
But that was exactly the time when I really didn't even want to be in the interview.
I lost all composure and had moist eyes already.
A few minutes later, I found a corner in the IIFT Academic building and spent some time thinking about my choice to even consider MBA as a career option.
But, here's what I did
I compensated for my weakness in soft-skills (speech) by gaining and perfecting my hard skills.
I did make it to IIM Udaipur (after clearing a long waitlist). That was my best convert that year.
And right from the first year, I started working on my blog Super Heuristics.
Because, if I can't speak well and express my thoughts then the least I can do is write.
And blogging was just the beginning. It helped me to:
Learn my MBA concepts better

Acquire digital skills by applying it to my blog

Get visibility on the Google search through good SEO

Get freelancing offers from around the world for my marketing skills

And eventually, get job offers from outside the campus even when my placements had not begun
Today, even my stammering is something which is not a hindrance. I create YouTube videos for MBA students, I talk in them - which is something I had never thought I could do.
The bottom line is - you could be having problems and challenges of your own. Keep moving, navigate around them and just keep moving!
---
Secret tip: One big tip to learn your MBA concepts better
I will be sharing with you one tip every week. This one tip is going to make a big impact on your MBA journey, be it in the B-school or outside the B-school.
And let me tell you, most of these tips are actually secrets.
I kind you not.
However, a question that you may have - why do I call it a secret when I am sharing it with thousands of you here?
Well, as I said, that's for the next edition of Full Stack MBA 
But here's what you need to know about this one secret that will help you learn your MBA concepts better.
To learn any skill or concept better in your MBA program, just teach it to your juniors (PGP1s) or to a friend of yours
I can't tell you the amount of impact it can create for you and for the person learning.
Obviously, the person learn it would learn the skills much better. But doing this changes the situation for you.
Not only do you learn the skill or concept better, but as you teach it to someone, you are able to bring together the practical application of that skill or concept as well (because that's how we explain, right? With examples).
I have never seen this method fail, so do try it out :)
---
What do you think?
Let me ask you one thing. And just let your mind freely think about this one. Without any barriers.
If you made it to your dream B-school,

If you did not have a loan to repay on your head,

If you had a 100% chance of succeeding in whatever you do.
Then, what career outcome would you choose after your MBA? What would you want to do after your MBA.
Just send me a reply on this mail. I would be eager to learn your response on this and will also reply to you.
Till next week, enjoy your week and keep working hard!
Follow me on LinkedIn
Found the article interesting? Share it with your friends: