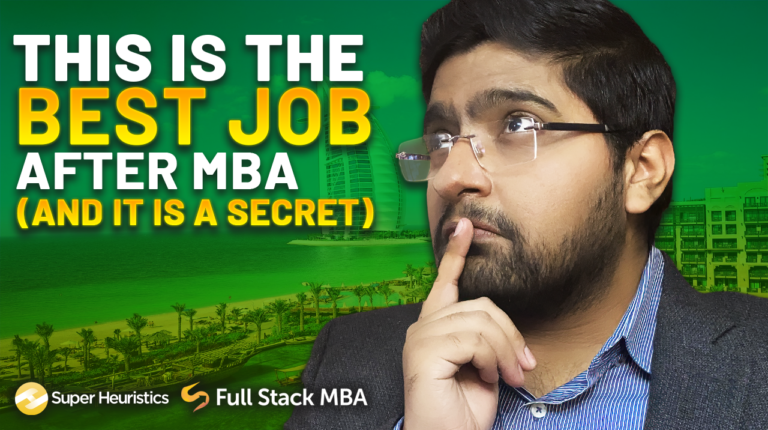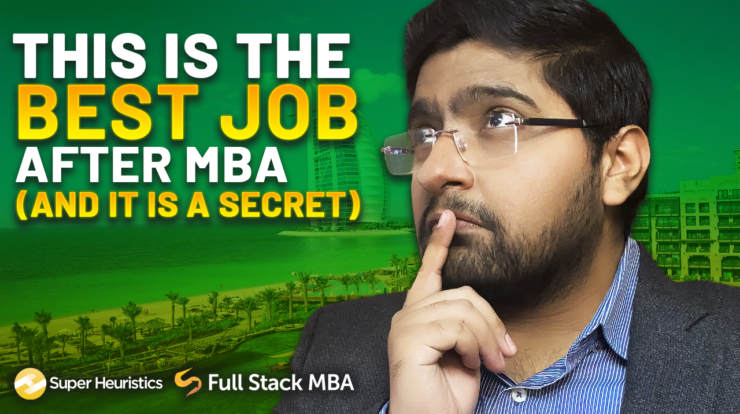 Which job comes to your mind when I say the word "Best Job After MBA"?
Just pause for 5 seconds and think about your answer. No need to note it down anywhere.
There is this particular job after MBA and if you ask any MBA student about it explicitly, they would say it is the best job after MBA.
However, the contradiction about this best job post-MBA is that when I told you to think about what is the best job after MBA, you would not have thought about this job that I am talking about.
I will give you another chance to go at it right now.
And if you find the answer to it, just comment down right now itself.
Here's the hint.
This best job profile after MBA is actually domain agnostic and subject agnostic.
This means if I asked you about the best job after MBA marketing or the best job after MBA finance, the answer is most likely to be the same.
Let me tell you what it is in this week's edition of Full Stack MBA 🙂
But before that, let me tell you something about the job scenario during your MBA and about the placements.
---
👨🏻‍💻 Placements in MBA don't give the best jobs and how being a Full Stack MBA saves you from it
Now, before I even tell you what the best job after MBA is, let me ask you one simple question that will form or change your mindset forever.
Do you think the jobs in MBA placements are the best jobs that you can get as an MBA student?
I will ask you this question again at the end of this conversation so just remember what your answer was.
To help you understand what the reality of MBA placements is, let me tell you something about the nature of MBA placements.
1. Firstly, MBA placements are a zero-sum game
A zero-sum game is where if one person or a group of people wins, then everyone else loses. If you begin to think, that your MBA placements are just like that.
Let's assume, that one of the most coveted jobs in Marketing is at HUL. This company also comes to your campus and HUL has always been your dream job.
You prepared for it judiciously throughout the year.
HUL, let's assume, had budgeted that they will hire not more than two people from your campus.
And unfortunately, you don't turn out to be one of those two people who they pick.
Suddenly, what has happened here is that your aspiration of being at a top FMCG company like HUL gets crushed.
I have had similar 'dream company' aspirations during my MBA and for various reasons, I couldn't fulfill them.
And I know what it feels like, you feel you have lost out in this race.
That, my friend, is an example of a zero-sum game.
2. Secondly, MBA placement jobs are not ALL the jobs and also maybe not the best in the market
I believe this is going to be much easier to understand.
The companies that come to your campus are not the only companies that have job opportunities in your desired field
Also, the companies that do come may not even be the best companies/jobs that you can get
The worst thing here is that the lower the perceived rank of your B-school, the more worrying this situation becomes.
Here's how.
Suppose, you are at an MBA college where your dream company or your dream job role doesn't even come.
Are you saying that just because you couldn't make it to your dream B-school, you will now also forgo your dream career?
I don't think so.
Further, suppose that even if you were at your dream B-school where your dream job roles do come, what are the chances that the company will surely shortlist you in those (say) 10 students that they plan to interview.
I have seen CAs with the top quality Finance work experience not get shortlisted for job roles that seemingly were best suited for CAs.
Therefore, if you understand this situation now, you will realize that when you are focusing on the placements, you are focusing on something which is unreliable (at a micro level).
It also means that you are focusing on something which isn't a standardized process which means it can throw you in any direction, any job role, and any company and then it's your responsibility to live that life given to you.
---
🤫 Secret tip for MBAs: Start to target this best job after MBA
From all that I told you above, you can simply understand that you can call a 'job' the 'best job' only when you have evaluated all the other options for yourself.
What are the other options that an MBA student like you may have?
All the options in front of you could be:
On-campus placements
Off-campus placements
Freelancing/Global consulting
Starting up a business/Entrepreneurship
And just when you thought that it will require you to make effort in each of those four directions for you to get those 4 outcomes - let me tell you that's not true.
The fact is - you can get all of those four career outcomes by focusing on just one thing - that is your Personal Brand.
Let me tell you that the best job that you can ever imagine having after your MBA is that of "building your personal brand".
This is the secret.
This is a secret that if MBA students can understand right now, they can change their lives and careers forever.
You need to know why Personal Branding is the best job after MBA.
The answer is simple, the upside of building a personal brand is limitless.
As your personal brand grows, which means that as your social currency grows, you can get whichever outcomes you want.
Do you want to get a job? It will become easiest to convince your interviewer that you are a great fit because you are already a personal brand or an expert in that field.
Do you want that off-campus job? You might not even require to go through a formal interview! Your personal brand and connections will make you reach there.
Do you want to become a global consultant and work on your own terms? Getting those freelancing assignments will become easier than ever because they see you as an expert in that field
Do you want to build a startup for yourself? Your personal brand and the social currency that comes with it can be encashed by selling digital products and making a startup.
And for you to do all of this the only thing that you have to do is choose your target field, build your personal branding assets, produce content on them consistently, and do outreach to relevant people in the community.
I know I packed too much information in that one short paragraph above.
That's because I don't want you to worry about the "how" right now. I want you to get mentally programmed to get understand the "why".
And frankly, in this interaction, my objective was to only tell you about the "what" and the "why".
That is, what is the best job after MBA and why is it the best job after MBA.
---
💊 Action Pill: 'Back-hacking' the placements, continued
I have mentioned it in various other posts of mine to you - I have developed an exercise for you called back hacking the placements.
You must watch this video in which you will understand what it is.
This will help you understand what should be your target industry and what are the skills that you require for it to build your personal brand.
Please watch the video and today itself let me know what skills have you discovered that you will target.
This is a powerful exercise, please do it properly.
---
🙋 Comment down: Why do you want to do personal branding?
Do you think the jobs in MBA placements are the best jobs that you can get as an MBA student?
What do you think why should you do Personal branding?
I am eager to hear from you that how can personal branding give you growth in your career.
Do comment and let me know 🙂
Found the article interesting? Share it with your friends: