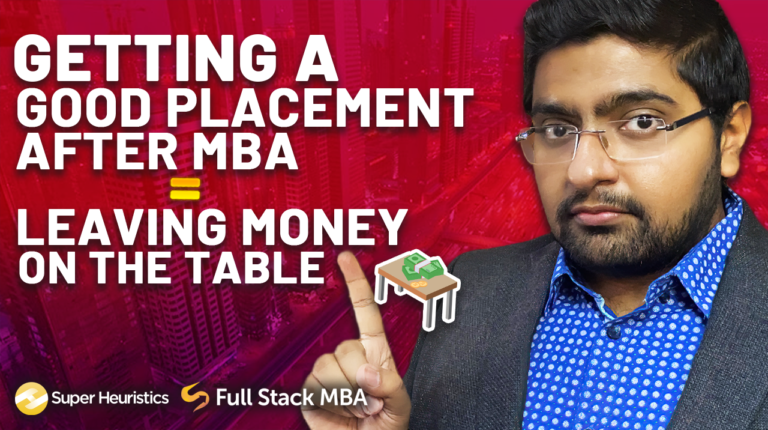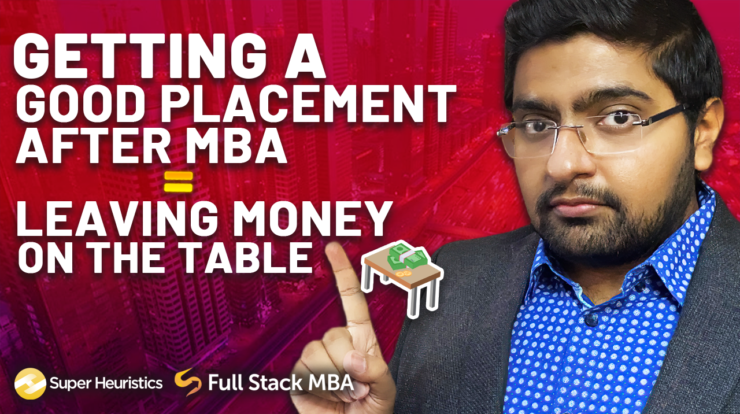 Getting the 'best placement' from your B-school might not be the best career outcome for you.
In fact, let me tell you this and I can say this from my experience.
If you were to think of your placements to be the best (irrespective of which B-school you are in) then you are leaving lakhs of rupees on the table, unclaimed, each month.
This simply means, you could have earned so much more but you chose to pick something much smaller.
I don't intend you to get money-minded here and I do not at all want you to feel dissatisfied with your placements and the salary.
That's because frankly, it's not even about the money.
It's about what you think is the 'best' placement after MBA might not even be best in terms of the mental peace, general satisfaction, and the quality of life that it gives you.
This is what I discuss with you today.
But before that, you need to understand some context here. The context of being of a Full Stack MBA.
So here it is.
---
Full-Stack MBA = A Super-Successful MBA
I have shared with you already what it means to be Full-Stack. It is about being self-sufficient.
When I say being self-sufficient, most people think that I am suggesting they become loners.
Or that being a self-sufficient person is like being the opposite of a team player or it is like being an individual contributor.
It is not.
Being Full-Stack is about having no to minimum gaps in the knowledge and skillsets required for your work.
Full-Stack is about being a T-shaped marketer who knows enough about everything and in-depth about one thing.
Now, if you have understood this, this in fact means exactly the opposite of what you thought going Full-Stack is all about.
That's because now when you become Full-Stack, not only will you be a better team player - because you understand various dynamics and aspects of work better.
But also, you will emerge as a better leader - who, again, has an understanding of what it takes to make things happen.
And now that you understand what a Full-Stack MBA is, let me tell you why your placements might not be the best outcomes in the larger scheme of things.
---
Secret tip for MBA: You get the 'best' placement after MBA by NOT chasing the 'best' placement
I always mention it to MBA students. There are always four outcomes possible from your MBA journey.
And those four outcomes are:
On-campus placements
Off-campus placements
Freelancing/Global consulting
Starting up a business
With that being said, my question to you is - how can you call on-campus placements the 'best' career outcome for you when you haven't even evaluated the other options?
That in itself is a good point to start and it suggests the assumption that whatever placement we will get after our MBA is the best outcome we could have had, is pretty weak.
That was point one.
Further, here's point two.
Now let me tell you about the case that if you are someone who has decided that placements are what you want to go after.
For you to get the 'best' placement you need to get ahead of a significant amount of competition.
This means that you need to have the right skill sets and the mindset for that job role and you should clearly stand apart from others in your batch.
The question is what are some of the scenarios that can give you the skills required for the best placement and can also make you unique.
Let's see a few scenarios:
1. You want a Digital Marketing role at a company. You start a blog for yourself. While other batchmates are only taking online courses on Digital Marketing, you are also applying those concepts on your blog (which is now like your experiments lab) and, therefore, you have results to show in your interview.
Suddenly, you are no longer an 'MBA student' but a practitioner who has practical knowledge of the skill.
2. You want a Product Management job role. You start creating content around Product Management, either on your blog or on your YouTube channel. You also start creating content around the exact skillset that your dream company requires.
Now, when you walk into their interview, you are seen as a thought leader who has a body of work and has done in-depth research into the job role requirements.
Now, if you see in both of these scenarios, for you to crack that job with ease, for you to become unique - you had to do much more than just prepare for that job interview.
You, effectively, had to turn into an entrepreneur-like person who starts a side-hustle (a blog) where you create, publish, and share content to build your strong brand in that particular field.
And once you become an entrepreneur like that, you can earn money from this side-project as well that you had created.
Which means you will not be leaving these lakhs or rupees which you could have earned just by preparing for your placements.
Just imagine how easy it would become for you to be able to crack the interview for such a job role where you have developed deep expertise with deliberate effort.
That is why I say, you get the 'best' placement after MBA by NOT chasing the 'best' placement.
---
Action Pill: 'Back-hacking' the placements
Now that you have understood a method to understand how to go about getting the best placements, you first need to get clarity about which job role you are targeting.
For that sake, I have developed a special method for you which is like a hack
Just by using this method and filling it with your own aspirations, you will be able to discover which job roles should you target for your MBA placements.
Therefore, just go ahead and watch this video in which I explain to you how to do this process of back-hacking the placements
And complete this exercise this weekend so that you get the exact clarity that you need.
---
Comment down: What's your dream role?
I would be eager to know that after completing the back-hacking sheet that I mentioned above, what job role were you able to finalize for yourself.
Just comment down to this post and let me know what it is and I would be glad to share my thoughts with you on it.
Talk to you again on Friday, 8:00 am next week!
Found the article interesting? Share it with your friends: