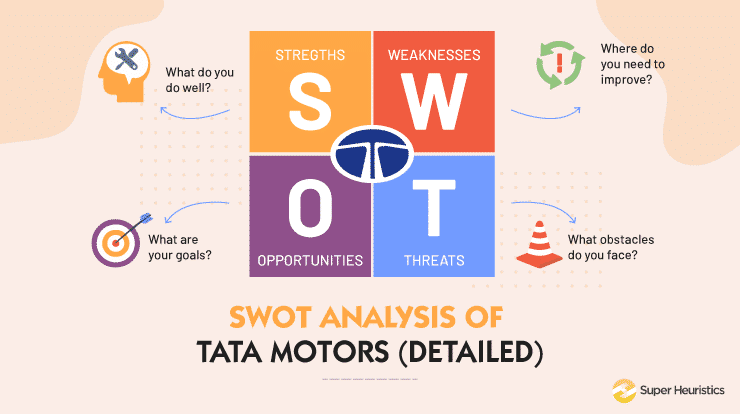 Before getting into the SWOT analysis of the TATA Motors, let us consider one scenario.
Imagine yourself as a manager of a multi-national company, and you are in a position to take a decision to venture into new avenue. What will you do? How will be your thought process?
If I was in that situation, I would have first checked if my company is well equipped to venture into the new avenue by evaluating my company's strengths and weaknesses. Then, look for the forces that I have to fight against or the competition I have to face. Finally, I would have looked for new opportunities.
You might have noticed a pattern in the above thought process. Firstly, I have looked for internal factors that will affect my decision and then, I tried to access the external environment. The framework that explains above thought process in a structured way is called "SWOT Analysis".
SWOT Analysis
Now, let us discuss what is SWOT in a structured way. Acronym of SWOT is Strengths, Weaknesses, Opportunities and Threats. It is process of accessing four major aspects of the company before taking any strategic decision.
---
Strengths
Strengths are nothing but the areas where you are good at. The qualities or the offerings that makes you stand out in the competition. For example: Before launching Jio, Reliance has good market capital and telecom infrastructure. That helped them to capture more market in less time by offering services at lower price.
---
Weakness
Weakness are the areas where there is scope of improvement. The qualities or the offerings that may fire against you in the competitive environment. We can say that Reliance has no experience in Telecom Industry before launching JIO, inexperience can be considered as their weakness. We can find weaknesses if we evaluate our self critically.
---
Opportunities
Opportunities are the external avenues that can help you or that can be explored to gain advantage or bring positive result.
We can make a huge difference if we will be able to utilize these kind of opportunities. Again for Reliance, the high cost of internet services was the opportunity. They took opportunity with both hands and penetrated into market by reducing the prices to minimum.
---
Threats
Threats include the factors that can affect your business negatively. It is important to identify the threats as early as possible to avoid the major losses. We can focus on our competitors when we are accessing the threats in the markets.
Not only competitors but any external political, social and technological factors also constitutes threats. The major threat for reliance can be in retaining their customers, who joined Jio seeing less price if they increase prices in future.
I hope you have understood about the frame work of SWOT, now lets us get into SWOT analysis of TATA motors. Before that let us know about TATA Motors a bit.
Marketing Concepts Mastery Course
Learn the essential marketing concepts. Create the best outcomes from MBA without depending on placements!
Understand BCG Matrix, SWOT Analysis, Ansoff Matrix and many other important marketing frameworks just like an expert MBA professional would. Solidify your concepts while building a personal brand in marketing.
TATA Motors- Company Overview
TATA Motors is one of the biggest automotive manufacturing companies started in 1945 by JRD TATA. It is a subsidiary of TATA Group, the biggest Indian conglomerate. It was earlier called Tata Engineering and Locomotive Company Limited. The main focus of the company was to manufacture locomotives till 1971.
TATA Motors entered into manufacturing passenger vehicles in 1988 and never looked back.
TATA Motors Subsidiaries
TATA Motors is known for mergers and acquisitions. Who can forget the inspiring story of TATA Motors and Ford? TATA Motors has many subsidiaries like Jaguar cars, Jaguar Land Rover, TATA Daewoo, etc. TATA motors is known for its one of Brittan brands' landmark acquisitions like Jaguar Land Rover in 2008.
TATA Motors is always known for its innovation and ambitious projects like India's first fully indigenous vehicle Indica, the cheapest passenger vehicle, TATA Nano, and recently released Tiago, Hexa, etc.
Competitors of TATA Motors
Even though TATA hold major share in the Auto market in India, there experience high competition from Mahindra & Mahindra, Maruthi Suzuki, Ashok Leyland, Bajaj Auto Etc.
The information of market capitalization, net profit and market capitalization with the competitors will be useful for us to understand competition.
Auto Industry is going through a rough phase for the last few years due to demonetization, economic slowdown, the latest corona pandemic, etc. Let us look into the SWOT Analysis of TATA Motors.
Firstly, let us talk about "Strengths of Tata Motors "in the Swot analysis of TATA Motors.
Strengths of TATA Motors
Brand Loyalty
TATA is regarded as one of the country's trusted brands for a century and has its presence worldwide. This is one of the competitive advantages for TATA Motors.
Acquisition Strategies
Mergers and acquisitions, if adequately implemented, increase the profits due to the synergy effect. TATA Motors has the most significant history of acquiring Jaguar Land Rover, Daewoo, Hispano, etc., and making profits from those acquisitions.
Strong Management team
MR. Guenter Butschek, the former COO of Airbus, heads Tata Motors and has a strong leadership team consisting of stalwarts like MR. N. Chandrashekaran, M. O. P Bhatt, etc., is the biggest asset in the tough times. TATA motors have reached 52-week record high share price and gain a quarter on quarter profits from the last three quarters after recovering from its poor performance from the previous five years.
Established distribution and service Network
TATA motors have a distributed service network across the country, with over 1600 workshops covering 90% of our country's districts. This established distribution network also helps in having a competitive advantage which helps in market penetration.
Now, let us talk about "Weaknesses of Tata Motors "in the Swot analysis of TATA Motors.
Weaknesses of TATA Motors
Increase in Operation cost and reduced profits
Even though the acquisition of Jaguar and Landover was successful for the initial few years. It made the company more dependent on this subsidiary for its overall performance. This is decreasing the overall sales and profits of the company from last five years.
Unsuccessful in finding a foothold in Luxury Segment
TATA Motors is still struggling to obtain its foothold in the luxury market, where the profit margins are more. The brand is yet viewed as best for its low-cost vehicles.
Limited Presence compared to International Moto Manufacturers
TATA motors have a limited presence across the world than international competitors like Toyota, Honda, Volkswagen, etc.
If we talk about, "opportunities of Tata Motors ", in the Swot analysis of TATA Motors, then we get the below points.
Opportunities of TATA Motors
TATA NANO
Even though TATA NANO was not a great success in our country and got shut down in 2018, they can implement this model in third world countries and see the feasibility.
Shift focus in developing luxury car brands
TATA Motors is known for its low-cost cars. As they have acquired a good number of subsidiaries in last decade. They should take the leverage in developing.
Low credit rate
Due to the economic slowdown, the government has slashed credit rates and has not increased them for at least two years. TATA Motors can use this as an advantage for market penetration by raising credit from the market to increase production
Increasing the cost of Research and Development
TATA Motors products are seen as traditional models, though they tried to diversify to meet millennials' needs. Though the company is spending more than the industry average on Research and development, it is comparatively low with big players in the industry. This might open new avenues for the company.
Finally, let us talk about "Threats of Tata Motors" in the Swot analysis of TATA Motors.
Case Analysis Blueprint Course

Use marketing frameworks like these to solve business case studies with ease
Frameworks like the SWOT Analysis are extremely crucial to analyze the most complex case studies. Get to know how to analyze a marketing case study comprehensively in just 5 slides. Which means that the next time you need to analyze a case, you know exactly how to ace the case
Threats of TATA Motors
Uncertainty in fuel price hikes
The fuel price is continuously varying from low to high nearly from last year. The OPAC countries try to reduce the production due to the Covid pandemic and constant truffle between Russia and OPAC countries. This uncertainty might create a negative impact on buying decisions of the buyer.
Increase Tax on Fuel Consumed
The central and state governments have been increasing their tax rates for the last years through the fuel oil price per barrel decreases. The cost of petrol nearly reached 100/litre. The increase in petrol prices impacts negatively on the sales of the automotive industry.
Rivalry
The automotive industry is the oldest in our country. Big brands like Maruti, Mahindra & Mahindra, Hero, and Bajaj Auto are both experienced in the industry and innovative in their solutions. This stiff competition is always a threat for TATA Motors.
Basel -VI Norms
The government's decision to introduce Basel -VI norms from Basel- IV is creating confusion in users' minds over the purchase decision from the last year. To make the vehicles compliant with new standards, automakers have to move to new technology. This increases the cost of production and decreases the profit margin for players across the Auto industry.
Overall Analysis
Overall, from the SWOT Analysis of TATA Motors, we can say that it is a company with tremendous potential led by one of the country's best management minds under TATA Group's shadow.
It should focus more on improving profits that were stagnant for the last five years and finding its foothold in the Luxury car market.
Found the article interesting? Share it with your friends: