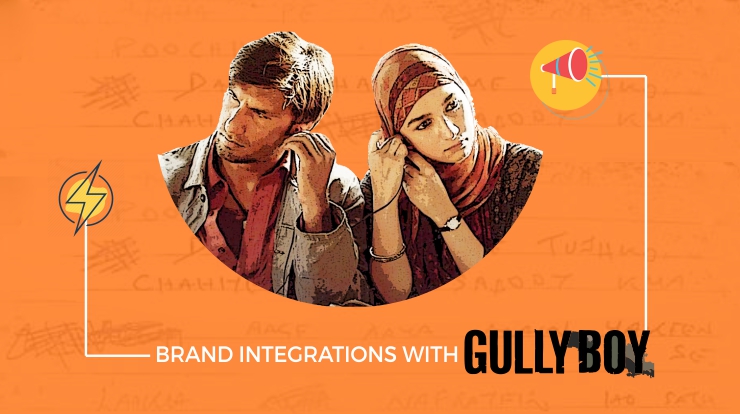 Ranveer Singh and Alia Bhat starrer Gully Boy released on this Valentine's Day and I went to watch it the first day.
While the movie talks about authentic underground rap scene in India and how poetry functions as the conscious of Mumbai's socio-economic fabric, the movie also highlights the various challenges faced and experienced by the disenfranchised youth in the country.
While Gully Boy was is a product of amazing acting, authentic street music, progressive direction, and some insightful screenplay and script writing, Gully Boy in-film branding has taken product placement in films and using brands and products in film at a completely new level.
As an MBA or a marketer, you can take notes on how in-film branding can be so smooth. Because a successful brand integration isn't the one that stands out loud but one which the customers subconsciously register.
Here some examples of Gully Boy in-film branding and co-marketing wherein brands and products have utilized the movie as a platform to promote its brands and products.
[cmtoc_table_of_contents]
1. Truecaller
The scriptwriters of the movie have smartly utilized the product placement in films by organically stemming Truecaller within the movie.
Gully Boy is a reflection of the society and reflects what the common man does in a situation.
So, what do you do when you need to identify an unknown number?
Is'nt it obvious; you use the Truecaller app.
You would recall the scene in Gully Boy when Alia Bhat uses the Truecaller app to find out who is calling her boyfriend, played by Ranveer Singh.
Here is that scene.
The filmmakers subtly used the reference of the Truecaller app, and this can be referred to as the best example of using brands and products in films.
This brand integration was so smooth and perfectly placed that I didn't even realize that it was a branded spot.
Also Read: Sex in Advertising and why it is time to Shake It Up!
2. Bira Beer
The makers of Gully Boy treated its target audience with a music launch on 24th January 2019 as a co-marketing event with Bira.
The music launch of Gully Boy was almost a live-concert with a performance by Ranveer Singh, Divine, Rishi Rich and many other artists who have contributed to the soundtrack of Gully Boy.
Also, Bira was smartly placed in the movie in many scenes with Bira being the preferred choice of beer of the stars of the movie and who can forget the scene where Alia Bhat smashes a Bira beer bottle on the head of a girl flirting with Ranveer Singh.
The product placement of Bira is one of the finest examples of Gully Boy in-film branding.
While television, print and radio advertisement of alcohol and liquor products is banned in India, in-film branding is not covered under existing advertising framework of the existing legal framework, making product placement in films an excellent method for Bira to market and advertise its products and reach out to its target audience.
3. Google Maps
The Gully Boy Music launch adopted a unique co-marketing strategy with Google Maps.
The marketing team of Gully Boy understood a massive graffiti campaign across many cities all over India.
The makers gave fans an opportunity to be a part of the Gully Boy music launch event wherein the users of Google Maps needed to type "Apna Time Aayega", which would lead them to the nearest graffiti in their locations.
These fans were required to click a selfie with the graffiti and share it the makers of the film, and they would get an opportunity to be part of the Gully Boy music launch event or win Gully Boy merchandise.
4. Torex Cough Syrup
Torex cough syrup has launched its television commercial using video clips of Ranveer Singh rapping a verse from "Apna Time Aayega".
Ranveer Singh was later seen in hip-hop style street clothes saying that an artist's voice is very important for them, especially for a rapper, who need to rap or spin words while rapping.
Also Read: But really, what is Marketing?
Using Torex cough syrup is an excellent method of using brands and products in films. Not only the product place fits perfectly as in arsenal of a freestyle rapper, but it also makes an uncool product like a cough syrup appear much cooler and appealing to the masses.
5. Zomato
One of the biggest food delivery app in India, Zomato has also launched its co-marketing television commercial with Gully Boy.
The commercial starts with Ranveer Singh rapping "Apna Time Aayega" which changes frames with Ranveer Singh comparing the speed of Zomato's food delivery to his speed of rapping.
Zomato has also positioned itself as a food delivery service which reaches every nook and corner of the cities it operates with Ranveer Singh ending the advertisement saying that Zomato delivers foods in every 'gully', making Zomato's television commercial one of the best recent product placement in films.
6. JBL
JBL's partnership with Gully Boy shows how JBL is using brands and products in the film. Ranveer Singh is seen sporting JBL headphones and speakers in many frames of Gully Boy.
JBL's products have a natural integration with the Gully Boy in-film branding strategies as over-the-head headphones are the preferred choice of rappers and artist all over the world.
Also, this partnership and co-marketing of JBL with Gully Boy is an opportunity for the brand to position itself as the Beats of India. Beats by Dr. Dre is the preferred brand of headphones and speakers of rap artist and musicians in the United States.
Also Read: How to market and sell condoms or anything taboo
Lessons to take from Gully Boy in-film branding
In-film branding is not a new marketing strategy with movies such as Sultan, Dabang, Aashiqui 2, Bodyguard, Krrish, and many more movies have promoted many brands by using brands and products in the film.
The success of in-film branding depends on the film selection, proper integration with the script, effective usage as per the context and avoiding overdosing branding. Gully Boy in-film branding strategies have maintained the perfect balance in entertaining its audience while offering a platform for several brands to promote their brands and products.
Truecaller, Zomato, KFC, Adidas Originals, JBL, Bira Beer, Torex cough syrup, OlaCabs, Hike Messenger, Snapchat, Sunsilk, Durex Condoms and many other brands which have opted for Gully Boy in-film branding and co-marketing strategies have ensured 'ki Apna Time Aayega'
Found the article interesting? Share it with your friends: