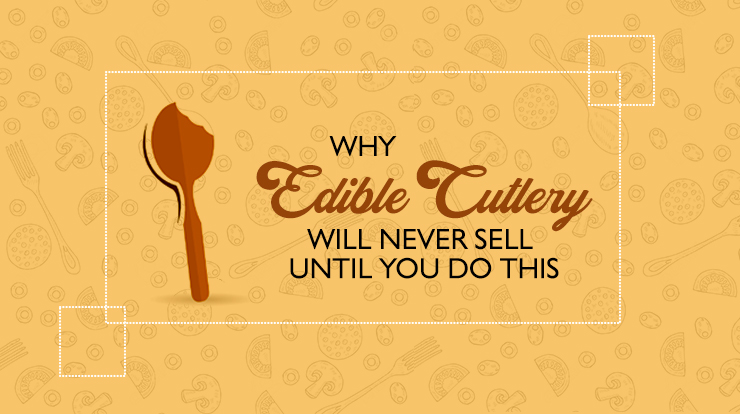 "You don't need a silver fork to eat good food" But I say, you don't even need food now if all of you have is this fork.
Breaking the norms of conventionalism in products, edible cutlery has made its way in. It not only serves you and your stomach now but also full fills our environmental purposes.
I write this post for a reason. One of the first-year students at my B-school got in touch with me a few weeks back. He and his team were working on a project to create a marketing strategy for edible cutlery.
It struck me just then that it is weird how good products don't really do well.
With the never-ending debris in the Pacific Ocean, we must realize that inventions like this are the need of the hour.
But what is it that in spite of being an exceptionally smart product it is still not reaching its full zest when it comes to sales?
Why is it that a large chunk of its target market still finds it irrelevant?
What's wrong with edible cutlery?
Let's be honest! We all have purchased few products that were completely irrelevant to us and were of no use. May I ask why?
Well, maybe you believed the charismatic story the narrator narrated to you. And by the narrator I mean is the marketing team. Why is so that they have always been SO convincing?
Well, Marketing strategies are those weapons that if used right can even sell a comb to a bald guy! (we shall debate the ethics behind that some other time).
Then why is it that this amazing product that edible cutlery is hasn't reached its potential yet, in terms of sales and marketing?
There could be many reasons that a product doesn't do quite well when it comes to their sales, especially when we know that nearly 35% of the new products fail every year.
And usually, the solution to their problems is within the 4P's of marketing.
The first place to look into in case of a failed or a failing product is in the product itself. There are quite good chances that the product is not customer centric or of good quality.
Or it is an overkill, of a complex nature for masses to understand etc. This was the case of Nestle's Milkmaid in the early days of its launch. Initially positioned as a milk substitute for tea and coffee, nobody in India could make sense out of how to use condensed milk in tea.
But these reasons don't seem to fit in case of edible cutlery. What else could it be?
Targeting the wrong audience?
Improper Positioning?
Unfitting promotions and pricing?
Here's what's wrong with edible cutlery
The answer to why edible cutlery hasn't been able to pick up as a revolutionary environmentally friendly product might be in this super-interesting book of Seth Godin- "All Marketers tell stories".
The reason that edible cutlery is not doing well is two-pronged. One, that it has failed to tell the customers a story that would evoke some strong emotion in them. And two, it has simply failed to understand the consumer behavior of its sophisticated and up-market customers.
The junior who's marketing project I mentioned at the beginning told me about what he and his teammates thought about the challenges. He seemed certain that price is the greatest roadblock in the success of edible cutlery.
Well, I can tell you without a doubt that it's not.
1. The Positioning Problem
Edible cutlery has been around on the sidelines, waiting to get mainstream, for so long now that I am sure the prices would have been brought down to compete with other types of cutlery. And when you've already done a great deal of deliberation on the pricing and there seems to be no way of bringing it further down without eroding your profit – the thing you need to focus on is 'value'.
Are you justifying the extra value that edible spoon provides to the customer? As Seth Godin says in this awesome book of his, are you telling a good story around the product?
In a scenario where Global warming is at its peak and pollution is never ending then buying edible cutlery will not seem like an irrational decision, will it? To some, it will, but to the ones who care about the environment, it will not. It will make complete sense to them.
Here's the bit on positioning, the first problem that I mentioned. You have got to find the early adopters, the ones who sway the 'Go Organic' and 'Go green' way, and tell them this story about how this product is amazing.
About how it will make them feel like a savior if they use it instead of the plastic spoons.
2. The Consumer Behaviour Problem
We as consumers are used to getting things our way, how can I eat the served and the serving both? Rational thoughts won't allow you to buy the concept of eating your own cutlery.
Because eating your cutlery, something in which or with which you have just had food, comes in the way of the usual consumer behavior.
If only we could find a way to make this act of eating your spoon more acceptable and esteem-driven.
But before I convince you that we can, what if I tell you that you already have been doing it?
Do you remember your beloved ice cream cones? The edible ice cream cones are the perfect example of it.
What's next then – take the stick ice-creams and make those sticks edible. With this, you get the person to sample your product while he is already in the act of eating.
3. Bad choice of name?
Now another best thing about these edible cutleries are that they go with absolutely all types of foods and eatables, they are also vegan and completely eco-friendly.
Even if you throw the cutlery after eating your food and don't end up eating the cutlery, then to it is absolutely fine! As unlike the plastic cutleries the edible ones will decompose in no time and will be no harm to the environment.
Therefore, what stops you from calling it 'Organic Cutlery' instead of 'Edible Cutlery'. Who cares if you eat it or not, as long as the product is positioned correctly – pro-environment.
Marketers are often guilty of creativity. And this is another example of that.
Conclusion
The edible cutlery problem is three problems in one. The positioning problem, the consumer behavior problem and the nomenclature problem.
With the right story and apt marketing strategies, this product will reach its skyrocketing sales in no time.
Found the article interesting? Share it with your friends: