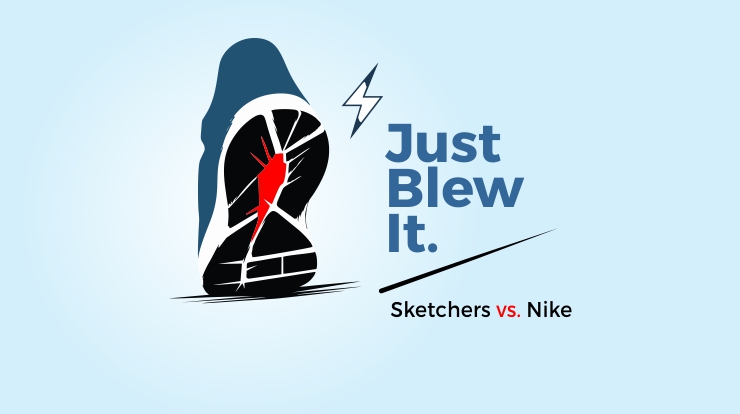 The sports section of the New York Times and other major newspaper publications was filled with large-sized ads wherein Sketchers trolls Nike – "Just Blew It". Sketchers took a shot at Nike, below the belt I would say, by blowing up the Zion Williamson sneaker incident during a recent NCAA basketball game.
For those who do not know about the Zion Williamson sneaker incident, here it is. Zion Williamson is an NBA-draft prospect who tore out his sneakers during an NCAA basketball game, severely injuring himself. The injury can also possibly mean him losing a shot of turning professional and earning himself a professional NBA contract in this year's NBA draft.
Sketchers trolls Nike with a page-wide Ads which reads as "Just Blew It" and "We won't split on you". Puma also took a shot at Nike by posting a tweet, which read, "Wouldn't have happened in the Pumas".
However, Puma was quick to delete this tweet from its Twitter handle. Sketchers took a few shots at Nike with its Just Blew It Campaign, a clever pun on Nike's tagline Just Do it.
While Nike has not released an official comment on the incident, Tiffany Beers, an ex-designer at Nike referred to the incident as a rare case manufacturing issue. Beers further added that such an event can happen and no sneaker company, not even Sketchers can guarantee that this won't happen.
---
What's wrong with Sketchers?
This sort of raised some questions in my head, like what the hell is Sketchers doing?
Sketchers doesn't even manufacture basketball sneakers and do not cater to the NBA or the basketball market. Adidas or Under Armour taking digs at Nike would make some sense.
While these brands choose to maintain some dignity, Sketchers went to making claims which cannot guarantee to say "We won't split on you".
Though many people enjoyed the humour and shared Sketchers ads on social media, many critics blasted Sketchers for pulling this stunt. Firstly, Sketchers failed to realize that Zion Williamson had become the butt of their jokes. He got injured at a promising stage of his basketball career.
Secondly, where are the Sketchers sneakers in the NBA?
It does not look like Sketchers will court new fans with its limited-edition sneakers which will be released in collaboration with its Just Blew It advertisements.
---
Examples of Brands Trolling Each Other
Nonetheless, this got me thinking about how many times have brands taken a dig their rivals in the past?
Here are examples of Brands trolling and taking a dig at their competitors.
---
1. Qatar Airways takes a dig at United Airlines
In October 2017, a video went viral when a United Airlines staff violently dragged and removed a 69-year old passenger from its overbooked flight at the Chicago O'Hare International Airport.
This caused a social media outrage with consumers threatening to boycott United Airlines.
When the airlines failed to make a decent apology and take responsibility for its actions, all hell was let loose.
United Airlines was trolled on social media with the consumers and the competitors taking shots at the airline.
Qatar Airways went a step ahead and took a direct dig at United Airlines. An update on its mobile app, Qatar Airways added a promise that it "Doesn't support drag and drop". Instead of gaining a few laughs, many people considered this move by Qatar Airways as insensitive.
---
2. Amazon India trolls Zomato
Between 2014 and 2015, the food delivery app Zomato had changed its logo multiple times. Generally, it is inadvisable for any growing brand to do so as it can have disastrous consequences and confuse the consumer.
However, in April 2015, Amazon India took note of this and made its own version of the Zomato logo. This logo was identical to Amazon's logo, in terms of font, spacing and the icon arrow pointing from A to Z.
---
3. Hulu's troll on Netflix Backfiring
So we know that every online streaming services offer its customers some form of original or exclusive content which cannot be viewed on any other platform.
In April 2017, Hulu posted a tweet to announce the upcoming seasons of its original content shows. The Tweet read as "Streaming only on Hulu. Not on Netflix. Try your free trial today".
Well, Hulu badly messed up this tweet. It committed the stupidest mistake of using show list which is also streamed on Netflix.
In hindsight, it should have uploaded a picture of its original content show list reel. Netflix reacted by trolling back at Hulu and replying to Hulu's tweet, "Welcome to your tape", a clever dig at Hulu for using Netflix's cover.
---
4. Carlsberg taking a dig at Protein World's Body Shaming Ad
Protein World, a health supplement brand created a social media uproar with its "Area you beach body ready yet" advertisement campaigns.
This print campaign featured a fitness model in a bikini and was posted on the London Metro. This ad was condemned by people as being offensive and encouraging body shaming.
Carlsberg, known for its witty advertisements, could not sit back and took a dig at Protein World Ads with its own unique and witty ad campaign.
Carlsberg had placed its print ads right beside the print ads of Protein World, and its marketing message was, "Are you Beer Body ready"?
---
5. Aeromexico Trolling Trump's border wall along the US-Mexico Border
I am deliberately going off topic here but, no article on troll ads is complete without mentioning my all-time favourite troll advertisement. Aeromexico, an airline from Mexico, took a significant dig at US President Donald Trump and his supporters with a smart DNA Discount advertisement.
This ad went viral on social media in early 2019. Though the brand did not diss its competitor, it took a diss at a topic close to my heart, racism and discrimination.
So we all know that Donald Trump is quite something, wants to build a wall around the US-Mexico border. Aeromexico trolled Trump and his supporters, mainly the rednecks who openly showcase their displeasure against Mexicans.
So according to this advertisement, fliers will be offered discounted flights based upon the percentage of Mexican genes their DNA has. So if my DNA report says I am 30% Mexican, I get a 30% discount on my air tickets to any destination in Mexico flying Aeromexico.
This 5-minute video goes about asking Americans from different parts of the country why don't they consider Mexico a place they would want to travel.
It also asks whether they would like to fly to Mexico if offered a discount based on their DNA results. Most people responded with a Yes.
Now let's get to the best part about the Ad, the most racist people featured in the ad, mainly the rednecks from Texas shared a high percentage of Mexican gene within their DNA.
I have no idea about the performance of this ad campaign in terms of gaining more passengers and increasing revenues from the United States, but it sure did create a buzz on social media.
It also raised questions and debate about racism and Trump's Mexican border policies. After all, how can someone be a racist, hate Mexican and have Mexican DNA? This is probably the best Political digs I have ever seen a brand indulging in.
---
To Conclude
Brands have always tried to capitalized controversies, mistakes and blunders of their competitors with a dose of prompt Troll advertising. With the growth of social media, troll advertising is probably the best ways for brands to get noticed.
However, troll advertisements can backfire, if done incorrectly and an insensitive manner. Nonetheless, Sketchers would have been better off taking a back seat instead of getting trolled back by consumers. I guess, Sketchers Just Blew It.
Found the article interesting? Share it with your friends: