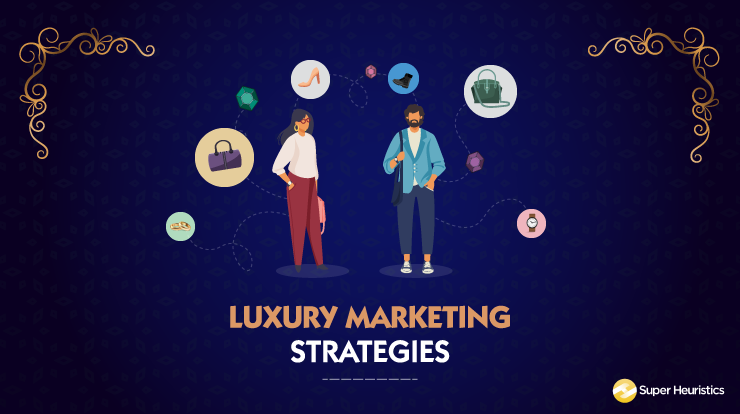 "Luxury brands don't sell products, they sell dreams…" -CMO, Cadillac. You might have heard about luxury products. You might have even dreamt of owning them. But right now, you are stuck with this academic project that needs you to strategize marketing luxury products. Enter luxury marketing!
Let us understand the concept of luxury marketing and how marketing luxury products is different from your regular products.
What is Luxury marketing?
In simple terms, "the marketing of luxury products is luxury marketing", and luxury products are those which are desirable, unique and help in building the social rapport of the consumer.
However, the real question is what makes luxury marketing so different from everyday consumer goods' marketing.
Characteristics of luxury products
Luxury products always stand-out, and one prominent feature of all luxury products is that they also make you stand-out. How do they do that? What are some main characteristics of luxury products that make them a symbol of social status?
To understand the nuances of marketing luxury products, you must understand the characteristics of luxury products which are as follows:
Excellent Quality: For me, luxury products and excellent quality are quite synonyms, the same might be the case for you. Luxury products are known for their classy and elegant look. However, the functional aspect of a luxury product is not always defined.
Highly-priced: Another synonym for luxury products is their high price.
However, here high price not only determines the price related to the monetary value of the product but also the cost of energy and time that a person puts into acquiring the product.
Scarcity: Luxury products are hard to get. Luxury brands often create a sense of scarcity of the product so that the product seems unattainable and thus demands efforts from the consumer. Even if demand is high, the brands generally do not increase their production capacity for example, in case of Hermes, they only manufacture 15 bags per month even if the demand for the bags is very high.
Uniqueness: One of the most important characteristics is uniqueness. Luxury products are so unique in their style, look, features that they become irresistible for almost everyone.
Aesthetics: Aesthetics define the design of the brand as a whole. The message that the brand speaks should be seen in its products.
Luxury Marketing Mix
Luxury marketing is different from everyday consumer goods marketing in a way that they both differ in their main objective. The objective of luxury marketing is not just to sell; it is to create dreams.
Let us take the example of Hermès, a luxury goods company that manufactures leather goods and other lifestyle accessories, to understand the luxury marketing mix.
---
Product
Products are of excellent quality, no matter whatever the cost of manufacturing. Finest quality of raw materials and craftsmanship are used in order to provide elegant and classy looking products.
For example, a Hermès bag takes around 48 hours to be made, and hence the company only produces 15 bags a month since all processes are hand-made. The craftsman making a bag has to pass several tests to be appointed by the company. Skins of animals like crocodile and alligator are used as raw material, that sounds pretty cruel, right? Well, the company covers its guilt by charging humongous prices.
---
Price
Prices of luxury products are very high. A product priced high in its category is considered to be a luxury product given that it satisfies the quality characteristic. Prices are high because the raw materials and quality of craftsmanship needed to manufacture are pretty expensive for the company itself.
If we look at the Hermes bag example, it takes around $800 to manufacture one single bag. That's pretty obvious because getting animal skins as raw material seems like an expensive process.
---
Place
Luxury products are often not available in retail stores or online websites. They have to be pre-ordered or are sold at auctions. This gives a sense that they are hard to get and would require some energy and efforts from the customer.
In the Hermes bag example, bags have to be pre-ordered and get delivered after 2-3 weeks. This is because bags are manufactured only after they are ordered and are not mass-produced.
---
Promotion
Luxury products are promoted in a very dreamlike way, communication is often vague, artistic, highly emblematic, and give a sense of the product's superiority.
Take a look at the following advertisement of Rolex Submariner.
You might observe in the video; there is no narration, exquisite music, the watch and its features are shown in a very subtle way, and the most important of all the price is not revealed in the advertisement. This is because luxury products, as stated earlier, are very emblematic, and money or financials are considered very materialistic.
In luxury marketing, it is more about communication and not advertising. We will look at the luxury marketing strategies of various luxury brands and their communications later in this article.
Luxury Marketing Strategies with Examples
Marketing luxury products is a process that is all opposite to what you might have learned in your general marketing course. In luxury marketing marketers make sure that brands don't chase the customer; the customer chases the brand.
When we talk about a general marketing strategy, a set of elements might come to your mind. These elements change in a drastic way when we talk about marketing luxury products.
Here are some examples of luxury marketing strategies, try and map these to general marketing strategies by your own and spot the differences.
Luxury Products Advertising Examples
Gucci
Gucci has a very strong hand in social media advertising and celebrity advertising. Gucci engages in image-driven content and has very colourful yet subtle, fashionable and elite posts on its social media handles. It targets millennials, and all its advertisements or posts have elite and young people who are very strong in fashion. To get a sense of what Gucci advertisements, take a look at the following video:
Gucci also uses memes, for example, in the image below, to better connect with millennials who like to share memes.
Ferrari
Ferrari engages in magazine and television advertising that targets their audience. Ferrari also engages in consumer promotion where loyal consumers are featured. The promotions of Ferrari can be classified into two categories:
Technical promotion: It involves the technical exhibition of data and features of the cars to attract the potential customer by using magazines, trade conferences, online advertising, car exhibitions etc. An example of a Ferrari ad in a magazine is given below.
Consumer promotion: It involves developing a fundamental relationship with potential customers in order to form loyalty. This is mainly done when a new product is being launched.
Challenges of Luxury Marketing
Growth of low-priced premium brands: Brands that offer the same quality at lower prices are increasing. Here the luxury brands that do not sell unique products are at high risk.
A good example of this is H&M which offers stylish and trendy clothes and accessories at very affordable prices.
Changing consumer behaviour: Millennials or young consumers are getting more and more environmentally conscious, and they believe in consuming less so that waste produced is less. Also, many luxury brands are badly criticised for being harmful to nature. As in the case of Hermes, that we previously saw in the article where animal skins were being used for manufacturing the bags.
Social media marketing might threaten integrity: Many luxury companies feel that social media, influencers, celebrity culture has diluted the world of luxury. Luxury is often seen as unattainable, and with social media, it might feel to consumers that the product is not unique anymore if more and more people have it.
Increase of omnichannel world: With the presence of omnichannel, it becomes difficult for luxury brands to offer the experience to the customers that they once did when only retail shops were present. With the advent of the internet and smartphones, it becomes necessary for brands to be available online with a website or even a mobile app. Delivering standard service or experience is a matter of question when brands are omnipresent.
Conclusion
Marketing luxury brands is no joke; in fact, it needs more efforts than a regular brand. You, as a marketer should understand all nuances of luxury marketing and luxury marketing strategies to help build your own in your academic projects. Following are the key takeaways you should have in mind about luxury marketing
Luxury marketing is about selling dreams and not products
Excellent quality and high price are the main characteristics of a luxury product
Marketing luxury products requires you to define the marketing mix elements in a whole new different way
Found the article interesting? Share it with your friends: