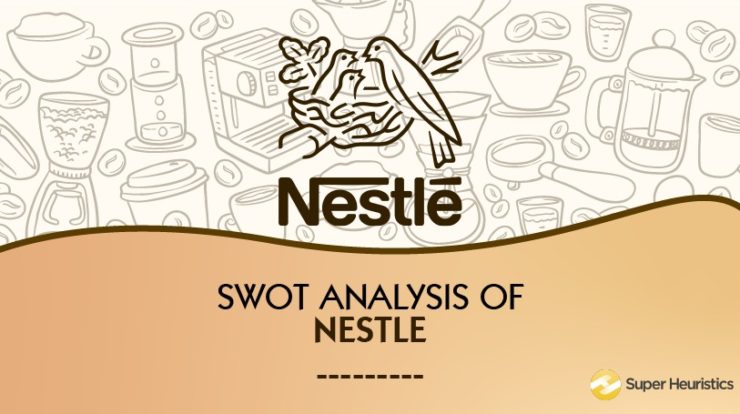 SWOT analysis is one of the essential marketing analysis tools. It is employed to understand a company's position in the external environment and its inner capabilities. I will be taking you through the detailed SWOT analysis of Nestle, which will tell us why is Nestle so successful.
With the help of the SWOT matrix, we will try to understand the rationale behind their strategic decisions. Let us first revise our concepts on SWOT analysis.
What is SWOT Analysis and Why You Need to Use it
Every major strategic decision is made after accessing one's capabilities and position in the environment where the decision will have a significant impact. The assessment helps one to make an informed decision and be better prepared for any contingencies.
SWOT is an acronym for Strengths, Weakness, Opportunity and Threats. It helps us to understand one's internal capabilities and external positions. Internal capabilities include the Strengths and Weaknesses, whereas the opportunities and threats determine external positions.
The simplicity of the SWOT is its more comfortable to apply to everything that is influenced by internal and external factors. It can be used to situations, industries, activities, products, businesses, strategies, products, and to even people.
Strengths and opportunities bring in a positive impact and determine one's core competencies and help in expanding. Weaknesses and threats, on the other hand, are detrimental to one's growth.
Here, I will introduce you to the SWOT analysis of Nestle while discussing in detail, every aspect of the SWOT. We will also be looking at the unique elements of the Nestle and study their strategies. The analysis will make you understand Why is Nestle so successful and how it is running for these many years.
I will also be walking you through the SWOT matrix for easier visualization.
Marketing Concepts Mastery Course
Learn the essential marketing concepts. Create the best outcomes from MBA without depending on placements!
Understand BCG Matrix, SWOT Analysis, Ansoff Matrix and many other important marketing frameworks just like an expert MBA professional would. Solidify your concepts by building a personal brand in marketing.
Company Overview: Nestle
Paul Bulcke chairs the group, and U Mark Schneider is the group's Chief Operating Officer (CEO). It has registered CHF 92.6 billion (Swiss francs) as their sales revenue and 2.9% real internal growth in the year 2019. With over 1300 new product launches in 2019 alone, the company employed 291000 employees.
History
Founded in 1866 by two brothers Charles and George Page, who had incorporated milk supplies from Switzerland and sold it as condensed milk under the name of Anglo-Swiss Condensed Milk company.
Henri Nestle invented the first infant food in 1867 his company had the iconic nest logo. In 1905, the company Henri had found merged with Anglo-Swiss to form the Nestle Group.
Product Portfolio
Over 150 years, the company expanded into 187 countries with a varied product range. The products are divided into the following broad categories:
Powdered and Liquid Beverages
Nutrition and Health-Science
PetCare
Milk Products and Ice-creams
Prepared Dishes and Cooking Aids
Confectionary
Water
Organizational Structure
The group is simplifying its diverse operations from global run to the three significant zones, i.e. The Americas (AMS); Europe, Middle East and North Africa (EMENA) and Asia, Oceania and Sub-Saharan region (AOA).
The simplification started with division of the global Nestle Waters at the beginning of 2020 into the three zones. Nestle Nutrition and Nestle professional will follow the structural change into the zones.
The decentralization drive is fueled by investing in local incubators across 187 countries. The group has launched innovation challenges in Sub-Sahara, China and Switzerland to incorporate local innovations.
SWOT Analysis of Nestle [Matrix]
Here is a glance of some of the strengths, weakness, opportunities and threats of the Nestle company.
We can get a clear picture of what is the SWOT analysis of Nestle company and how they use it to make major strategic decisions. We will be taking a few examples here as well.
---
Strengths of Nestle
Nestle's continuous presence over the years is attributable to numerous internal factors. These factors form the strengths of the Nestle group, and here I will be taking you through what are the strengths of Nestle briefly:
Global Presence: Nestle's active presence in 187 countries is advantageous to its undivided growth. The presence in some countries is over 150 years, establishing the brand in the local environment. This means that their product is available to the people in these many countries, and it creates a long-lasting impact on people as well.
Increasing Cash flows: Nestle cash flows increased by

10.9% to CHF 11.9 billion in 2019

. This means that the group's finances are healthy and they can invest more money and can expand quickly.

Strong Supply Chain operations: The nestle group encourages innovations at the local levels, incorporates technology and is increasing the traceability of the sources of the raw materials of its products. This enables the group to achieve substantial operational efficiencies.
Fast Innovation: Application of science across all platforms and innovating through collaboration with the local players allows Nestle to innovate faster and according to local demands. For example, in 2019, Nestle could achieve shortened timelines of science into technology on

average by 30% and saw additional 50 fast-tracked projects

which will launch within 6 to 12 months.

Digital Transformation:

Nestle's investment in digital transformation across fields like marketing, social media, e-commerce, manufacturing and supply chain has helped them become data-driven. This enables them to personalize their consumer's needs and achieve higher satisfaction. In 2019 Nestle has transformed 70 ecosystems by the help of artificial intelligence and personalized

20% of their consumer's contacts

.
---
Weaknesses of Nestle
Nestle core competencies lie in its strengths, but the global giant also faces numerous internal weaknesses. Here, we can easily understand what are the weaknesses of Nestle:
Problems in product marketing:

Nestle has time and again faced a massive backlash from people across the globe for not correctly positioning and marketing their products. One classic example is the marketing of breastfeeding baby formula to people in poorer nations. Uneducated mothers were using the product with contaminated water, causing high cases of sickness from the same.

Organizational Structure:

Nestle's current

organizational

structure is divided based on its product portfolio and not based on its geographical operations. This creates vast power distance when it comes to decision making and prevents agility in operations. In expanding its operations, this always proves to be a major hurdle.

High dependence on advertising:

Nestle is majorly

dependent

on advertising to promote its products; it increases the marketing costs and consequently, a high risk associated with the returns. With disruptions coming up, this strategy will not sustain Nestle in the long run.
---
Opportunities of Nestle
The dynamic environment is now more connected than ever. It provides numerous opportunities for the group to thrive and grow. I have listed some of them for your understanding:
Increasing Transparency:

The present consumer holds more information than ever. With the growing presence on the internet, it will be

favorable

to increase transparency. Increasing transparency would mean that consumer knows where the raw materials are sourced from, when they are sourced and who sourced them. The consumer feels more connected and is trusting the brand more.

Sustainability:

Integration and operating sustainably will help the group to reduce costs, increase efficiency and

utilize

labor

properly. Local integration and production will make operations lean, which will reduce long term expenses.

Increasing disposable Income:

Increase in the average household income in Asia, Oceania and Sub-Saharan regions is an excellent opportunity for Nestle to expand its operations. Introduction of new or existing products can be taken up to increase its product portfolio and hence, increased presence and profits.

Diversifying its product portfolios:

Nestle has a great opportunity in introducing products into sectors other than food and beverages. Merging through strategic alliances can help Nestle to diversify and tap into markets other than food and beverages. For example, the technology industry is slated to grow at a rate of 5% CAGR in 2024.
---
Threats to Nestle
The same dynamic environment provides numerous threats owing to its ever-changing environment. Frequent disruptions, emerging technology and continuous innovations drive the changes. Nestle, to sustain has to focus on these parameters to grow continuously:
Climate Impact:

Changes in the climate and its subsequent impact can be seen on numerous Nestle product's raw materials. Raw materials like coffee, wheat and dairy are affected by climate change. They are highly likely to affect Nestle's growth over a while.

Strategic Investment choices:

Investment choice's failure to align with such a diverse product run group is exceptionally high. The group runs a higher risk of losing brand presence and a potential sum of money.

Product Quality and Safety:

Nestle, in the past, faced much negative effect on its reputation and consumer trust after non-compliance of food safety. The best example is of Maggi in India, which failed to comply with one of the laboratory tests and lost a massive share in the market.

Rising Competition:

Nestle's product portfolio competes with various multi-national players and numerous local players. With the advent of more technology and constant disruptions in the industry, nestle is always at a risk of losing its existing consumer base.
Case Analysis Blueprint Course

Use marketing frameworks like these to solve business case studies with ease
Frameworks like the BCG framework are extremely crucial to analyze the most complex case studies. Get to know how to analyze a marketing case study comprehensively in just 5 slides. Which means that the next time you need to analyze a case, you know exactly how to ace the case
Conclusion of SWOT Analysis of Nestle
Nestle group's ever-growing product portfolio and its global presence are attributed to their focus on its core strengths and its alignment with the opportunities available. At the same time, Nestle's focus on threats and has to work on its weaknesses to tackle every change in the environment.
I have touched upon what is the SWOT analysis of Nestle company and also provided answers to these questions like Why is Nestle so successful? What are the weaknesses of Nestle? What are the strengths of Nestle? What is Nestle's current position in the market?
It is a robust yet straightforward tool which can be applied to numerous situations, industries, decisions to analyze and get a head start on robust decision making.
Found the article interesting? Share it with your friends: