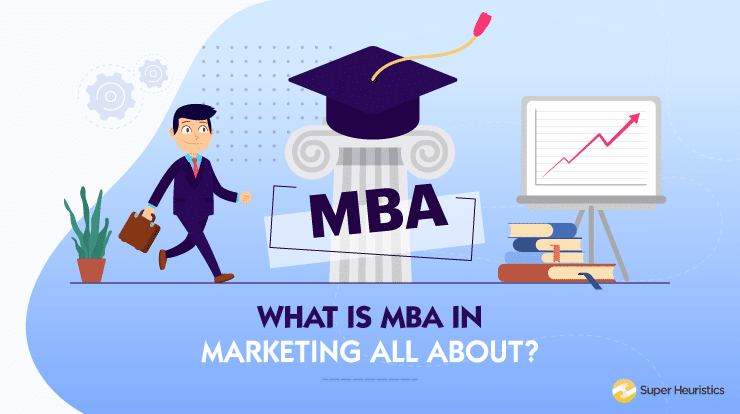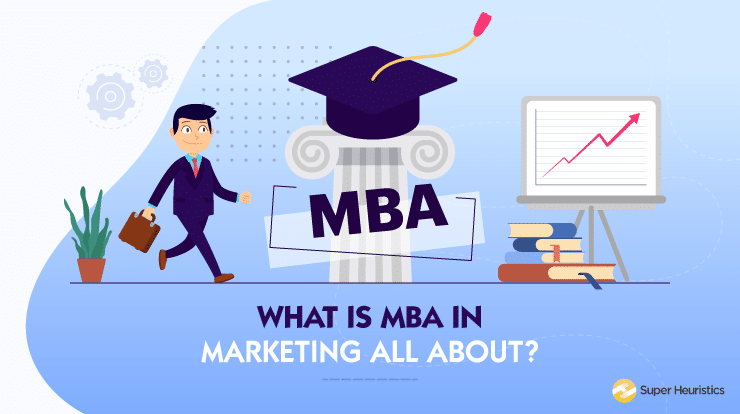 "Marketing is no longer about the stuff you make; it is about the story that you tell" – Seth Godin.
MBA in marketing is all about being a storyteller because it's the stories that sell and impact the lives of consumers. A marketing strategy is said to be a success when the product sells itself, but yes not without a story.
You as a marketing student, in your entire course of MBA in marketing, will learn what we call as the 4Ps of marketing mix, i.e., product, price, place and promotion in all depths and breadths and how to build a story that sells around all four of the mentioned elements.
Read on to know about what is marketing MBA all about and is it worth it for you.
What is Marketing MBA?
A basic definition for this is simple, "A 2-year course that teaches all fundamentals of marketing" however the question is what fundamentals?
A marketing course revolves around the following major elements: research, strategy, product, sales, advertising, pricing, branding, digital integration and analytics.
An MBA in marketing along with theory, will give you a hands-on experience of all the above-stated elements and believe me if you aim to become a successful marketer do not skip any of them.
Skills Required for MBA in Marketing
MBA in marketing does demand you to have certain skills, and as an MBA aspirant, you might be curious to find out if you possess these skills. You might be born with them, or you might not be, but you surely can learn them in the course of your MBA journey.
Marketing subjects in MBA and their syllabus in top MBA colleges are generally developed to help students learn and develop these skills.
Marketing subjects in MBA across top B-schools are discussed later in this article.
Following are the primary and mandatory skills you as a marketer should possess:
Convincing and Negotiating Abilities: Marketing is all about selling your product to the customer, and for that, only advertisements will not suffice. You also need to convince them on a personal level to buy your product. Similarly, negotiating skills are required when you are making a deal with your vendors, distributors or retailers.
Excellent Communication Skills: Marketers communicate with various people such as their co-workers, clients, vendors, potential buyers etc. You as a marketer should be able to communicate your ideas, product features, expectations and requests effectively in both verbal and written format.
Excellent Listening Skills: The difference between a successful marketer and an average marketer is that the former listens to the customer. Making an assumption about the customers might cost you big time. Spend some time to listen to what the customer says and understand their needs.
Not only to the customers, but you as a marketer should also listen to your collaborators (vendors, partners, distributors) to understand their needs and issues.
As rightly quoted by the CMO of Airbnb "Amazing things will happen when you listen to your consumer."
Good Interpersonal Skills: Marketers need to have a good rapport with people to have a long-lasting relationship. Forming a personal relationship with customers is hard; however, advertisements should be made in such a way that they trigger personal bonding. In terms of distributors and retailers, a good relationship is required so that these people recommend your product to the consumer that visits their store.
Analytical Skills: Analytics is an important part of marketing because it will help you in mapping the data from your consumer insights and then building up a marketing strategy. It might happen that you are surrounded by a huge amount of data about the customer and customer insights. However, huge data doesn't mean meaningful data.
As a marketer, you should be able to analyse and interpret and thus extract useful data that is beneficial in deriving marketing strategies.
Creative Thinking: Products after 2-3 years of their launch might become boring to the consumers or competitors might come up with different products that are better than yours. To be ahead of the game, marketers constantly have to come up with new and creative ideas that are unique and are likely to stay in the minds of consumers.
Apart from product and promotion, creativity is also needed in all elements of marketing such as pricing, strategy building, research and branding.
Renowned B-schools for MBA in Marketing
Not everyone is decided with the specialisation they want to pursue in their MBA. However, if you are the one that lives and breathes marketing, you might also have a dream of learning marketing from the top MBA colleges.
Following are the top B-schools for MBA in marketing, along with the subjects offered in marketing MBA, the course fees, and the exams you need to qualify to get into these colleges.
Top colleges for MBA in marketing

Subjects offered in marketing MBA

Course fees*

Qualifying Exam

IIM Ahmedabad

Strategic Marketing, Retail Management, International Marketing, Professional Selling, Consumer Behaviour, B2B Marketing, Sports Marketing, Digital Marketing and E-business, Customer Relationship Management

INR 23,00,000

CAT/GMAT

IIM Bangalore

Brand Management, Consumer Behaviour, B2B Marketing, Digital Marketing, International Marketing, E-commerce, Marketing Communication, Services Marketing

INR 23,00,000

CAT/GMAT

IIM Calcutta

International Marketing, Integrated Marketing Communication, Sales and Distribution Management, Consumer Behaviour, Strategic Brand Management, Rural Marketing, Sports Entertainment and Media Marketing, Managing Luxury Business

INR 27,00,000

CAT/GMAT

MICA

Media & Entertainment Management, Advertising & Brand Management, Marketing Analytics, Digital Communication Management

INR 21,00,000

CAT/ XAT/GMAT

FMS Delhi

Retailing Management, Consumer Behaviour, Brand Management, Advertising Management, Sales Force Management, Internet Marketing, Advanced Research Techniques in Marketing

INR 10,480 per year

CAT

IMT Ghaziabad

B2B Marketing, Social Media Marketing, Sales and Distribution Management, Consumer Behaviour, Product and Brand Management,

Integrated Marketing Communications, Rural Marketing, International Marketing, Luxury Marketing, Mobile Marketing

Digital Marketing

INR 19,53,000

CAT/XAT/GMAT
Marketing Subjects in MBA Across Top B-Schools
The subjects mentioned above in the table form the core of any marketing specialisation. However, the above-mentioned colleges offer more electives that are not mentioned in the table. Let us discuss some important subjects in marketing and their contents.
Brand Management: Brand Management will enable you to identify and understand consumer needs and pain points and then implement those insights into the development of a brand. In this subject, you will be taught how to perform effective market research along with understanding the consumer demand, market trends and the basic principles of brand management.
Sales and Distribution Management: This course has a funny acronym, "SADMAN" however, not that sad as a subject if you are really into marketing. In this subject, you will learn about the sales funnel and managing sales teams along with the importance of relationship building and features of different distribution channels.
Digital Marketing and E-commerce: Here, you will learn all fundamentals of digital marketing and social media along with how to develop digital marketing strategies and campaigns using various tools. You will also learn how to understand and analyse digital metrics, along with social media marketing and content marketing.
Strategic Marketing: In strategic marketing, you will learn the interpretation of marketing data and comparing it with competitor performance. This course also helps you to develop decision-making skills for your company's resources, marketing mix and product development.
B2B Marketing: B2B marketing will help you understand various frameworks and concepts related to business-to-business marketing. It also helps in developing critical thinking and problem-solving abilities by analyzing market demands and trends of the business market.
Consumer Behavior: Here, you will learn the fundamentals of consumer behavior and their personality that plays a great role in making a purchase decision. Consumer behavior also helps in developing analytical thinking by understanding various factors that influence consumer behavior and help them in solving marketing problems and designing consumer-centric strategies.
Retail Management: This course helps you to learn the fundaments of retail management along with the challenges that retailers face in managing a store. It will also help you in developing a retail marketing strategy.
Marketing Jobs after MBA and Salaries
MBA in marketing is the most sought specialisation by students and majority of companies that visit colleges for final placements offer jobs in the marketing sector. Following are the Job Titles in marketing that you as a final MBA student might end up in as your full-time job along with a general job description and an average salary:
Job Title

Job Description

Average Salary (in ₹ per annum)

Marketing Manager

-Designing strategies and plans to increase the company's reach and drive potential traffic

-Developing marketing campaigns on all channels

-Preparing and monitoring the marketing

-Analysing consumer behaviour

-Build relationships with vendors, distributors, agencies

Business Development Manager

-Building relationships with potential clients

-Preparing presentations of product portfolios

-Reaching out to new customers and arranging meetings

Digital Marketing Manager

-Design and plan digital media strategy and campaigns

-Engage in creation of digital content

-Establish presence in various digital media channels to spread awareness

-Implement SEO/SEM best practices to increase profitability

-Measure and monitor KPIs of digital campaigns

Area Sales Manager

-Leading and managing a sales team

-Ensure efficient network of distribution

-Develop strategic relationship with distributors and retailers

-Develop sales and marketing strategies to increase reach

-Monitor sales team performance and analyse data

Product Marketing Manager

-Developing creative marketing strategies to promote products

-Coordinate with design, content and sales team to reach marketing objectives

-Test and study company products

-Collect feedback from customers and analyse

Marketing Analytics Manager

-Conduct market research

-Analysing sales funnel

-Track digital marketing KPIs

-Measure ROI of advertising

-Coordinate with sales and marketing teams to implement strategies
Important FAQs about MBA in Marketing
Is a part-time MBA in Marketing Worth it?
Yes, it is significantly worth it if you are a working professional and do not want to leave your job but at the same time want to pursue an MBA in marketing degree. The top colleges that provide part-time MBA in marketing or any other specialisation are IIM Bangalore, IIM Lucknow, IIM Indore, FMS Delhi etc. However, part-time MBA doesn't offer placement opportunities to the students.
Is an Online MBA in Marketing Worth it?
In terms of curriculum and syllabus, both online and offline MBA are the same. The fees, however, is comparatively lower than an offline MBA. Let us say you are a busy mother or a working professional or just someone who doesn't want to travel (given the fear of the rise of pandemics); then an online MBA would be best suited for you.
Does Online MBA in Marketing Guarantee Campus Placement?
Companies generally do not prefer candidates of online learning programs. However, your chances are higher if you pursue an online MBA in marketing from a reputed college. The top colleges that offer online MBA are NMIMS Global Access School for Continuing Education, Sikkim Manipal University- Distance Education, Symbiosis Centre for Distance Learning (SCDL), IMT-Centre for Distance Learning (IMT-CDL) Ghaziabad.
Is MBA in Marketing Tough?
I won't call it tough, but yes efforts are required if you really want to learn. It won't be just theories and "Ratta Maar" kind of situation; you will have to understand concepts and apply them in your academic projects. It is definitely tough for those who want to pursue a different career and are stuck in marketing.
Does MBA in Marketing Require Mathematics?
It won't be a scary maths that has complex equations and calculations kind of situation. Basic math concepts should be clear. As for analytics in marketing, there are generally analytics tools that marketers make use of. Have a calculator by your side and a basic understanding of mathematics, and you are good to go.
Conclusion
I hope all your questions regarding what it feels like to learn marketing in MBA are answered above. However, keep these points in your mind every time you are about the click an apply button while choosing your specialisation:
MBA in marketing requires you to have certain skill sets such as excellent communication skills, good interpersonal skills, convincing and negotiating skills, creative thinking and analytical skills
Subjects in marketing MBA are designed to give you an understanding of theory and hands-on experience to develop above-mentioned skills
Marketing Jobs after MBA differ on account of the job description and the average salaries
Part-time and online MBA do not provide campus placement opportunities to the students
Found the article interesting? Share it with your friends: