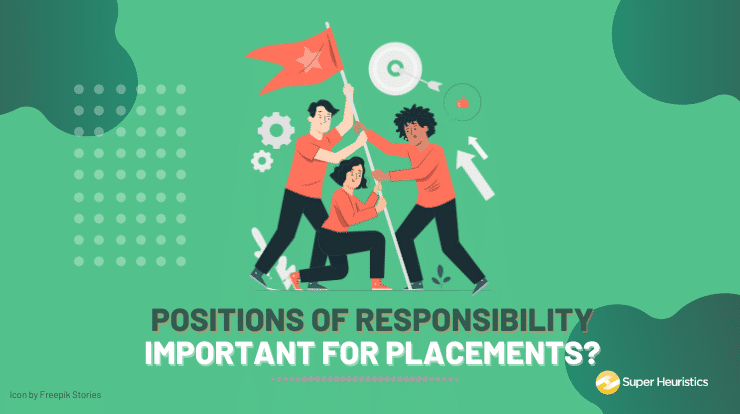 Are Positions of Responsibility Important for MBA placements? Do you need to have them on your MBA resume?
This question would start bothering not just an MBA student who has entered a B-school but also an MBA aspirant who is looking to get into one. And it's obvious. Placements are what most of us are looking for and don't all of us need to make our resumes and CVs look good?
But do PORs make our resumes look any better than they are? What all should you focus on for a good MBA resume? To help you understand this better, I've put together a video on "Are Positions of Responsibility important for MBA Placements?". Check it out.
Let's get on with understanding are positions of responsibilities important for MBA placements? Given below is a text version of the video. I am sure that you can extract different angles from this blog post.
---
Importance of Positions of Responsibilities (PORs)
It is crucial for MBA students like you to build a good resume. You need to focus on the ingredients that help you make your CV stronger for MBA in order to get a good placement.
Ultimately, you all want to know how you can make a strong CV for your MBA?
They say Positions of Responsibilities (PoRs) are a must have for every MBA student in their resumes. But is it really the case?
Is that always true?
Before finding this out, let's understand what exactly are PORs.
---
What is a Position of Responsibility?
As the name speaks for itself, a Position of Responsibility could be seen as a role in a group or a team wherein the team is focused towards a particular objective.
Here you are expected to help achieve that particular goal as a part of that formal group.
For example: Being an organizing committee member of a cultural event organised at your college.
Now, before finding out are Positions of Responsibilities really important in your CV, as an MBA student, let's take a look at the arguments in favor of PoRs.
---
Why people want to have Positions of Responsibilities in your CV?
Recruiters look for competencies in an individual. PoRs, in most of the cases, help you gain these competencies and act as evidence for your capabilities.
Two important arguments in favor of Positions of Responsibilities are:
They help in showing that you've taken some initiatives beyond your academics

They show that you are a team player and can work and contribute as a team leader or a member.
But, the important question here is, are Positions of Responsibilities really important for MBA students like you in their CVs or not?
---
Why you should not chase Positions of Responsibilities?
The fact is, PoRs are so important for you that they're not important anymore!
Can't figure that out? Let me help you.
I'll explain this better with a marketing concept of 'Differentiation'.
As a marketer, you always make sure that your product or offerings have some unique point of differentiation. But, the second everyone has it, it's no longer a differentiating factor.
Start seeing yourself as a product and you'll realize that your PoRs are surely not going to give you that point of differentiation.
This is because,
Over the years, the students have been informed so much about the importance of PoRs from their seniors and/or friends that now everyone has a PoR in their resume!
In some cases in fact, these Positions of Responsibilities are not even a true test of one's abilities and even the recruiters know this.
All of this makes PoRs no longer a differentiating factor among the students.
Then what? Is there anything else which could give you that edge over other MBA students?
---
If not PORs, then what?
Now that you've realized PoRs couldn't really give you the required level of differentiation among other students, you must be wondering if not PoR, then what?
Is there anything which could help you create a far more impact than Positions of Responsibilities would?
I would suggest you to capitalize on other important things like 'Bodies of Work' (BoWs).
Instead of focusing on PoRs, which I guarantee the majority of students in your batch must be doing right now, you need to focus on creating some 'Bodies of Work' (BoWs) for yourself.
With Bodies of Work, you as a prospective recruit have something interesting to speak of which could act as a differentiating factor and there's this thing about BoWs - you have a tangible result to mention in your CV!
It's important to understand what I mean by 'Bodies of Work' here. Let's understand.
---
What is Body of Work? (BoW)
Bow stands for 'Body Of Work'. During your MBA, you need to create a BoW, the outcomes of which would speak for you, on your behalf.
For example: When I was in my first year at IIM Udaipur, I created my blog, Super Heuristics - Marketing Blog for MBAs. I started to write articles on whatever I studied and acquired additional skills like SEO, FB Ads etc.
I kept on getting better at this and now I am a practitioner of these skills, not just someone with a certificate.
---
Why create 'Bodies of Work'?
I believe creating a Body of Work helps you create a long term asset for yourself. When you walk out of your MBA, you have a tangible asset with yourself for whatever you've created while practicing your hard skills.
At least this was the case for me.
Apart from this, while PORs are something everyone has in their CV, BOWs will help you stand out from the crowd.
Also, unlike PoRs, they are one's true test of ability.
To summarise, here's why you should focus on creating 'Bodies of Work' for yourself:
Your Body of Work and its outcomes would speak for itself

You get tangible results/outcomes to mention on your resume

It helps you create a long term asset for yourself
So, while you are actually acquiring skills and implementing them, you can also fulfil your entrepreneurial aspirations by creating a Body of Work.
We all know now why we should focus on BoWs. Don't you want to know how you can start creating one?
---
How can you start creating a Body of Work for yourself?
In order to create a long lasting impact on your entire MBA journey and your career after that, you need to start focusing on building a Body of Work for yourself.
Here's how you can do that:
Start acquiring relevant hard skills

Implement those skills on live projects and internships

Or, better, implement them on your own project. Simply start a blog!
My advice to you to start to focus on BoWs is like a secret that not many MBA students or rather people in general have discovered. With a Body of Work in your resume, you have a high chance of getting distinguished and cracking your campus placement!
---
A Case Against 'Bodies of Work'
Now, a lot of you might be wondering, when we have a PoR, it also shows that we have the ability to work in a team.
And that's not the case with BoWs. How do we show that we can work well in a team while focusing on creating Bodies of Work?
I'll share an example from my own experience to help you understand this.
In my second year of MBA at IIM Udaipur when my blog had started spreading across all the other B-schools, I floated a live project for my first year students.
I shortlisted two students and they were my interns for the project. I helped them understand SEO, Facebook ads. We also created new things as a team which not only helped the blog but also helped them acquire the interesting skills which I had to offer.
I believe that such an example is enough for a recruiter to recognize you as a team player who can also take initiatives.
PORs shows team player ability of an individual, agreed. But, BOW, in addition to that, also reflects your ability to lead teams and drive results as a group.
---
Are Positions of Responsibilities Important for MBA Placements - Conclusion
I hope my advice to you of shifting your focus from Positions of Responsibilities (PoRs) to Bodies of Work (BoWs) will help you create a large impact on your MBA journey and career after that.
This is a secret that has not really entered the minds of a lot of MBA students. And that is why I can guarantee you a lot of organisations would see it as a strong sign of initiative and commitment!
Not only this, when you have a strong set of skills that you implement on creating a Body of Work for yourself, you also end up becoming a complete professional which all the organisations across industries like consulting, sales, marketing etc. appreciate and are looking for.
I hope you're able to create a really strong and impactful body of work for yourself. All the best!
Found the article interesting? Share it with your friends: