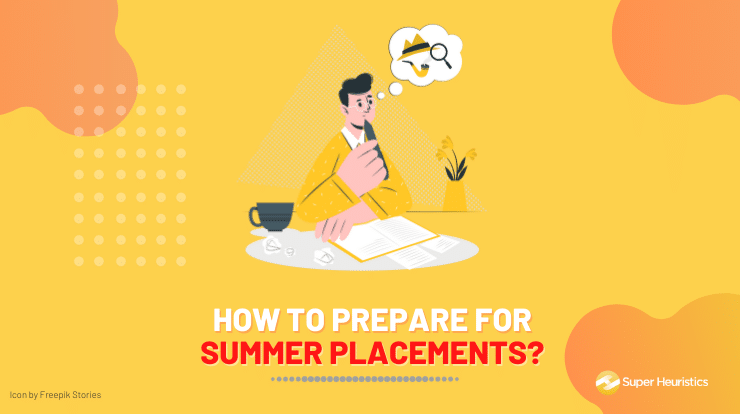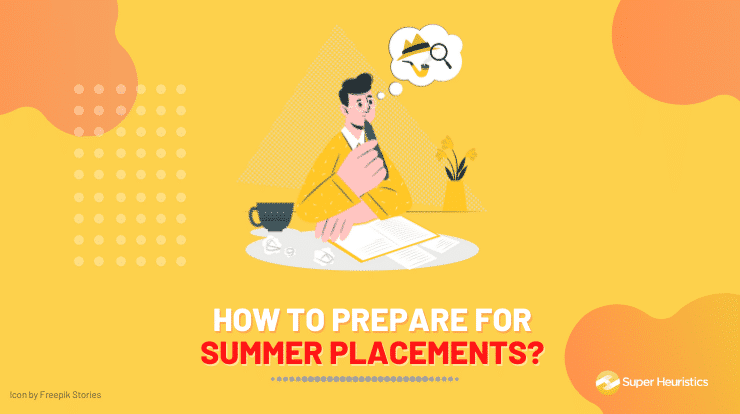 Summer Placements is one of the most grueling and exciting times as a first year student of an MBA Program. It not only provides MBA students like you with valuable work experience, but also sets them on the path to a career.

As a first year MBA student, summers will also be your only opportunity to obtain a PPO, which will guarantee you a spot in the final placements. Are you ready to take advantage of this opportunity and make your recruiters believe that you are a great fit for their organisation?
To help you make the most out of this opportunity, I've put together this video on "How to Prepare for MBA Summer Placements? [5 Must Dos]" suggesting you the summer placement tips for MBA students.
---
Summer Placement Tips for MBA Students
For a B-School student in India, the program starts in around June or July and the process of the placements starts off in the month of September or October.
Just when you've entered Your B-school, you would be so occupied by the new environment, you'll not even realize when September has come and your summer placement interviews are knocking at your doors!
Therefore, this is the right time (8 to 12 weeks ahead of your summers) for you to start preparing for your MBA summer placements considering the intensity of the competition.
So I'll be sharing with you the five things as per me which you should definitely do in order to prepare for MBA summer placements, get a good placement in your MBA and come out with flying colors!
Let's Start!
---
1. Back-Hack your placements
I've always emphasized on the importance of 'back-hacking' of your placement process in order for you to have focus on exactly what you're going for in your placements. But what do I mean by 'back hack your placements'?
You need to go back and check the organisations that came to your B-school in the last four or five years. And for all those organisations, start looking for the job roles that they offered.
For this, maybe you can approach your B-School's Placement committee and they'll be able to share with you the exact JDs that were floated in your campus
After this, you need to start analyzing these Job Descriptions. Look for the combinations of job roles and the skills that they require.
This exercise will help you identify the industries that you're planning to enter and the job roles that you are aiming for.
While outlining what type of internship you want, you need to be completely pragmatic and practical. How? Let me help you.
If a company is trying to evaluate you in a month of September or October, it's pretty obvious that you've not spent enough time in your B-school for them to evaluate you on the basis of what you've done there.
Therefore, it becomes important to consider your past work experience, your academics and your strengths.
For example: Consulting firms usually recruit students with good past academics. Therefore if your past academics were not fabulous, you should also aim for a few industries other than consulting in order to be in a safe place.
I'll now share with you the second tip for you to prepare for your Summer MBA Placements.
---
2. Start Acquiring Hard-Skills
I always say, your future is in your hands and in your ability of how early you can learn hard skills!
While soft skills are no longer a point of differentiation considering everyone has to have them, hard skills could help you stand apart from other MBA students.
Hard skills make sure that you go a very long way!
Now, you would be wondering how to acquire these skills efficiently?
This is where my tip number one will help you.
Once you've identified what roles and organizations you are aiming for, you just need to check the skills that they are expecting and you know what skills to acquire!
When you are acquiring these skills, it's also important for you to apply them!
I've created a video about how you can create a body of work in order for you to learn how to acquire and implement relevant skills on a project, ideally, one of your own.
Also Read: Are Positions of Responsibility Important for MBA Placements?
So, even if you're an aspirant or an early MBA student, I would suggest you start acquiring hard skills now!
Your focus area will remain streamlined and unlike any other student, you'll know to make the most out of the skills that you're acquiring.
Tip number three that I am going to share is a very important one if you want to know how you can find a good summer placement during your MBA. Let's find out what it is.
---
3. Learn How To Analyse Case Studies
In the earlier times, it was the impression that only consulting firms (especially the MBB firms) ask students to analyse cases in their interview.
However, that trend is changing and spreading now! Almost every good firm includes a case analysis stage in their recruitment process.
Be it an FMCG firm or an E-commerce firm, they have a case analysis in their interview process!
Why even?
Because, the entire MBA program is structured around cases, hence the least you should know and are expected to know is how to analyse and express a case efficiently.
While you can find a lot of sources/places for you to learn how to analyse cases, I would suggest you check out the YouTube channel of Mr. Victor Cheng (caseinterview), an ex-MBB employee. He has created a series of videos on how to analyse cases just the way consultants do.
The fourth thing which you need to do to prepare for your summer placements is practicing for the interviews!
---
4. Appear for Practice Interviews
I would suggest you practice interviews with professionals and industry experts who would be able to give you invaluable feedback and critiques for you to work on your improvement areas.
This might be of great help while you appear for the real interviews!
Even if you've to spend some money for such professional interviews, do it! They hold a lot of value.
The first few practice interviews which you give should be with professionals in order to make sure of the quality feedback which are already out there in the industry.
And yes, after you've fine-tuned, you can give practice interviews to your friends and others. You could also practice Group discussions among your friends in order to develop your discussion skills.
If you're in a good B-School, you would already be aware of the mock interviews that they organize with pros from the industry. You'll find a lot of value in their feedback and you should attend all of them!
Now, I'll share with you a very unique point that you would have not been advised about.
---
5. Dig Your Well Before You're Thirsty!
You must be wondering what this means?
This tip is about establishing relevant networks and relations in order to develop and improve your skill set, meet potential mentors, stay on top of industry trends or simply gain access to the resources/advice you need to advance in your career ahead.
For example: When I was in the first year of my MBA, I sent good short emails to at least 50 CXOs across various industries.
I sought advice on important skills for the job roles I was interested in and from where I should learn those skills or general advice for a first year MBA student.
You can also share with them the final draft of your resume and can ask them for a quick feedback. I am sure with the email interaction that you establish, they'll be willing to give you honest feedback from the industry perspective.
The idea is to create a simple harmless interaction with industry experts, where you are not expecting an internship or a placement in return, and find good mentors who might be able to help you throughout your MBA journey.
It's that simple!
I guarantee you'll be able to get some really invaluable advice and feedback through this tip for your MBA placement preparation.
---
Conclusion
If you're looking for great MBA Summer placements, you should make sure that your goals are clearly defined and that you follow the steps outlined above.
A combination of hard skills, case study analysis skill, confidence and relevant networking along with feedback might help you a very long way in getting a good summer placement and your journey after MBA.
Preparing for summer placement interviews can be stressful, but a quick read through the tips and must dos shared by me above can help you get a head start.
Found the article interesting? Share it with your friends: