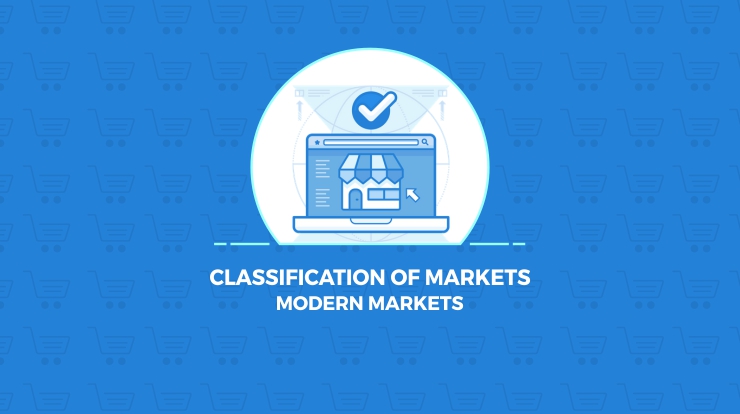 In one of my previous articles, I told you about how the concept of market is one of the first things that you will encounter in a marketing class. And the next thing that you will encounter is the classification of markets.
While in that article, I covered the classification of traditional markets, in this article I will tell you about the classification of Modern Markets.
Therefore, if you haven't read the first part of the article – Classification of Markets – Traditional Markets – before you read this one as in that article I also discuss about 'What is a Market?'
What's more?
While I explain to you the different types of modern markets, I will give you real-world examples from my work place to tell you how the classification is valid for any business that you may look at.
As I am typing this post, I currently work at an edu-corporate which is the premier test preparation services provider of the country. And all of these classifications directly apply to all the things that we do.
So let's get started.
Here's what I will tell you about...
---
Criteria for Classification of Markets – Modern Markets
The modern classification of the market is based on the consumer orientation that the consumer is king and a driving force within the market. Economist and marketing experts classify modern markets as consumer markets, business markets, global markers, non-profit and government markets, and e-commerce.
Let's get down and understand each of these criteria.
---
1. Classification of Markets - Consumer Markets
Consumer markets involve buying and selling products and services to the end-user, i.e., the common man. It involves the exchange of consumer durable and non-durable goods and services. Companies invest substantial time in establishing in developing distribution networks and brand image.
Consumer products include a wide range of products and services which include and are not limited to clothing and apparel, food and beverages, consumer electronics, personal care, and household cleaning products, etc.
Businesses develop brand value by offering a superior quality product and packing while ensuring that the product is constantly available within the market and maintaining constant communication with the consumers in the form of advertising.
For example, for a company like the one where I work at, all of our test preparation products that we offer to the students in terms of classroom and online courses are for the consumer market. Students and their parents buy these products.
As I mentioned that consumer markets depend a lot on advertising and sure it is. Advertising a key elements in developing a brand image which draws consumers to buy from your brand.
---
2. Classification of Markets - Business Markets
Business markets involve buyers and sellers who are businesses. Business buyers buy goods and products for the purpose of resale or as the raw material required in manufacturing.
Business sellers aim to get the maximum price and value for their products and services whereas business buyers aim towards buying the goods and services at the lowest possible price.
Products and services transacted on business markets include raw material, fabricated parts, and components, processed and finished goods, suppliers and services, etc.
While advertising plays some role in the business market, personal selling is a much more popular method of marketing. Supplier's reputation, product quality, and price of the product play an important role in the conduct of business in business markets.
For example, my company which is an education services provider often helps large corporations and education institutions in their learning and development initiatives. Therefore, each of these opportunities for us lie in the business markets. This is where we communicate with other businesses and sell to them.
Here, as I mentioned, quality of the offerings and the price makes all the difference. Advertising that we do towards the consumer markets makes less to no difference.
---
3. Classification of Markets - Global Markets
Global markets referred to the entire world as a single market wherein buyers and sellers from all over the world buy and sell goods and services. Global markets can be complicated due to the difference in demand and supply patterns, consumption patterns and preferences of the consumer.
Global markets also involve different modes of entry into international markets which include direct export, licensing, franchising, joint ventures, direct investment strategy to enter an international market to sell its goods and services.
Businesses also might require to localize its products, packaging, pricing and marketing strategy in different markets towards effectively meeting the needs and requirements of the different international markets.
For example, we just cracked a great alliance with a few universities in Taiwan. Taiwan has emerged a s a great place for learning AI, ML, 3D Printing and all the Industry 4.0 technologies. They are so ahead that even 13-year olds are writing lines of codes in Python and are creating crazy things through 3D Printers.
We have successfully been able to develop a program with those universities for the Indian students where the students can go there and take a comprehensive on-campus course on all these technologies.
This opportunity, for the company that I work at, lies in the Global Market.
---
4. Classification of Markets - Non-Profit and Government Markets
Businesses also sell their goods and services to government agencies and non-profits such as religious institutions, educational institutions, charitable institutions and various departments within the government.
Most of the buy within this market takes place based on the lowest price through a tendering system.
The process of buying and selling undergoes a bidding process wherein usually the seller with the lowest quoted price is awarded the contract. Also, sellers might be required to offer a longer credit period to these non-profit and government agency buyers.
For example, it was recently in the news how my company went ahead and forged alliances with Delhi Government to upskill the teachers of the government schools. This includes suggesting them better a better pedagogy and helping them learn Machine Learning etc.
This is a classic example of a Government Market for the company.
---
5. Classification of Markets - E-commerce
E-commerce can be referred to as an online market place wherein buyers and sellers can interact and buy and sell their products and services. The entire transaction can happen online without the buyer and seller every directly communicating.
Sellers can sell their goods and services from their own e-commerce platform on their website or through an aggregate online marketplace such as Amazon, Flipkart, MakeMyTrip and many more.
Buyers can place an order for the goods of their choice, make payments online and have their goods and products delivered to their doorsteps. E-commerce is gaining popularity all over the world due to its convenience, low-cost and other wide range of benefits offered by e-commerce over other forms of markets.
For example, the team that I work in at my company is one of the fastest growing verticals of the company – the online business. Our e-store is like any other e-commerce store where in people come and purchase products.
We operate it completely like a e-commerce business and that is why you can see it as a e-commerce business.
---
Conclusion
Markets have evolved over time and are further evolving with the advancement of communication, transportation and financial technologies towards enabling buyers and sellers to expand their reach, lower cost and enhancing business across the globe.
In this article, I shared with you the different classification of markets based on Modern Markets. I hope that my examples would have helped you a great deal in understanding the different kinds of markets.
Found the article interesting? Share it with your friends: