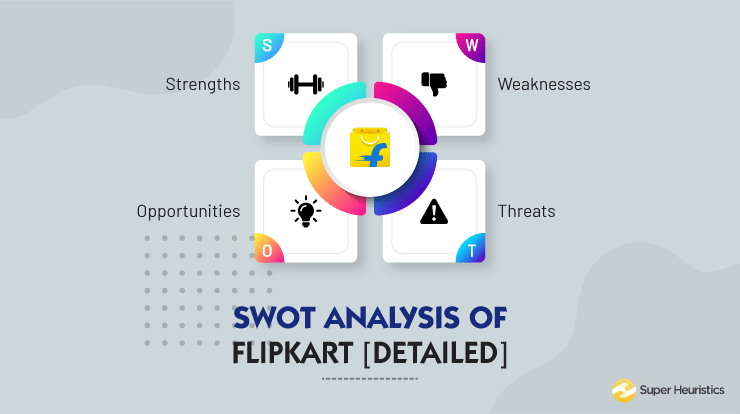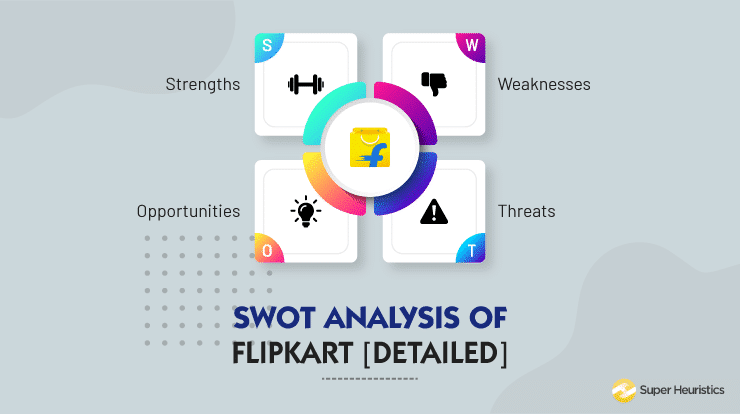 We can achieve the most basic form of analysis of a company with a SWOT analysis and here I aim to take you through the SWOT analysis of Flipkart.
Don't you want to understand how has Flipkart been so successful? How has it manged to be among the top 2 E-commerce firms in India since the last decade?
You might also consider getting hands on the SWOT analysis of online shopping in India as an industry itself and we could benchmark the SWOT analysis of Flipkart vs Amazon.
These two hugely successful companies have kept delivering the goods. Further more, they have been competing for supremacy in online retail.
Through the SWOT analysis of Flipkart, you would gain a clarity on its strategic decisions and constant success. Let's understand the concept of SWOT Analysis initially.
What is SWOT Analysis & Why You Need it?
Every company might take those important decisions while being aware of its capabilities and limitations in the industry.
SWOT analysis of brands helps identify their untapped potential and opportunities. It also explains the "Why" behind their operations and decisions. SWOT analysis lists down the Strengths, Weaknesses, Opportunities & Threats of a company – hence the acronym SWOT.
The assessment helps companies to make an informed, rational decision and be better prepared to deal with issues.
Again, strengths and weaknesses are internal aspects of a company. Threats and Opportunities are understandably investigated to determine external factors about the industry the company deals in.
As marketers, doing a SWOT analysis before taking up a new venture/project in an industry is a pre-requisite. It helps to identify internal & external factors that are favorable or detrimental in achieving objectives.
Here, I will talk about the SWOT analysis of Flipkart while discussing in detail every aspect involved in the analysis.
Also, don't forget to check out our other SWOT analysis articles on brands like Apple, Amul, Patanjali & Nestle.
Moreover, a pre-cursor to SWOT analysis of Flipkart is studying about the company background. This includes few basic details about the company, industry, products, rivals, partnerships/acquisitions and business models.
Finally, SWOT analysis of Flipkart would begin with a brief overview of Flipkart's business.
Company Overview – Flipkart
Flipkart was founded in 2007 by two Indian youths -Sachin Bansal and Binny Bansal. These IIT Delhi graduates, fresh out of working for Amazon started with an online book sale portal.
As daily orders increased, they scaled up adding more and more product categories gradually and making strategic acquisitions.
Now, Flipkart generates a revenue of USD 6.1 billion (2019) and is one of the most established players in online retail. It has managed to make notable acquisitions on its rise to prominence like Myntra, Jabong, Phonepe, Walmart India(wholesale), Ekart etc.
It has a high brand recall and reliability with millions of users using Flipkart for their diverse needs. It occupies the highest market share for e-commerce companies in India.
---
Product Portfolio & Acquisitions
Majorly Flipkart deals in online retail pertaining to a large diverse set of product categories.
These include Groceries, Fashion, Mobiles & Electronics, Home care, Appliances, Beauty products and accessories, Books & much more.
Flipkart has tied up with various firms such as Myntra & Jabonng(fashion) & Phonepe(digital payments) to strengthen its portfolio.
Apart from that, Flipkart has also made alliances with Walmart & Aditya Birla Fashion and Retail Limited (ABFRL) because it wanted to enhance the consumer fashion experience and online retail in face of stiff competition.
Flipkart also ventured into diverse product lines in the past with the launch of Flipkart Video – an in-app streaming service.
This Bangalore based start-up was also thinking about venturing into the financial services sector in 2018.
---
Investors
In August 2018, U.S.-based retail chain Walmart acquired an 81% controlling stake in Flipkart for US$16 billion, valuing Flipkart at around $20 billion.
Apart from that, major investors include Tiger Global (4.77%), Binny Bansal (4.2%), Microsoft(1.3%) etc.
Flipkart registered itself with the Singapore government as a company while its operational headquarters is Bangalore, Karnataka.
Also, both the founding Bansal brothers exited the company and its working in late 2018 after the take-over by Walmart.
SWOT Analysis of Flipkart
Now let us get to the SWOT analysis of Flipkart.
You will see how the internal and external factors affect Flipkart and its success. You can also analyse and indicate the strategic improvements that the company can cater to in future.

This section will comprehensively figure out why Flipkart is such a huge success story.
Strengths of Flipkart
Flipkart's continuous dominance in online retail and is attributable to numerous internal factors. These refer to the strengths of Flipkart, and here I will be taking you through some of them.
Exceptional Brand Recall
Flipkart enjoys an extensive degree of brand recall through online branding, social media and its quirky TV advertisements.
Be it those kids acting like adults in those TV ads or the frenzy around 'Big Billion Day'.
Over the years, Flipkart managed to rope in icons like Alia Bhatt, Ranbir Kapoor, Virat Kohli etc to connect with its user segments.
Tag lines like 'Ab Har Wish Hogi Poori' and "India ka Fashion Capital' are trending amongst Indian consumers.
---
Experienced Foundation
The online retail industry in India was taking its baby steps back in 2007-08.
And at that time, Flipkart's founders (Bansal brothers) who had just worked at Amazon were leading the firm. Their technical expertise in online retail industry eased Flipkart's growth and prominence.

Even after Amazon's entry, the competition is still cut throat owing to the great foundations laid by them.

---
Strategic Acquisitions & Partnerships
Flipkart has consistently been able to establish tie-ups with likes of Myntra, Jabong, Walmart because it wanted to solidify its position.
Having a separate brand pertaining to fashion and one for digital payments (PhonePe) contributes greatly to brand equity.
Further, Flipkart has entered many strategic partnerships like Ekart, Chakpak, Letsbuy, Walmart etc. This enables Flipkart to bolster their logistics, payment gateways and digital content creation.
---
High Volume & Range of Products
Flipkart has a plethora of quality product options to choose from in every category they sell.
Exclusive tie-ups with popular brands like Lifestyle, Apple, Motorola, and Xiaomi in the past as well as encouraging in-house brands like Citron, Digiflip & MarQ etc have helped with their large catalogue of products.


Weaknesses of Flipkart
The online retail giant, Flipkart also faces some internal weaknesses. Let us have a look at some of them.
Excessive Advertisement Expenses
Flipkart spends as much as 30% of its annual revenues on marketing and advertising, much higher than HUL. Now, that's a steep benchmark!

Flipkart relies on heavy discounts, spending crores to attract and retain customers because it wants higher visibility across mediums.

And, Flipkart reported a loss of Rs 1950 crores in FY2020 even though revenue grew by 32%.
Therefore, 'Big Billion Day' has become a trademark yearly sale event for online shoppers. But excessive spends on ads is not sustainable in the long run.

'Flipkart Plus' is nothing more than a simple rewards program for shoppers.
They have failed to build greater impetus around it and branding it for users to spend money to get that 'Plus' subscription.
---
Lack of Technological Innovation
Flipkart distribution channels and outreach are limited and nowhere comparable to its top competitors.
The supply chain and logistics for the products delivered to users needs massive upliftment.
The Just-in-Time inventory philosophy needs to be followed as shipping times and lead times to completing order is too high for Flipkart.

Further, Flipkart has lacked on the R&D aspect of technology - routing users from various mediums to their website exactly what Alexa does for Amazon.
Rapid Acquisition Spree
Flipkart has been lately looking to up the game by focusing on improving user experience.
It has acquired a host of start-ups like Mech Mocha(social gaming) and AR start-up Scapic.

Given that the company is reportedly posting losses, and competition is heating up, so siphoning funds on improving user engagement on their platform isn't exactly first priority.
This rapid acquisition spree might turn out to be damaging for the finances.

Opportunities of Flipkart
While there are many obstacles on the way, there are situations where Flipkart can benefit and leverage from. Let's take a look at the Opportunities:
Post-Pandemic Sentiments
Just like COVID has wreaked havoc globally, it also provides great impetus for embracing 'digital'. As more and more consumers are being aware and switching to online consumption of services.
You might be ordering your daily essentials though these E-commerce websites.
It Is a golden opportunity for Flipkart to grab on. They should extend its range of offerings focusing on consumer sentiments and insights.
---
Market Development
Owing to the thrust towards digital economy and retail, Flipkart should indulge in new market development and extend its services.
Flipkart has to be move across borders of India and serve customers from neighbouring geographies like South-East Asian countries. Because these countries have a high demand for online retail.
Entering into joint ventures with local players, Flipkart can look to diversify its revenue from alternate markets.
---
Delivery Excellence
Order returns, refunds, cancelations, redressal of delivery issues, and fake product deliveries etc are issues Flipkart should enhance in their ranks.
Flipkart should try to reduce the delivery times and increase its operational efficiency for tier 2 & 3 cities because rural dwellers are now surging to online shopping.
---
Secure and Streamline Payments
Better online secure payments can instill more confidence in people to shop online. India has one of the highest no of smartphone users in the world.
Flipkart can look to streamline payments for their orders through an in-house payment service like AmazonPay to include new product lines.
And Flipkart can also look to ride on the wave of 'Vocal for Local' sentiments in India allowing more MSMEs to sell on their platforms.
Threats of Flipkart

In this era of intense competition for survival, there are some threats of Flipkart that it must be vary of. Let's take a look at them
Threat of Intense Rivalry
There is no dearth of competitors in the online retail space. Be it international players like Amazon, eBay, and Alibaba or local ones like Shopclues, Snapdeal, and Paytm etc.
Presence of so many rivals selling similar products immensely reduces revenues.
Two top firms in Amazon & Flipkart are locked in a battle of burning cash, offering festive sales, and ambitious money infusions from investors. Because they both want to conquer the Indian online retail market and oust the other.
---
Buyer Power & Switching
The online retail market is saturated with Snapdeal, Paytm, Ebay, Myntra Reliance Digital, and Nyka etc.
Customers visibly have lower switching costs; they instantly switch from one online shopping website to another.

The products are mostly the same apart from a few brands. Hence, 'standing out' is tough to say the least.
---
Conclusion
Flipkart's ever-growing influence in the online retail industry has been well documented here. I have focused on the various products of Flipkart and its business competencies and loopholes.

I started with Flipkart's core strengths and its weaknesses which hinder its progress. Along with that, I also shed more light on the opportunities that lie ahead and the threats to be vary of for the company.
I have touched upon what is the SWOT analysis of Flipkart a detailed manner. I hope I managed to answer your questions surrounding Flipkart like,
Why is Flipkart so successful over the years?
What are the weaknesses and strengths of Flipkart?
Which are the golden opportunities Flipkart can make the most of? We also talked about the threats of Flipkart it must safeguard against.
In the end, I would conclude that SWOT is a robust yet extremely powerful and simple tool.
It not only helps you understand the core competencies but the limitations and loopholes in business strategy of a firm.
Which company do you want me to conduct a SWOT analysis on for the next post in this series? Please feel free to address it in the comments.
Found the article interesting? Share it with your friends: