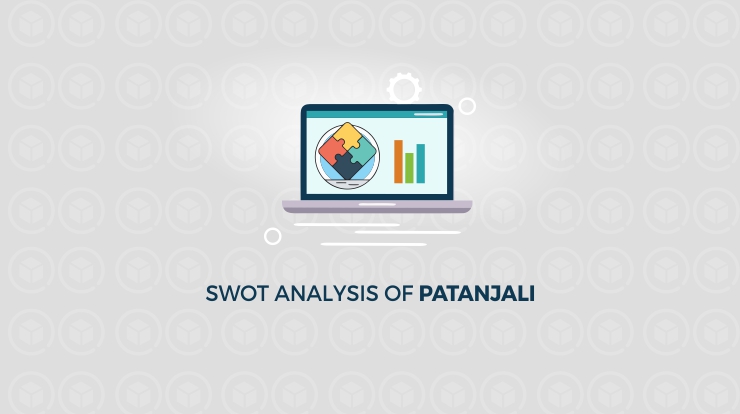 Patanjali Ayurveda Limited is a consumer goods company having its headquarters based in Haridwar, India and its registered office in Delhi. The company was founded in 2006 and has fast risen to exceed revenues of Rs 12000 crore in FY 17-18. Patanjali's growth story could not be achieved without efficient and effective strategies implemented by the company. And therefore, in this article I will analyse one of the strategic analysis tools, the SWOT Analysis of Patanjali Ayurveda.
---
Who is the owner of the Patanjali Brand?
Patanjali Ayurveda is the brainchild of Baba Ramdev who is a renowned practitioner of Yoga and the science of Ayurveda in India.
The company manufactures its products using the principles of Ayurveda with herbs, minerals and natural products as its main raw materials.
The main intention of the Patanjali Ayurveda's inception was establishing the science of Ayurveda in synergy with the latest technology and ancient Vedic wisdom.
The company has diversified into having a wide range of products within the foods and beverages, personal care products, cleaning agents, and ayurvedic medicines.
Some of the most popular products of the company include Patanjali Dant Kanti and Patanjali dairy products such as ghee, cow's milk and curd.
To understand the success story of a company or a product, SWOT analysis becomes a really important tool for any marketer.
Therefore, let's get down and understand the SWOT Analysis of Patanjali Ayurveda
---
What is SWOT Analysis?
SWOT Analysis is a strategic analysis framework used to evaluate the competitive position of the company for developing strategic plans.
SWOT stands for Strengths, Weaknesses, Opportunity and Threats of the company to assess the internal and external factors, along with present and future potential.
---
SWOT Analysis of Patanjali Ayurveda
Finally, let's dive in and see each of the aspects of the SWOT Analysis of Patanjali, i.e. Strength, Weaknesses, Opportunities and Threats separately. From the remaining part of the article, you will be able to understand the various factors that make Patanjali a success story.
Hopefully, you should be able to map and attribute the SWOT of various other companies to those companies' success.
---
Strengths of Patanjali Ayurveda Limited
Strengths are always internal to a company. These could be the points of competitive advantage that make them unique or could simply be the things that a company does well and it may not be unique. Here are the strengths from the SWOT Analysis of Patanjali Ayurveda.
1. Association with Baba Ramdev
Baba Ramdev is the brainchild behind the company and also serves as the brand ambassador and spokesperson for the company. Baba Ramdev has a cult following in India due to his status as a yoga guru and an expert of Ayurveda.
Baba Ramdev has millions of followers in India who also form a large customer base for the products of Patanjali Ayurveda Limited. Also, Baba Ramdev's association has helped the Patanjali become a household brand all over India.
2. Strong Sense of Patriotism
Patanjali has linked itself strongly with Prime Minister Narendra Modi's "Made in India" campaign.
Patanjali's positioning within the minds of consumers is of a natural Indian brand and projects a sense of patriotism in its advertising and marketing campaigns. This has helped script Patanjali's growth story and enable the brand to become a household name.
3. Ayurveda and Herbal Brand
I remember mentioning this in an article I wrote on the Marketing of Edible Cutlery. There I wrote about how there is a rise in demand for organic and herbal products among consumers.
This is due to the side-effects of chemicals and other compounds in products. Moreover, as a marketer you need to understand that this is also because people want to feel good and be a part of the group which uses organic products. There is a feel good factor about it.
Ayurvedic treatments, products and medicines are known to have no side-effects. All raw materials used by Patanjali's products are herbal and does not contain any chemicals or preservatives.
Patanjali's positioning as a natural and herbal brand has helped script Patanjali's growth story.
4. Penetration Pricing
The products of Patanjali are generally priced about 20-30 per cent lower than other competitive brands in the market. Other popular brands are unable to compete with Patanjali by prices, and this has made Patanjali popular among the lower income and middle-class income groups in India.
5. E-commerce
Patanjali might be founded on ancient principles but is quick to adopt modern technology. Patanjali has its own e-commerce platform and also sells its products through online platforms such as Amazon, Big Basket and other major retail platforms.
6. Keeping up with the latest trends
While the company might be owned and managed by Babas and Swamis, and the company is founded on ancient principles, it is quick to adopt the latest trends and technologies.
For instance, entering into retail with a partnership with the Future Group, using e-commerce, using digital media for marketing its brand and products, using Baba Ramdev as its brand ambassador.
The company has also adopted the latest manufacturing and sourcing techniques to manufacture its products and procure its raw materials. Patanjali is quick to adopt and implement the latest technologies to grow and promote the company and its business.
---
Weaknesses of Patanjali Ayurveda Limited
Weaknesses of Patanjali are, again, somethings that are internal to Patanjali. Weaknesses are the points that the companies should be mindful of. A company should ensure that it builds upon its strengths well so that weaknesses do not pose the kinds of problems that they can.
1. Over dependence on Baba Ramdev
The Patanjali brand is strongly synonymous with Baba Ramdev, and Patanjali's growth story has been linked to the popularity of Baba Ramdev. Baba Ramdev has political affiliations, and any act of a political vendetta against Baba Ramdev by any government agency can directly impact the Patanjali brand.
2. Low Number of Manufacturing Plants
Patanjali has a limited number of manufacturing units in Haridwar and Nepal. The brand is growing at an exponential rate, and the company needs to expand its manufacturing capabilities by investing in new manufacturing units to meet its growing demand.
3. Penetration Pricing Strategy is not viable in the long-term
While the penetration pricing strategy of Patanjali helps it expand its consumer-based and market share. However, it risks limiting the ability of the brand to expand as it is unable to invest its revenues, investing in new manufacturing units and other investments required to grow the company.
4. Low Distributor Margins
Patanjali operates on low profit margins, and as a result of this are unable to offer their distributors with attractive margins. Due to this, many distributors prefer selling and distributing the products of Patanjali's competitors who offer them better margins.
---
Opportunities for Patanjali Ayurveda Limited
In the SWOT Analysis, Opportunities are the points that can be and should be converted to the strengths of the company. In the case of the SWOT Analysis of Patanjali, I have listed below the opportunities that are well within Patanjali's reach.
1. Growth in Demand for Organic Products
The growth of consumer demand for organic products is increasing due to the increasing awareness of organic and natural products.
Patanjali's positioning as manufacturing of natural products has attributed to the growth and success of Patanjali Ayurveda Limited. The potential of increased future demand for organic and natural products can benefit the company.
2. Expansion into the rural market
The Indian rural market is largely undeserved due to the low spending capabilities of the low-income population of these regions. However, Patanjali's product's pricing being 20-30% cheaper than other popular brands.
The penetrative pricing policy of Patanjali combined with Baba Ramdev's popularity in the rural regions of India can help acceptance of Patanjali's products in rural India.
The demand for herbal, organic and natural products is also increasing in other parts of the world, including the developed western countries. Patanjali's positioning as a natural and ayurvedic company can help.
This offers Patanjali an opportunity to expand into international markets and grow its brand.
Patanjali has tied up with the Future Group to enter into modern retail chains. The company has also expanded its e-commerce presence with its products being available on Amazon, Big basket and other e-commerce platforms
Patanjali can diversify into other natural and organic products such as Khadi, clothing and apparel, natural cosmetics and other natural and organic products. This will also the company to use its existing distribution channels and strategic partnerships to distribute its new products.
---
Threats for Patanjali Ayurveda Limited
And finally, a company should work on its strengths to mitigate the effects of threats. Some organisations who are in a niche, niche down further to mitigate the risks of a competitive environment. I have listed below some of the Threats for Patanjali.
1. Competitive Environment of the Indian Market
India has some major players in the FMCG sector which include HUL, Marico, Parle Agro, ITC, Nestle, P&G, Britannia Industries Limited and many more. Due to this, Patanjali Ayurveda Limited operates in a highly competitive market space.
2. Impact of a possible poor reap
Patanjali used natural herbs and agricultural products to manufacture its products. Though Indian has a largely agriculture-based economy, most agriculture is still dependent on rainfall to water their crops due to lack of irrigation. One year of poor monsoon can lead to bad agricultural output, as a result of this negatively impacting the supply of raw material for the company.
3. Possibility of a Price War
A price war might benefit the consumers, but often can be harmful to domestic businesses. Multinational FMCG companies with deep pockets can create a price war to drive out competition by selling their products below cost, which is unsustainable for domestic players such as Patanjali.
Found the article interesting? Share it with your friends: