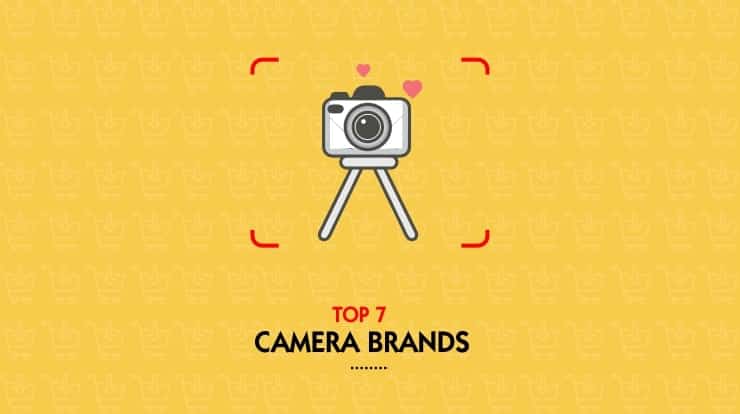 The best memories are meant to be preserved and captured. The responsibility lies on the shoulder of the best camera brands of the world. Talking about the best camera brands, we can recollect some major brands in the market, namely – Canon, Nikon, Fuji-film, Pentax, Sony, Panasonic, and Leica.
In this article, I will talk about these camera brands, their product portfolio, the marketing strategy, special features of the brand, the customer base, the pricing, and the company details.
So, if you are planning to conduct a research on the camera market, this article is surely going to give you the direction that you may need.
Let's get on with it.
---
1. Canon
Canon is one of the best DSLR and digital camera brands in the world. It is positioned as a leading electronics company which delights the customers with its innovative offerings. No wonder why they have the tagline "Delighting you always."
The parent company Canon Inc is a Japanese origin brand. It was founded in 1937 and had headquarters at Ota in Tokyo. The name Canon comes from religion, of Guanyin in Japanese, despite that spelling is closer to Canon (law).
The customer base of the camera brand is upper-middle and upper-class folks. The product portfolio includes digital cameras, DSLR's, camcorders, photocopiers, and printers.
Canon sets relatively low price comparing to its top competitors. Thus, they try to position Canon in the market as high quality-less prices DSLR camera.
In this way, it attracts the new camera enthusiast while providing consistent quality for existing loyal customers who could be experts.
The camera brand is one of the leading eco-friendly companies in the world and indulges in numerous CSR activities. It has faced losses due to fake products which have used its brand name. Slow repair system and weak after-sale operations is something that has affected the brand in the past.
---
2. Nikon
Nikon is an optics and imaging products company and one of the top camera brands. The headquarters of Nikon is in Tokyo, Japan. You would classify Nikon under the consumer electronics space.
The target customers for the brand consist of urban upper-middle-class and upper-class individuals. Initially, Nikon restricted itself to professional photography only, but now it has changed its positioning to everyday photography for mass markets.
The product portfolio of Nikon consists of cameras, camera lens, binoculars, microscopes, ophthalmic lenses, measurement instruments, rifle scopes, spotting scopes, and steppers. The products made my Nikon are genuine, professional and high tech. The brand offers quality and several products.
The USP of Nikon lies in the fact that it has research and development as its focus and comes up with innovative products.
The good thing about Nikon is excellent after-sale services. It has established service centers at strategic locations in major urban cities and towns. Customer satisfaction and loyalty is enhanced due to this.
Nikon has leveraged social media for its promotion to its fullest. It has a healthy and active media presence.
---
3. Fujifilm
Fujifilm is a leading firm in imaging technology, having 80 years of experience. The firm provides solutions in Digital camera, Photo imaging, medical products, graphic arts, life science systems, motion picture films, recording media, and industrial products.
The product portfolio of Fujifilm is categorized into two parts, namely the consumer products and the business products.
Consumer products consist of digital cameras, instant photo system, binoculars, skincare products, etc. Business products include medical systems, graphic systems, photofinishing products, optical device, etc. to name a few. Thus the target customer of the company lies in both the B2B sector and B2C sector.
This camera brand has got a considerable market share because of the excellent product quality and the value-added services for that pricing. Its policy of mass production has helped it reduce the cost and provide affordable pocket-friendly products to its customers.
The camera brand encourages in-store promotions through various outlets. It has also leveraged social media and its official website to get in touch with the customer base. Made to order (MTO) supply chain system is followed by the firm. It takes the order from the client and then starts the manufacturing process.
Headquarters of Fuji Film lies in Tokyo, Japan. The firm has vast spread network across the world. "Value from Innovation" is the tagline of Fujifilm.
---
4. Pentax
Pentax is the camera brand which invented SLR structure and auto-focus. It was a part of the "Big 4" Japanese camera companies along with Canon, Nikon, and Minolta. Pentax now belongs to Ricoh.
The product line of Ricoh consists of DSLR, lenses, compact, Weather camera, Sport optics, and printers. After digitalization of camera, Pentax did lose its market share.
But now it has come up with the brand new Pentax K-S2, a DSLR product of Pentax. It has maintained its legacy of producing colorful products. It has helped them gain the attention of amateurs and female users.
The marketing strategy used by Pentax is social media marketing and SEO. Unfortunately, it is not working out for them. Ricoh's You Tube channel is inactive. It is not even the first or second result when one searches for "Ricoh" or "Pentax."
Pentax has the products at affordable price. "Imagine, change" is the tagline of Pentax and high time for them to justify it.
---
5. Sony
Sony is one of the most recognized consumer electronics brands in the country with a reputation for new age technology, digital concepts, and excellent after-sales service. It has its presence all over the world. A strong network of dealers, distributors, and outlets are present, giving Sony a high visibility quotient.
The product portfolio of Sony consists of Televisions and Home cinema, Audio devices, Cameras, Mobile and Accessories, Video Cameras, In-Car accessories, Energy, Storage & Cables, and PlayStation.
Sony attracts the economy buyers, the middle-class buyers, and the high-end buyers.
The brand also follows a price skimming strategy. The marketer sets a relatively high initial price for the product at inception, then lowers the cost over time.
Sony uses a lot of celebrities for brand promotion and endorsement. Sony also leverages adverts like newspapers, magazines, etc. to advertise their products. It offers cards with redeemable points. It uses a pull strategy for attracting customers.
The camera brand has its headquarters in Minato, Tokyo, Japan. The tagline of Sony is "Be moved" which is justifying.
---
6. Panasonic
Panasonic is another Japanese company with its headquarters in Kadoma, Japan. "A Better Life, A Better World" is the tagline of the camera brand.
The product portfolio of the brand consists of consumer products and business products. Consumer products include home entertainment, air conditioners, mobile phones, cameras, and camcorders, to name a few. Business products consist of projectors, security systems, broadcast, etc.
Panasonic has registered more than one lakh patents and trademarks. Indeed a sign of an innovative company.
Panasonic is using sources like authorized showrooms, service centers, distributors, resellers, direct sales channel to reach to its customers.
---
7. Leica
Leica is a German company which specializes in the manufacture of high-end cameras and optics. Its product line also consists of Binoculars and Camera lens.
The camera brand lies in the premium-segment manufacturer of cameras. The camera is known for its compact size and has short lenses. This feature makes it easily portable. Also, a major value-added service to make them the desired item in the eyes of a consumer.
---
Conclusion
In this article, my objective was to give your market research a kick start by listing down the major players in the camera business. There were the top 7 various brands of the camera. While all of them seem to be going for the same share of pie, they are actually quite distinct on many fronts.
Share your opinion about your favorite brand and your experience with it. I look forward to hearing from you.
Found the article interesting? Share it with your friends: