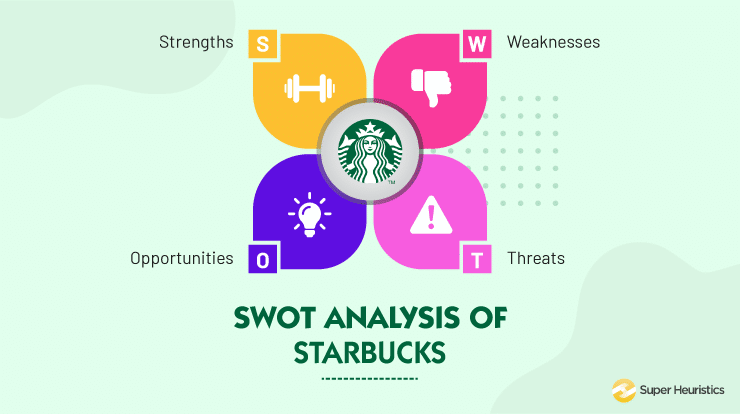 In this blog, we have conducted SWOT analysis of multiple companies like Flipkart, Apple, TATA Motors. Today we are going to do the SWOT analysis of one of the most successful coffee brands in the world, which changed the coffee drinking culture around the globe, i.e., SWOT Analysis of Starbucks!
India being a country full of tea lovers, it was difficult for companies to bring a coffee culture in the country.
Seen as a more modern culture, coffee houses and cafes have now started getting more attention, especially among the youth.
Don't you and your colleagues, may it be a formal or informal meet hang out at a coffee house, maybe even Starbucks? Well, I do. And that's what got me to think about writing this article and I hope it gets you to read it!
Let us now do the SWOT analysis of Starbucks.
Starbucks-Overview
Imagine yourself sitting in a café with your friends sipping coffee, engaged in a breezy conversation. A nice thought, isn't it? Well, it would not have been possible had it not been for the founders of the world's largest coffee franchise chain, Starbucks.
Founded in 1971 in the city of Seattle, USA, Starbucks changed the way the world drinks coffee outside home and work.
Currently led by president and CEO, Kevin Johnson, Starbucks Corporation is an American Multinational chain of coffee franchise. As of 2020, the company operates more than 30,000 outlets in locations worldwide.
Despite the ongoing pandemic, Starbucks in the first quarter of 2021 generated approximately 6.7 billion USD revenue.
This although reflects a decrease when compared to the revenue of the first quarter of the previous year, it is still considered to be good considering the performance of competitors and the pandemic situation worldwide.
Quarterly revenue of Starbucks Corporation worldwide from 2009 to 2021 is given below to help us compare the revenues over the years and draw appropriate conclusions.
Today, the coffee franchise offers much more than just coffee. Their tea, handcrafted beverages, ice creams, fresh food, packaged goods, consumer products and merchandise have amassed a multi-billion dollar empire.
Now, lets jump into the SWOT Analysis of Starbucks and learn about what is the SWOT analysis of Starbucks, i.e., the strength, weakness, opportunity and threats faced by Starbucks.
What is SWOT Analysis?
SWOT analysis is a very important marketing tool to understand a company's internal and external factors.
Strengths and Weaknesses of a company are a part of the internal factors used to assess what factors affect the company internally.
And Opportunities and Threats are external factors used to assess what from the outside environment can affect the company.
If you know the strength of your company, capitalize these strengths to find new opportunities, reduce weaknesses or avoid threats.
All these factors are interlinked and one of the best ways to understand a company.
Doing the SWOT analysis of Starbucks will help us understand the company, what are the opportunities available to Starbucks and what external factors can threaten the success of Starbucks. Let us now start with the SWOT analysis of Starbucks.
SWOT Analysis of Starbucks India
After a lot of discussion on Starbuck's background, what is SWOT analysis of Starbucks, Importance of conducting a SWOT analysis.
Let us finally dig into and do the SWOT analysis of Starbucks and go over to each of the four factors in detail. Th first one being the strengths of Starbucks.
Strengths of Starbucks
A company's strength relies on its internal assets like, the people, processes, products, which distinguishes them from the competitors and help determine what are the strengths of that company and how they are leverage on these strengths.
Strong Brand Image
Starbucks Corporation is one of the most popular and strongest brands and the best example of a successful brand in the food and beverage industry.
Starbuck's size, revenue, and loyal customers have kept growing over time.
The brand value of Starbucks in the year 2020 was approximately 11.5 billion USD, down from previous years 11.8 billion USD.
Starbucks has worked on evolving their logo with time, to depict the exact essence of the brand and they've managed to do that without losing their core image.
Starbucks is a hit in terms of brand image and has positioned itself as a premium coffee brand in the minds of its customers. It is considered as a status symbol and has been able to successfully revolve around that image over the years.
---
Quality, Taste and Standardization:
Why do you think Starbucks has been able to maintain its brand image? I think its all inter-related.
Due to its wide variety of offerings, quality of the products being offered, taste and consistently standardized products in each location has enabled Starbucks to be the brand it is today.
Therefore, the food and beverage variety, quality, taste and standardization of products is a strength that Starbuck owns.
---
Strong Financial Performance and Supply Chain
As stated in the introductory paragraphs, revenues of Starbucks has increased constantly over the years, showing a very strong financial performance despite the ongoing pandemic and lockdown situation worldwide.
To get a clearer picture of the financial performance of Starbucks over the years from 2005-2021, refer to the financial statement of the company over the years.
From sourcing it's coffee beans from Latin America, Africa, and Asia Pacific to getting supplies of the diversified product ranges like innovative merchandizes, food items, etc.
For Starbucks, in its initial years, supply chain strategy was not a priority.
Until the late 2000s, due to economic downturn they started facing supply chain issues and re-engineered the same, removing around 700 million from its supply chain cost.
They faced issues like, lacking strategy focused on delivering enterprise value, lacking focus on the right supply chain metrics.
But recently, they moved from a traditional logistics mindset to an organization purpose-built to deliver value, monitoring and adding value to every step of the production process.
They started developing a problem-solving attitude, better partnerships, new metrics, improvement in inbound and outbound logistics and procurement, this has helped strengthen the brand.
---
Social Responsibility
Starbucks India has recently launched a campaign to fight gender inequality. Starbucks has opened multiple all women cafés in India to promote this cause,
For example their Shivaji Stadium (Delhi) branch, Western Express Highway (Goregaon) branch.
"As a leading employer in India, we have a responsibility to invest in initiatives that advance education and skills development among girls and young women."
-Navin Gurnaney (CEO, TATA STARBUCKS)
Also, Starbucks Korea is planning to ban all single use plastic cups by the year 2025.
Next in the SWOT Analysis of Starbucks, let us look at the weaknesses of Starbucks.
Weaknesses of Starbucks
A business' weak points are mostly internal to the company. Start by assessing your business from a more vulnerable standpoint where you're at a disadvantage against your competitors.
Is it the lack of innovation in products, declining market share, or demand? These weaknesses can also help you map your progress over time.
Here's my take on weaknesses in the SWOT Analysis of Starbucks.
---
High Prices
Living in a country like India, where tea and coffee are available anywhere and everywhere for less than let's say 10Rs per cup, Starbucks does seem like an expensive choice.
But its reasonable on their part as they have established themselves as a premium brand. Comparatively, Starbucks has the one of the highest prices compared to other coffee houses.
Here's a quick look at the prices.
I am sure the coffee aroma reached you and made you feel hungry, but no, don't rush to the store right now, let's look at another weakness of Starbucks, i.e., imitable products.
---
Imitable Products
While Starbucks may be known for its coffee, merchandise, and food items, the recipe for these products can easily be deciphered.
Starbucks does not have the most differentiated or unique product, making it easily imitable.
A large number of coffee chains provide similar kind of products, leaving Starbucks to play on its brand name or bring out a new card every once in a while.
For example, introduction of new flavours, merchandises or schemes depending on festivities.
Starbucks India for example in 2018 to celebrate its 100 stores in India offered all its tall drinks for 100Rs attracting thousands of people to promote their brand.
---
The Indian Market
Talking specifically about the Indian Market, Starbucks entered India late, giving other coffee houses a lead over themselves.
They lost their first mover advantage in the retail coffee industry and are not the market leaders but the market followers.
Due to high competition Starbucks is also facing supplier related issues in the Indian market, like not getting supply on time, high prices of coffee beans, etc.
To get a strong supplier connection Starbucks in India had to enter into a 50:50 joint venture with TATA Group, now becoming TATA Starbucks.
TATA Group is also the supplier of Starbucks biggest competitor in India, i.e., Nestle.
Next in the SWOT Analysis of Starbucks, let us look at the Opportunities of Starbucks.
Opportunities of Starbucks
Opportunities are the real deal for business – these are the points which can make a difference for the company and be turned into useful strengths.
After SWOT analysis, identified opportunities should be implemented to yield maximum benefit.
Here's my list of possibilities in our SWOT analysis for Starbucks
---
Expansion
India being such a vast and culturally diverse country opens gate for new opportunities. The number of coffee drinkers and people adopting western culture, as represented by Starbucks is growing in India.
Despite the Pandemic forcing lockdowns and store closures in the retail industry, TATA Starbucks is all set to open 40 new stores in India in the year 2021, where it already operates around 218 stores.
Also, Globally, Starbucks has high scope of growth and expansion in growing economies like China, Africa, etc., where it has established itself.
---
Customized Menu for India
Every part of India has an essence of itself, may it be Amritsar's Kulcha or Mumbai's Vada Pao. Choice of food consumption is very diverse in different cultures and geographies of India
This would give brands like Starbucks, who not only provide beverages but also food items in their retail chains, amazing opportunities to diversify and grow.
Although this might sound very costly and difficult to implement, provides great opportunities
This Helps in developing products as per the customer preference in the specific target market, making it a very profitable opportunity.
In fact, Starbucks may be famous for its standardized hot and cold beverages, it actually provides different food items, according to the taste and preference of consumers in that particular country.
A fact worth noting here is that in India, food usually makes up 25% of Starbuck's revenue, and hence should be given more priority.
---
Strengthen Online Channels
Pandemic has discouraged in-store consumption of coffee and instead of seeing the glass as half empty, why not see it as half filled and seek an opportunity?
Starbucks has the opportunity to go online and strengthen its online sales channel to attract more customers.
Also, customers have started ordering coffee from Uber Eats and other coffee delivery services, Starbucks can maybe start their own coffee delivery services.
Next in the SWOT Analysis of Starbucks, let us look at the Threats of Starbucks.
Threats of Starbucks
Threats are external to the business under consideration. Although continuing to work on the strengths should be enough to mitigate these threats, they're often dangerous.
Identification of the dangers and calculating their risk can help the business prepare for the threats' outcomes.
Here's a list of the threats identified for our SWOT analysis for Starbucks.
---
Competition
In India, coffee is available in every price range and this poses a serious threat to Starbuck's coffee products.
Many coffee houses offer products at an affordable rate, though we can say that they have a different target audience, but Starbucks needs to keep an eye on these not so high premium brands.
Aggressive competition with multinational companies like Dunkin Donuts, McDonald's can also pose a serious threat to its market share.
Here's a list of top 15 competitors of Starbucks.
---
Pandemic and Global Recession
Like any other retail store all over the world, the corona virus pandemic, health situation, and global recession has affected Starbucks as well and due to the unpredictable nature of the situation poses a threat.
Starbucks has temporarily closed 2000 stores in China, and overall 50% of the chains corporate footprint and 46% of licensed stores in US are closed.
Although they expect 90% of the stores to reopen by June,2021. Starbucks has lost around 915 million till now, due to the pandemic.
Experts are also predicting that the ongoing global recession will only get worse, impacting business around the world, including Starbucks, who are already seeing a major drop in their revenues.
---
Rising Prices of Raw Coffee Beans
The price of raw coffee beans – Arabica, the world's most-produced coffee (representing over 60% of the world's production), has increased drastically during the pandemic due to concerns over its availability, hoarding, and supply chain disruption.
Any additional dollar channelled to purchase raw coffee beans at an increased price reduces Starbucks' profitability and if the prices continue to increase could pose a serious threat to Starbucks.
We have now completed the SWOT Analysis of Starbucks.
Conclusion
That's it for our article on the SWOT analysis of Starbucks. I have gone over each of the four aspects of SWOT: Strengths, Weaknesses, Opportunities, and Threats.
We started off with the background of the company, what a SWOT analysis is followed by an in depth SWOT analysis of Starbucks
This included strengths like social responsibility, quality of products etc., weaknesses like, high prices, imitable products, etc., opportunities like, expansion, Indian menu, etc., and finally the threats posed by competition and the pandemic.
Starbucks is in the Fortune's top ten of world's most admired companies
They also are included in more than 20 rankings about innovation, valuable brands, best places to work, supply chain, corporate reputation, customer loyalty, and even the coolest brands on Earth.
In other words, everyone loves Starbucks!
So, this was my take on the SWOT Analysis of Starbucks.
Found the article interesting? Share it with your friends: