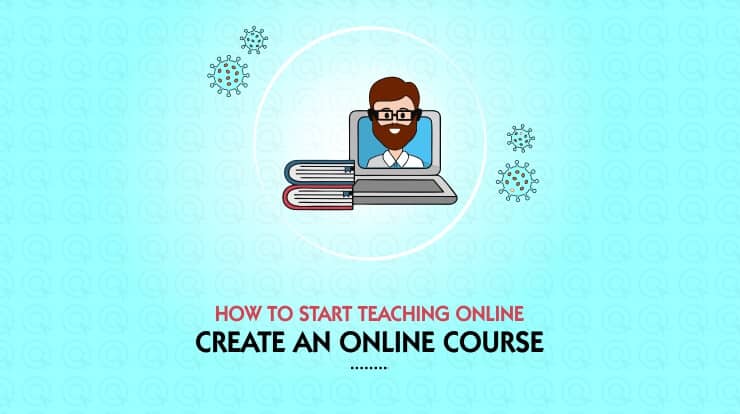 The spread of Corona virus has led to many schools and universities being closed for safety purposes. Many cities around the world are in lock-down and the government is promoting self-isolation and self-quarantine so that the spread of this virus can be minimized. A lot of those in the education services space who have been teaching offline in classrooms till now are figuring out ways of how to start teaching online.
In times like these, social distancing is the best option for everyone to fight this disease which has infected thousands of people around the globe. While everyone is at home, small businesses are suffering tremendously because of it.
As mentioned earlier, schools and educational institutes are shut down all around the world, and so are in India for the safety of all the entire community. Amidst this pandemic which has spread across the world, various governments had announced complete lock-downs. The government of India had also imposed a 21-day nationwide lock down to stop the rising number of cases.
Several reports including a report by Chandrakant Mahapatra, which was published on Bloomberg, suggest that the situation is much more serious than it seems and it is quite possible that the lock-down will not completely contain the virus.
A research at University of Cambridge by Rajesh Singh and R. Adhikari suggests that the impact of the virus is such that the current 21-day lock-down will not be enough to curb the effects of the virus.
According to the study, in order to get completely rid of it, India either needs to go into a much more prolonged lock-down or successive lock downs of the similar duration.
It is not anytime soon that small and medium-size education institutes will be able to resume their classes.
Therefore, here in this discussion, I am putting all that I know of how to start teaching online by creating your own courses. Having some experience in this the education services industry, I am putting together this step by step guide on how can you go online without dirtying your hands in a lot of technology and by controlling your costs. All of this so that you can serve the needs of the nation.
I will be telling you how to host your courses in two different ways. One would be to host it entirely free on YouTube just like a well-crafted playlist. And the other way would be to make use of the online teaching platform like Podia.
Both these examples will demonstrate that the journey to going online has nothing to do with deep technology that boggles your mind.
So, if you have been affected by the lock-down and have been wondering that how can I become and online teacher, please stay with me in the discussion.
How to start teaching online?
---
Corona Virus Impact on Business in Education Services
There are numerous educational institutions in India catering to the demands of students. These are big universities and colleges as well as small and medium sized tutors and coaching classes. While some of them have online presence and use online resources to teach, a big number of educational institutions have nothing to do with e-learning.
Most of the conventional educational institutions and coaching academies rely solely on offline teaching, which involves students and teachers going to these institutions physically. They don't really know how to start teaching online.
This recent situation has forced people to stay at home and suddenly it has become the need of the hour for educational institutions to turn to online platforms. It is not an easy shift and institutions; especially small and medium-size coaching centers are facing trouble in finding a way of how to start teaching online.
Worse than that, neighborhood tutors and home tutors are affected because they are extremely distant to the idea of how to take online classes.
When it comes to the education institutions, there are five kinds of institutes going through the situation:
Big institutions who are native online and will remain so
Big institutions who are in blended mode and are ahead in the curve to migrate to online
Big institutions who are only offline who are starting to go online
Medium-size institutions who are only offline and are looking to go online
Small-size institutions and individual tutors who are looking for do-it-yourself solutions
The first kind of institutions, the likes of BYJU's, Unacademy and Vedantu from India, have been online-first in their offering. This has put these institutions in a zone of comfort as there is minimum disruption for them.
The second kind of institutions, while they have witnessed a complete lock-down of their offline businesses, have mostly been agile to quickly bring all of their students to online mode and have continued to deliver the learning. Career Launcher, India's biggest public listed education company is a great example of this.
The nature has is a great leveler. And surprisingly, the third kind of big institutions are pretty much in the same situation as all the offline small and medium size establishments. So if you are a mediums-sized coaching center or a home tutor, you might take some respite in the fact that what you are going through is similar to what a big college could be going through right now.
---
Small Education Business: Start Online Tutoring
I have been studying at neighborhood tuition centers from when I was in class 8. Further, in classes 11 & 12, I even had a few tutors coming home to help me with Math and Physics. Having studied from at least 4-5 different tutors I know for a fact that smaller tuition centers or coaching centers do not have the right resources or any experience with online platforms.
This has become a huge roadblock for these smaller educational institutions and it is necessary for them to figure out an online strategy in order to survive.
This, in my opinion, is a more of a positive situation than a negative one for all education institutions out there. This is that unique opportunity than can change the way they do business. If you are one such teacher, mentor, education business owner, the onus is on you to go online and make an impact on a much larger scale now.
Small tutors, businesses and teachers have to understand how to start teaching online. This seems to be the only alternative for survival and a huge opportunity for overall growth.
If you are facing the same problem and have no idea how to start online teaching classes, I am discussing this just for you. I will take you through the step by step process of how you can start online classes with minimum technological know-how by using tools like YouTube, Podia, Open Board or Microsoft PowerPoint.
This is the prime time to expand your horizons, this is the time to actually make a difference. Change how you teach. It doesn't really matter if you don't have the experience with online teaching. Consider it just a roadblock and not the dead-end.
---
Big and Small – All Institutions are moving online
Bigger institutions who weren't previously using online platforms are now turning to them. It is because they have understood the need of the hour. Online teaching can not only allow you to survive these hard times but eventually lead you to expanding the horizon.
It doesn't really mean that all big institutions who are currently in a slightly more comfortable position had it ready, all it means is that they knew that this is the only choice and they had to figure out how to start teaching online. Because not every institution can sustain the pressure of staying shut for months.
It is time for you to think on the same lines. There is a positive side of it too. You can reach a greater audience remotely. You can market your institutions and make your presence known to more people than you ever could with just conventional way of offline education.
These twenty days should not be a reason for you to quit. You can actually see it as an opportunity for you to go global. All it takes is taking responsibly and taking the first step. You just have to get up and try something new. All you need is to figure out how to start teaching online.
This is high time for you to go online. Yes, it will be scary and somewhat confusing initially but once you get the hang of it, it will be smooth sailing afterward. It is time to start teaching online and reap the rewards of modern ways.
---
How to take online classes?
Now that you know taking classes online is extremely crucial for your business and for your students, let me tell you exactly how to start online teaching classes. I will tell you about how to get started, how to plan out your course, and what is the best platform for online classes.
Taking classes online is easier than you think it is. You just need a few tools to take online classes, which are:
Your notes
A laptop/computer (with Microsoft PowerPoint or Open Board in it)
A screen recording software (like Camtasia)
Now, let me share with you the step by step method of how to start teaching online.
With these extremely easy-to-use tools at your disposal, you can create a course in a matter of 24 - 48 hours. Whether you have money or not, nothing can stop you from going online if you are creative enough.
To give you clarity right at the start of how we are going to take you online, let me share with you my entire idea in the form of a flowchart. You would realize that you can start to teach online right now without any cost involved.
My explanation of how you can start teaching online with YouTube will tell you exactly that. On the other hand, Podia's 14-day free trial account can give you some idea about that platform as well. If you like it you can continue otherwise you can explore other resources. Now, let me share with you the step by step method of how to start teaching online.
---
Step 1: Choose how you will teach online
There are different kinds of ways you could teach. This is the first decision that you need to take as this will determine how do you wish to deliver your classes and record them.
Option 1: Physical Blackboard or Whiteboard
Most of you who teach offline in a classroom are habitual to teaching on a blackboard or a whiteboard. Therefore, if you have any such board at your home then your job is easy.
It is the easiest option in which you will feel very comfortable, as you have been doing that in your classes. Now you just need to do the same but without any students present in front of you.
If a whiteboard or a blackboard is available at your home you can start teaching now and record the videos from either your phone or a camera. These videos, once created, can then straight away go to your Podia account.
Option 2: PowerPoint Presentations
Alternatively, you can also teach through PowerPoint Presentations. Your computer or laptop will already be having the Microsoft PowerPoint software installed and all you need to do is put all of your notes on slides.
It is very easy to make a presentation through this application and make them fun and informative at the same time. Not only this, you can record yourself explaining each slide, either through your audio voice-over or your video talking-head.
If you are wondering how to create an online course using PowerPoint presentations and how to teach effectively, then here is a video created by team Podia that I found on YouTube.
Firstly, having taken and also attended I many such online classes, I can suggest that your slides should not be text heavy.
Such slides make the session extremely boring for the students. Secondly, if you are teaching a theoretical subject, please ensure that most of your slides have an image or a diagram. Learning through images and visuals makes it extremely easy.
Option 3: Online Whiteboard
Thirdly, you can also use an online whiteboard. To use this method, you will need an electronic pad and pen and if you have that available, you are good to go.
Download a free to use Open Board software and start recording your lectures. They provide you with an online white board with different styles of pen that you can use to explain the concepts.
With this, you can not only write on the screen (and solve numerical problems) but can also underline important things in your presentations or PDF.
---
Step 2: Plan your content and break them into modules
So now that you know how to create an online course and record your lectures, Let's focus on the content. To make your lectures easy to understand and gripping for students, you need to break them into small modules.
According to research, the best video length for students to grasp is 10-15 minutes. So, break your content in such a way that the video lectures are 10-15 minutes each.
Within each of these modules you can have multiple videos which will make up one playlist on YouTube if you are planning to host your course there. Where as, on Podia you can obviously create them as modules.
An Example of a Course Design
If I were to give you an example to help you think about how to design your course then here it is. Say, for example, if you want to teach Mathematics you can go ahead and break your topic into modules like:
Percentages
Simple Interest Compound Interest
Time Speed and Distance
Algebra
Geometry
Number System
Modern Math
Remember that the idea is to break the entire topic into smaller topics that are big enough and important enough by themselves. Further, you can give out all your topic-wise tests at the end of each module where each module can have some 8-10 videos.
Tests and Quizzes are really good course elements as you will be able to give your students a detailed analysis of their performance on their dashboards.
You must also be upload important Arithmetic, Algebra and Geometry formulas as a PDF.
This ensures that your students consume bite-sized content and are also able to absorb them easily. The advantage is that with these quizzes and assessments you can measure the learning progress of your students.
---
Step 3: Create worksheets, handouts and quizzes
Further, be extremely creative in what all other things that you can offer your learners to make it an effective online course for them. You must think about creating other elements like PDFs, eBooks and quizzes etc. which can be updated with the lectures. All of these can be securely hosted and arranged in your online platform.
You can upload all of these worksheets and eBooks onto your Google Drive for free. You can share the link of each of these eBooks and in the description of your video when you upload it on YouTube. This way you can ensure that your students are able to see the worksheets while they are watching the videos.
Alternatively, if you are using a course management platform like Podia, you can upload the following other elements in your course.
These platforms give you the functionality of adding quizzes and tests in your course just like you would have seen in many online courses. So, you can significantly improve the outcome for your students by adding a test at the end of every module.
If you are not using the course management platform and are using YouTube then you can host your tests and quizzes for free in Google Forms. Again, you can share the link of each of the quizzes within the description of your YouTube video.
Now that you know how to start teaching online and what your course design will be, now let's move to actually recording the lectures.
---
Step 3: Start recording the videos for your course
As we discussed in step 1 on how to record the videos, you can follow those steps according to the online teaching method you chose.
Use your laptop's camera to record yourself if you are recording the videos on a physical dashboard. If you are going to use a presentation or an online white board like Open Board then you just need to simply record your screen with a screen recording software like Camtasia.
A lot of course creators often find it extremely daunting to record an entire course. They feel that it is a big task and therefore they never start it off.
You don't need to record all the modules right away. Record your course module by module and start uploading the videos. Meanwhile, you could ask a fellow faculty to create all the tests for that module so that you can upload them in that module.
Once that module is done, give all of your students the access to their student-side dashboards. Going module by module will also help you in getting the students' feedback. With the feedback, you can incorporate all the suggestions and try to make your videos as informative and easy to understand as you can.
I would repeat it again. You don't need to release the whole course at once, people hesitate to create an online course just because it seems too big of a task. That shouldn't be hindering you because you can actually make and release the course module wise.
---
Step 4a: Upload videos on YouTube [Free]
There are various online teaching platforms out there to upload the modules. As I had mentioned above, you can start delivering your online classes and lectures with any cost by hosting the entire content on YouTube.
All you need to do is create your own channel on YouTube. This can be simply done using your Google Account. Start by going to YouTube.com and click on 'Sign In' at the top-right corner.
Once you have signed in, again go back to the top-right corner, click on your icon and select either 'Your Channel' or 'YouTube Studio'. Both the options will lead you to you YouTube channel's page.
Now, in your YouTube channel you can start uploading your videos for free. Once you have uploaded the videos on your channel, you can club some of the videos into a 'Playlist' which could serve as a module.
If you want your course to be only accessible to your paid members, make sure that you upload all your videos in the private mode. This will ensure that until and unless someone has the link to your videos, no one can watch the video.
You can now start to handout the links of your playlists to your students on their emails so that only they have the access to the course. If you are willing to share your course online for free you can make all the videos public and anyone on YouTube who is searching for that topic can find your videos.
Alternatively, you can make a few videos public so that students can approach you and start enrolling for your paid program.
---
Step 4b: Upload videos on Podia [14-day Free Trial]
If you want to run the show in a much more managed way then the best online teaching platform out there seems to be Podia. It is one of the most used platforms out there on which creators create their courses. It offers a 14-day long free trial with access to all premium features so you can just go ahead and explore the entire platform.
Once you create your free account on Podia you can choose what kind of an online course are are trying to make.
This is the start of a new era for your institutions and it is very important to get hold of the right resources if you actually want to succeed. Podia becomes a perfect tool if you are willing to start off with your online classes quickly.
Also a big reason to choose an extremely smooth functioning platform is that it helps in the long-term in managing your courses. I mean, sure, if you are spending some time in creating your courses then you would obviously see a day when you have a hundred, a thousand, or even ten-thousand learners really soon.
And in such a scenario, you need a platform that lets you scale and manage the entire program effectively. Moreover, it should also give you a feature like fee management which was definitely a problem on YouTube. Your learners will be able to pay their fee on the platform itself.
Therefore, in the final step of how to start teaching online, get onto Podia,start uploading your videos and arrange them into bite-sized modules. You don't need to pay to host the videos separately as all your videos are hosted on Wistia.
---
How to bring my existing offline students online?
Once you are done with creating your course, just start promoting your course online and on social media. For your existing students, who were currently serving online, create a 100% discount code and get them on your platform for free.
Podia gives you the opportunity to price your courses (obviously) and discount them as per your wish. So, you don't have to worry about your business going underwater, you can start creating the lectures by recording them and uploading them online on the platform mentioned above. It is that simple.
How to Start Teaching Online [eBook]
In this step-by-step handbook I have summarized all that you need to do to start teaching online. This book contains the a summary of this blog post to help you launch your first course right now.
---
How to market my online course?
Marketing an online course is all about how can you bring out your course's value and points of differentiation in front of your target audience. There are two parts to marketing an online course:
Academic Marketing
Promotions
Having worked in the education industry a couple of years in a Product Management and Marketing role, I can tell you that absolutely nothing works as good as how academic marketing does. Academic marketing is all about telling the audience about:
Previous success of your students
Student testimonials
Academic features of your product that are unique and relevant to the student
Your unique pedagogy
Your academic credentials
On the other hand, promotions are more about the other 4P's of marketing other than Product. So, if you have a discount that you want to run, you may do so and publicize it. Discounting does work in this industry. Apart from that, other offers that you may be running on your product, for example, clubbing it with another complementary service are all parts of promotion.
Now since in this discussion my focus is on how to help your existing students in going from offline to online, I will not delve deeper into marketing. However, if you are looking for any consultation on how to market your online course, you can reach out to me on my email address given in the footer.
---
Final few words before you launch your course
By taking classes online and creating your own course, you will not only help your students learn during this harsh time, but it will also serve as an opportunity for you to expand. Difficult situation often make us come out of our comfort zone and make the hard choices. This is your time to shine and this opportunity might not stay forever.
I have underlined all the details on how to start teaching online. Now all you need to do is to buckle up and get to work. Plan your modules and start recording! Stay home, stay safe and play your role in building a greater future for your students. Good Luck!
Free Resources to take online classes
I listed some of these free tools already up there in the discussion but I wanted to collate them here again for your convenience.
1. Free Guide on How to Build Awesome Course Content
This free guide with quite a few detailed chapters and videos has been created by Podia itself. Anyone looking to build a course on any platform should go through this guide for sure.
View Free Guide
2. Email Automation and Mail Management Tool
If you are a tutor with even 50+ students across all your batches, you really need an email automation and mail management system like MailerLite. With the help of this, you will be able to collect the emails of all the students (and their parents) and send out general announcements, homework, great resources to them on email with just a click of a button. MailerLite is the service that I use for my blog as well and it is absolutely free up to 2500 emails addresses.
Sign Up for MailerLite
3. Free Online Open White Board
As I had mentioned above, you can use the interactive online white board called Open Board for taking classes. This white board is open-source and is, therefore, absolutely free. It even gives you the option of uploading your presentations on it so that you can annotate on them.
Download Open Board
4. Course Management Platform
And finally, this is the backbone of your online course. You need a platform to manage all of your courseware that you create and also to manage all your students, their assessments etc. I have mentioned Podia up there which has a 14-day free trial without a credit card. Therefore, create your free account and explore.
Create Free Podia Account
Found the article interesting? Share it with your friends: