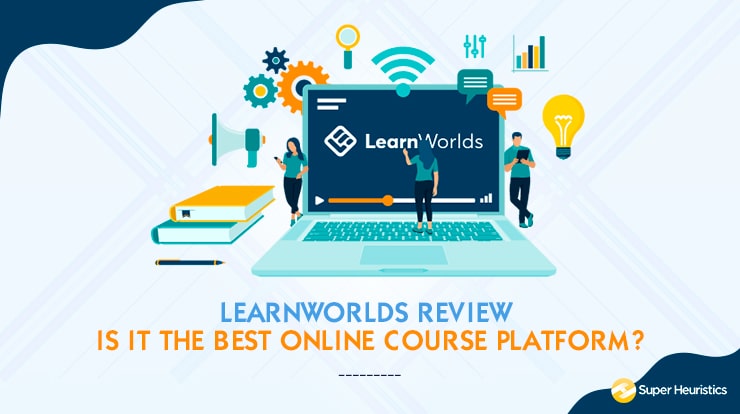 For a course creator, one of the biggest problems in online course creation is to choose the best course creation platform, with cheap subscriptions that suit their requirements without breaking the bank. LearnWorlds is an up-and-coming learning management system (LMS) and course hosting platform that promises a great course delivery laced with unique features. In this blog, let me take you through my LearnWorlds review.
LearnWorlds is a course creation platform that provides a robust solution to its users. I am sure that you are considering LearnWorlds as a potential platform for your online school or course. Therefore, I have created an in-depth reviews of LearnWorlds that has everything including its features, pricing, examples etc.
By the end of this blog, you will be able to decide if LearnWorlds is the best course creation tool for you or not.
---
What is LearnWorlds?
LearnWorlds is a cloud-based platform that enables educators and entrepreneurs to create and sell their online courses. This is a cloud-based platform, therefore, you do not need to install a native mobile or computer application.
With that said, I am sure that one of your questions would be about the features of this platform. As you read more in this LearnWorlds review will be talking about the major features including creation of interactive lectures, hosting e-books and PDFs. Moreover, it has all the standard third party integration options, as well as great analytics.
Before you read further. Create a FREE LearnWorlds School!
Not many know that you can create a LearnWorlds Account for FREE! This way you can start learning more about the platform and building your school right away without having to pay anything. Therefore, go and create a free account and then come back to explore your account with me.
However, before I discuss its features and tools in detail, I want to mention LearnWorlds' apparently best-selling point. That is the outstanding learning experience, which comes with the help of interactive lectures and engagement with the students. More about this in this discussion later.
Before that, let's take a deep dive into the Pros and Cons of LearnWorlds.
Pros and Cons of LearnWorlds
Here are some pros and cons of LearnWorlds that will help you determine whether LearnWorlds is a good course creation and selling platform for you or not.
---
LearnWorlds Review - Branding Your Course
Before creating your school in LearnWorlds, check out the "School Wizard" where you will find a lot of LearnWorlds demos and examples on how to create the school for your course.
Moreover, you can customize the fonts and colors of your course's site, blog and school.
After setting up your school, you can take help from the examples available at LearnWorlds to help you create the course. In the "Create a Course" section, you will give a name to the course, choose its type (free or paid), select the prices, choose its images, and write its description.
Yes, the good part is that you can create and sell courses for free. This is unlike quite a lot of other course hosting platforms.
Sounds like too much work right!
Well, you need not worry as LearnWorlds demos help you in every situation. Even for things like creating a landing page, which we discuss later, the drag-and-drop feature makes it a very intuitive and effortless procedure for everyone.
But I do want to clearly mention some of the LearnWorlds drawbacks in this LearnWorlds review. You cannot bulk upload content. Therefore, it takes a lot of time in manually uploading every single file. Moreover, you cannot upload a file from cloud-based drives such as Google drive or drop box. It seems uncomfortable to many people who prefer keeping their content in these drives.
---
LearnWorlds Review - Course Creation
LearnWorlds' dashboard is not minimalistic. It has a lot of options and tools available that one can easily wander off. However, once you get used to it, this dashboard is everything that you need to create an exceptional course for your students.
Looking at the top left-hand margins, you can see most of the essential tools, which include "create a course" and "preview page" etc. These are the first set of tools that you need to go through while creating your course.
Moreover, going through it you will see many clues and references that will help you in creating a stellar course.
LearnWorlds have many features that allow you to upload various forms of content for your course including PDFs, images, videos, animations, PowerPoint presentations and HTML5 files. This gives freedom to you on how to customize your course.
As I mentioned earlier in this LearnWorlds review, you get an unlimited video hosting for your lectures even with the cheapest LearnWorlds subscription. Therefore, you need not worry about your course's content length.
The Best LearnWorlds Feature?
Another great LearnWorlds feature in this LearnWorlds review is an interactive video option. As you get to know more about it, you might realize that this might be the best LearnWorlds feature.
This feature helps you add quizzes, buttons, and form within your lecture video. This improves the engagement of your lectures and makes it easier for the students to learn from your course. The same goes for the e-books where students can make notes on it.
Moreover, LearnWorlds have a big social community for students where they can talk with their course fellows that develop a community connected virtually with each other. Thus, it improves the engagement of the course.
---
LearnWorlds Review - Content Dripping
Content Dripping is another appreciable feature and it does deserves a mention in this LearnWorlds review. Here you, the instructor, can schedule when the next lectures will be available to the students. It makes sure that the students are viewing the lectures and understanding what they are taught. This feature can be set by date, or by the time of enrollment of the students.
Another feature in this LearnWorlds review that has gained my appreciation is that course instructor can create customized course plans and learning paths. This helps the instructors make sure that navigating through the course is easy, and the students cover all of the pre-requisites before they move further in the course.
---
LearnWorlds Review - Content Experience for User
Unlike LearnWorlds' uploading dashboard, the course player is quite intuitive and minimalistic. Students can choose between three different skins: classic, minimalistic, and colored minimalistic. However, the course player has just one theme, and you cannot change its layout whatsoever.
The students can indulge themselves in-class discussion, and they can view their course progress and lecture's span in the sidebar.
Moreover, students can:
full-screen mode to have a distraction-less learning environment
access to all of the course materials provided to them by the instructor
They take part in automated quizzes, and full-fledged exams produced through the question bank uploaded by the instructor.
The instructor can chat live with active students who are online at the moment. The course player is mobile responsive. Therefore, it gives the student's freedom to use either the laptop or mobile, and they can switch easily between them.
Have you created your FREE LearnWorlds account yet?
Not many know that you can create a LearnWorlds Account for FREE! This way you can start learning more about the platform and building your school right away without having to pay anything. Therefore, go and create a free account and then come back to explore your account with me.
---
LearnWorlds Review - Certificates for Learners
LearnWorlds gives you the option to provide the custom completion certificates to the students who cover all of the course requirements successfully. You only need to upload the certificate's template in LearnWorlds dashboard and specify the conditions for completion of the course. LearnWorlds do rest of the work.
They create a custom certificate with the candidate's name and time of completion. Therefore, your courses can help your students in resume building, which is a great aspect.
However, there are no templates within LearnWorlds. Therefore, you need to create a custom template for the certificate.
---
LearnWorlds Review - Blogging
Another unique LearnWorlds feature that I should mentioned in this LearnWorlds review is the the blog builder were you could upload your blogs regularly. Many people ask me why we need this feature when we have blogging websites like Word Press.
Well, the answer is simple. People will not just find you on the Internet randomly. They will search for courses of your niche. Therefore, maintaining a blog with proper SEO helps you in being recognized by more people. Thus, boosting your audience and sales.
LearnWorlds provide you simple yet effective blog builder, which does not require you to have blogging knowledge or hire a professional blogger. You just need to use their drag-and-drop page builder for setting it up.
There are some magic templates in it where you can change the layouts; however, it does not provide a lot of customization option.
---
LearnWorlds - Funnels and Affiliate Marketing
LearnWorlds has provided some essential tools for sales management. However, it is not an all-in-one solution for your requirements.
They have provided features and examples for creating sales funnels for your school's website. Moreover, they have provided an affiliate marketing option to the users.
Affiliate marketers make an account where they get affiliate links to your course. You decide their commissions and duration after which they will receive payments; which is ideally after the maturation period of the course. This provides you flexibility, as well as security of your payments.
---
LearnWorlds Pricing
LearnWorlds have four pricing plans. In the text, I will be talking about the prices when you pay monthly however in the picture you would be able to see the pricing when you pay yearly.
The first one is the Starter package priced at $29/month with an additional $5 per sale. It has a 24/5 customer support and most of the features that we have discussed before. It is best for single teachers.
The second LearnWorlds subscription is $99/month with no fee per sale, and 5 admins choice. Moreover, it has more integration options, and affiliate marketing is available. It is best for an academy or a small group of teachers.
The third option is the learning center at $299/month and no additional fees. It has 20 admins/instructors options with unlimited access to all of the features in LearnWorlds. This is ideal for people who want to build an online school. The fourth option is for corporate companies and requires direct contact with the company.
---
LearnWorlds vs. Teachable vs. Thinkific
LearnWorlds provides greater flexibility to its clients, and people who want to create an online school prefer it. The interactive in-video features are undoubtedly the best among the competetion.
LearnWorlds and Thinkific both provide the option for creating interactive lectures. However, Teachable does not provide that feature. Therefore, for an interactive lecture that includes active student participation, people prefer LearnWorlds and Thinkific because they are hybrid platforms.
Thinkific and Teachable both have a free plan. However, LearnWorlds do not have a free plan. Thinkific free plan provides a choice to host only three courses. It depends on your budget and preference for your choice.
Briefly, all of them are great platforms, and it narrows down to one's preference when deciding the better one.
---
Conclusion
In this LearnWorlds review, I have discussed everything about LearnWorlds and I have keenly reviewed them to deduce an effective conclusion.
LearnWorlds is a great platform to produce exceptional courses with interactive videos, PDFs and EBooks. Moreover, it provides all of the essential administrative and marketing tools to make sure your work go smoothly.
Although some drawbacks include payment restrictions, limited templates, difficult course building tools. However, I hope that the LearnWorlds team would rectify these issues.
Overall, LearnWorlds is a great course creation platform for educators who need relief from hassles of multiple applications.
Found the article interesting? Share it with your friends: