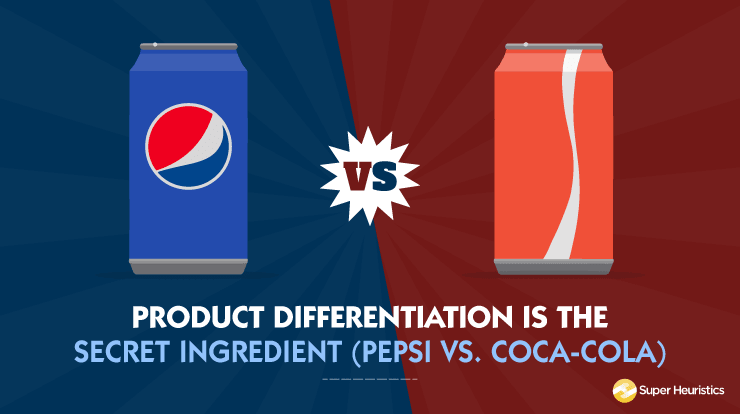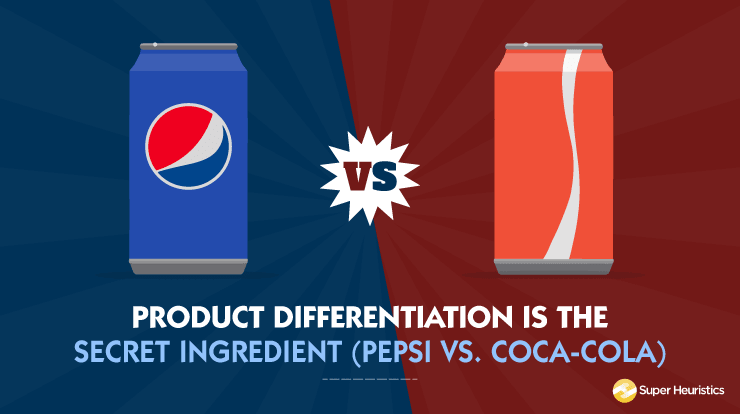 I am fighting out a case for Product Differentiation. I can't stress over the fact about how it matters the most when you look at marketing from any perspective, the consumer's or the company's.
When creating a new product your aim, generally, is to not be yet another similar product on the market like your competitors' products.
No one plans to spend an entire marketing budget in creating something exactly like something already out there.
In fact, your aim as a marketer is to create a product that is unique! Your aim is to create a purple cow, as the ace marketer Seth Godin calls it in his fantastic book on marketing that I was reading the other day.
But often times your product does end up being just another forgettable substitute for a product already out there in the market, doesn't it?
In the last article I discussed Positioning, the need for it and how does it really work to create a product that is unique.
Check out the article here: What is Positioning in Marketing (The Viagra example).
I also talked about how Cialis came about and did a fantastic job of creating a great product backed up by a unique positioning.
While on one end we have Cialis, we also have loads and loads of companies that fail to make a mark despite having some remarkable products and even more remarkable brands.
You want to ensure that your company provides customers with the best offerings in the market. The current competitive business environment requires that you ensure that your organization's offerings are unique from that of your competitor.
Smart companies like Honda rely on differentiation by investing huge amounts of resources to develop new products that go through the product life cycle.
When I talk about product differentiation, I would like you to think of the product not just as the tangible product that we are hardwired to think about.  Think of the product as a service or as a person, as an event or maybe an experience.
In this article, I will be telling you about product differentiation using the example of Pepsi and Coca-Cola.
When you look at Hindustan Unilever it offers different toilet soaps for different target markets each with a unique brand identity. Proctor & Gamble also offers a variety of washing detergents to its customers with different brands.
Both Unilever and Proctor & Gamble have differentiated their physical products and their potential in the market.
The motorcycle industry is one that has a high level of product differentiation. Honda, TVS, and Bajaj Auto all offer motorcycles but their products are differentiated in terms of the price, aesthetic value, and quality.
This is the kind of differentiation that I want you to think about in your organization's offerings.
Importance of Product Differentiation in Marketing
I have talked about the types of differentiation that you should consider in your offerings. You have to understand that the current business environment is competitive and every business has offerings that serve the needs of its customers.
In this regard, you have to ensure that you provide your customers with a reason to constantly seek your offerings.
In the subsequent sections of this article, I will discuss each of the following benefits of differentiating your offerings:
deliver outstanding customer value, maximize on profits, enhance brand loyalty, and adapt to the contemporary business environment.
First, you must appreciate the fact that current customers are quite knowledgeable and are out to maximize the value from the offerings that they purchase.
They are aware that there are substitutes that are cheaper or of higher quality than what you provide. When you differentiate your offerings, you will be unique among the available substitutes as you guarantee customers of the value they obtain in your offerings.
Second, Customer value and brand loyalty are two facts that go hand-in-hand. When you assure customers of the value they obtain from your offerings, then you tend to encourage brand loyalty.
Your customers will become loyal to your brand and they could make recommendations to their networks.
Isn't this what you look out for in every sale that you make?
In effect, your customers will constantly refer to the brand as the offering they receive and will ignore other substitutes.
Third, you should be aware that the current business environment is characterized by vast knowledge, value, efficiency, and innovation.
When you seek to differentiate your offerings, you should always think about innovation. You should continuously provide your customers with new features or ideas. It will make you adjust fast to the dynamic business environment.
The last and most important benefit that you look for in product differentiation is to maximize your profits. When you serve the needs and wants of your customers, they would be willing to pay a premium for your products because they lack a reason to seek substitute offerings.
When you want to differentiate your offerings, you should make sure you address the following questions:
How do I want my products to perform compared to those of my competitors?
What quality to customers need in my offerings?
How durable are my products?
Is the design of my product different from those of my competitors?
When you answer these questions appropriately, I should expect you to have differentiated offerings in the market.
Product Differentiation at Pepsi & Coca-Cola
The intense competition between Coca-Cola and Pepsi, who are the largest producers of carbonated drinks in India, will make a good example to understand how they differentiate their offerings in India.
For them, product differentiation is definitely the secret ingredient.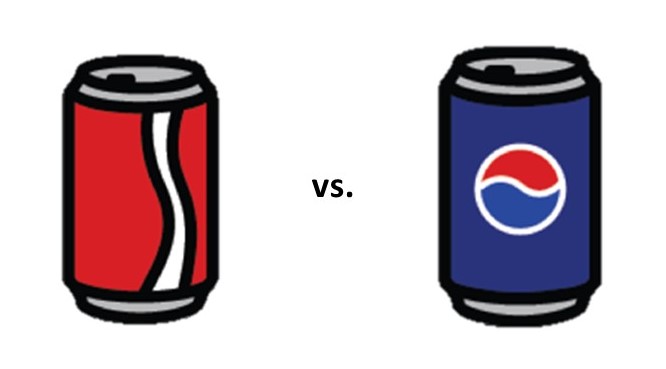 Pepsi
Pepsi has undergone significant change since it was introduced to the American market in 1898 and in India in 1989. In 2016, Pepsi had a 26.7% control of the Indian market share; a slight decline from 2015 where it owned 27.6% of this market (Statista, 2018).
Pepsi has always targeted a young audience with most of its advertisements addressing teens who have a keen interest in sports, fun, and music. With these eye-catching and interesting adverts, you would like to give Pepsi a taste just to experience the value the drink offers. The advertising slogan of Pepsi in India is "Youngistaan ka Wow"
Pepsi is a sugary carbonated drink that has a citrus flavor burst. It has a lot of calories, sugar, and caffeine. The Pepsi drinks are available in different varieties like Mountain Dew, Aquafina, Frito Lay, and AMP energy drinks. Pepsi's brands, Pepsi, Pepsi MAX, Pepsi NEXT, and Diet Pepsi, are all packaged in a plastic bottle to reflect its youthful spirit.
Coca-Cola
Pepsi's major competitor in refreshments is Coca-Cola. Coke has experienced a decline in its Indian market share between 2014 and 2016, from 35.5% in 2014 to 33.5% in 2016 (Banerji & Shashidhar, 2017). This decline has largely been contributed by a growing number of local beverage companies.
When you taste Coca-Cola, you cannot immediately tell how it is different to Pepsi. It has an almost similar content composition thus people have a behavioral preference for one of the drinks over the other.
How then does Coca-Cola differentiate itself from the Pepsi drinks?
The differentiation is in the story that they tell you.
I owe this piece of my knowledge to Seth Godin, the man himself. I have read most of his book but this one – All Marketer's are liars – really brings together all the basic tenets of marketing.
And the most basic of them is that you differentiate yourself in the positioning, which is also the story that you tell to your customers with an integrated marketing effort.
That book is a must read whenever you find the time.
When you check most of Coca-Cola's adverts, the company is keen on emphasizing on family, friendship, adorable bears, and other happy relationships. The current slogan of Coca-Cola is "Share a Coke, Open Happiness".
When you taste a Coke, you get to have a raisin-vanilla taste that has a lot of sodium nutritional content. Through its different brands like Lemon Coke, Diet Coca-Cola, Cherry, and Vanilla Coke, the company has been able to differentiate its offerings to the different customer segments.
When you find any Coke product, you will first notice the different packaging used for its different brands. Coca-Cola differentiates its drinks from those of Pepsi through its packaging. I associate the classic Coke with the red color. When I find any Diet Coke, it is always black.
In addition to the packaging, Coca-Cola ensures that consumers can get these different brands in different quantities. The glass bottle is available in 0.25, 0.5, and 1 liter; the plastic bottles are available in 0.5, 1, 1.5, and 2 liters; and the cans can be bought in either 0.25 or 0.33 liters. It ensures that the packaging materials are recyclable and environment-friendly. In this way, Coca-Cola has differentiated its drinks from that of Pepsi to ensure it serves the needs of its consumers.
Conclusion
When you look at Coke and Pepsi, it is clear that these companies are different not only in their products but also their advertisements and packaging. They are different in, what Seth Godin says in his book, their storytelling.
In their products, you can notice that the taste of Pepsi's products are quite sugary whereas those of Coca-Cola have a raisin-vanilla taste. Another difference between Pepsi and Coke is the message delivered to their customers in all their adverts. Coca-Cola emphasizes relationships while Pepsi focuses on entertainment like sports and music.
Even in their packaging, Pepsi and Coke make sure their customers have a variety of products that they can select.
Coke packs its products in cans and plastic and glass bottles in different quantities as mentioned above whereas Pepsi packs its drinks mostly in cans and plastic bottles in limited quantities. This article on differentiating your offerings will assist you to guide your organization on how it can differentiate its products.
If you feel this article was beneficial, you can share it through the links on the left. I rest my case.
Found the article interesting? Share it with your friends: