This article and an experience that I will share here will help you explain why strategy implementation is more difficult than strategy formulation.
"If you were to make me a 10-slide presentation on the Marketing Strategy of anything, the last 8 of them should be on how you're going to implement whatever you have formulated in the first 2"
These are golden words of one of my mentors in the really early part of my career. This is true. It got even more clear to me in one of the electives that I took during MBA.
It was an elective on Strategic Marketing.
Also Read: Zoho Corporation – the best Marketing Strategy example? [Case Study]
The kind of time and effort we were told to put on marketing strategy implementation went on to explain why strategy implementation is more difficult than strategy formulation.
Considering how many large corporations really mess up the strategy implementation part, it makes it a piece of really good advice that my mentor gave me early on.
And when you see so many strategy implementation faux-pas, you would begin to think, was the strategy even a good one?
Most cases of confused positioning also happen to be the cases of poor strategy implementation.
What is on paper is not in play.
And what is in play was never supposed to be like that.
Pretty much like a multiple personality disorder in a person.
A bad strategy need not really be a bad strategy per se. It could be just a really bad execution of a strategy that was actually quite good.
Whereas a good strategy with a good strategy execution makes a good strategy really good and useful.
A little about the Indian Aviation Industry
I have very recently started flying more frequently than I ever did. I am someone who completely enjoys the experience of a good airport and flight experience (and I really regret that Kingfisher got bust before I traveled by air for the first time).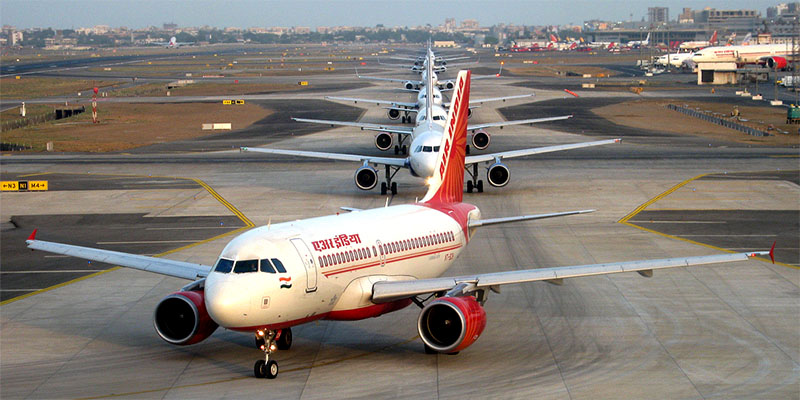 But since Kingfisher got bust, the aviation industry in India has moved ahead in sort of two steps. One was the introduction of the budget airlines like Indigo, SpiceJet and Go Air which made flying possible for a big chunk of the Indian mass.
The other was the downturn of the industry leading to floundering state of certain established airlines like Jet Airways and a further worsening of state of affairs for the already sluggish Air India.  
These two steps did not happen simultaneously. There was a period of time when both the budget carriers and established carriers co-existed.
However, with growing cost pressures due to increasing fuel prices and operating expenditure, the budget carriers proved to be more pressure resistant.
And naturally, also due to the competition within the industry, it made complete sense for most of the carriers to offer tickets at really competitive prices.
Mind you, this is irrespective of what their initial positioning as a brand was.
Being low on price turned out to be a necessity and adopting measures to make the airlines low on cost was the solution.
It meant a total change of strategy.
Also Read: Strategic Management defined in three simple words
And here comes the part which would explain why strategy implementation is more difficult than strategy formulation.
A Recent Funny Flight Experience
This goes back to a few months back when I was traveling on board this 20-something-year old private airline of India.
I have already mentioned the name of this airline somewhere up there in the article and you will be able to easily guess it as you read more.
This airline which began services in the early '90s is said to have come in and redefined the onboard experience back in the day.
Compared to a really humble Indian Airlines experience, this airline modeled every aspect of their service on the benchmark of the international standards.
Even its frequent flyer program that was one of the first and the best loyalty programs in the Indian market is not that sought after anymore.
When I had booked that flight I came to know that the airline had recently discontinued free meals on two out of its five seat classes.
Instead, it had introduced what it called a 'Gourmet Menu' from which one could order food onboard with on-the-spot payment.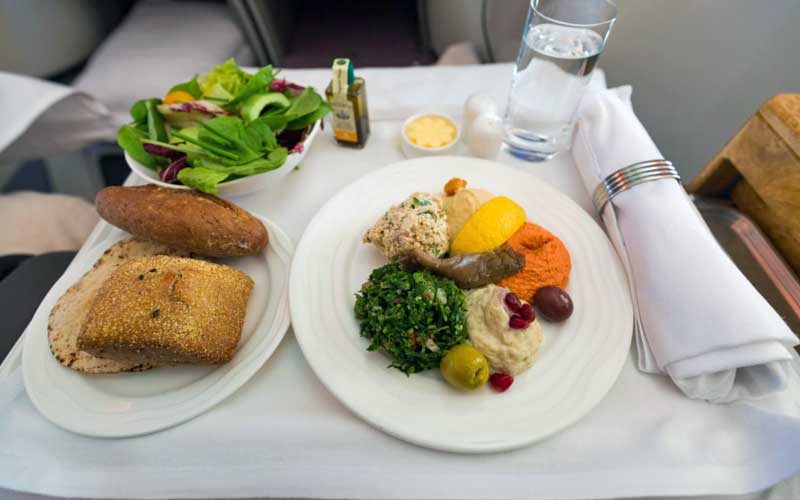 For the kind of food that is served on airlines, 'Gourmet' is a slight misrepresentation of facts. And it is nowhere close to the real in-flight gourmet food that you see in the image I found on the internet above.
It was funny and I smirked at the thought of what they called Gourmet.
Then came the day of my flight.
This Airline is So Going to Shut Down!
I was on-board, mid-air when the hostesses rushed in with their food carts to quickly cover the 30 rows in this short 1-hour flight.
This discontinuation of food for two out of the five seat classes meant that the air hostesses had to keep with them a list of passengers who were from the other three classes and were entitled to the food.
Check. A long printed list was there with the air hostesses.
Now with this discontinuation of the free meals, it could have been possible that a person in say seats 14A and in 14C could be traveling with the ticket which had the meal on it, whereas the person on 14B was not in those three seat categories which were entitled to the meal.
Now, this situation was very much unfamiliar for an airline that served food to every passenger since forever and, in fact, took pride in having a great in-flight food experience.
This was clearly unlike an Indigo Airlines, which basically had such a strategy and systems in place from day one and therefore had their crew completely smooth in this scenario.
For Jet Airways it was extremely new to be picking out passengers and serving food selectively.
I was somewhere in the row 7-8 in that flight and I could see the challenge this pretty lady was facing already before she even got to my row. This was, in fact, true for both the ladies that were in charge of the cabin that morning.
Some of the things that happened were:
They looked clearly unpracticed at handling this new system of the list. It turned out that the list had an error somewhere and a person who was supposed to get a meal (as it was mentioned on his boarding pass as well) was not on the list. This took a few minutes of checking the boarding pass and unpleasant exclamations for her the crew to sort that out.
The menu was a new one. Jet Airways never worked with a menu kind of a concept. They always had a fixed menu. It was funny how one of the passengers called out for an order of a particular sandwich and both the cabin ladies had a tough time understanding which sandwich was it that the person wants out of the 4-5 types of sandwich that their cart had.
Another passenger who ordered for something paid in cash with a much higher denomination of the currency. I could see how all hell broke loose after that. It became a challenge for the lady to find change to return to the flyer.
Although she told the passenger that she would return the change in the due course of the flight, it got clear to her eventually in the next few rows that it might not be possible. That is because everyone had only big notes to offer and the crew did not have currency on themselves to make the return.
Adding on to this ruckus they made an announcement that they will either accept only cards or currency exactly equal to the product price.
And it was exactly then that I couldn't really take it anymore. I laughed. "This airline is so going to shut down", I thought to myself.
Let me Explain Why Strategy Implementation is More Difficult Than Strategy Formulation
This is a classic example of how successfully implementing strategic decisions is the only way to ensure that any strategy will be a success.
Behaving like a low-cost airline was a strategic decision that this airline chose to make. But, it is clear that there is much more to it than just behaving like one.
For a start, there have to be micro and macro level changes that should be brought about to make the implementation of the strategy a success.
So, in this case, the management should have reflected more on the implementation of whatever they thought was a good strategy to think:
What systems do we have in place to cull-out a list of flyers who are entitled to a meal?
Have I put in the menu cards in the flights coming in straight from the printing press or have I trained my cabin crew on what is in the menu? What thing is which? And maybe what does each of the thing taste like?
If we are accepting payments by cash, are we keeping enough cash with the cabin crew already to give back the change?
Again, have we really thought about the implementation on at a micro level and do we think that this can be executed without any hassles?
Basic things to think about and do, right?
But this is where great strategies fall flat. And that's the reason which will explain why strategy implementation is more difficult than strategy formulation.
That's because, good strategy execution requires that all the resources, people and brand elements involved in that interaction need to be in line with the strategy.
Also Read: Competitive Advantage – the Messi of your Business

And implementation and execution are the moment of truths when that happens.
Conclusion
I believe that the greatest barriers to strategy implementation are not being able to think the entire experience through and not making ready the resources to carry out the implementation part.
The example that I shared above shows how an airline that decided to change its course, its strategy and did not do a really good job in the strategy implementation part.
Implementation and execution of strategy turn out to be the most important thing that you as marketing strategists need to take care of. Because no strategy will be worth anything if it is not backed up by good implementation.
Found the article interesting? Share it with your friends: