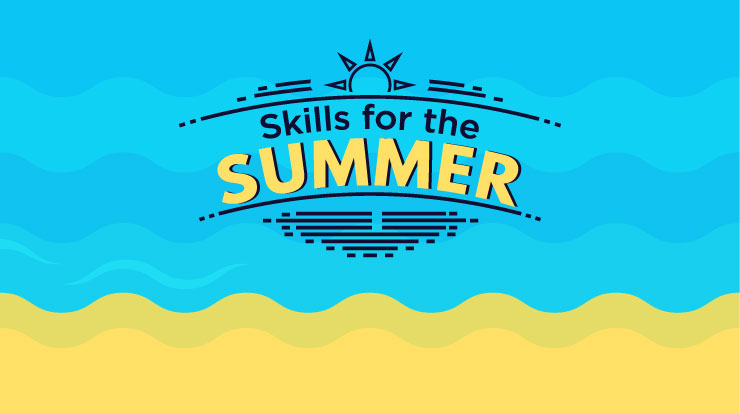 This article will mean different things for different sets of people. For the first-year MBA students going in for their internships, this article can very well be understood as the skills to develop in an internship.
Whereas, for an MBA aspirant who will be joining a B-school soon, this article would imply the skills to develop this summer before you join your respective B-school to bag a great internship.
But, if I am suggesting to you that the skills to acquire this summer are the same for both the groups of audiences, then what does it really mean?
It means two things. One, that these skills are sacrosanct. You will require one or more of these skills to earn higher dividends from your MBA program.
Two, it hints to the fact that out of the two sets of people that I mentioned above, the MBA aspirants are at an advantage. If you, as an MBA aspirant, start working on these skills right now, you are creating a brilliant opportunity of learning more and performing considerably better in your first-year, your internship and beyond.
Throughout the article, you will observe that I have stressed more on the skills to develop in an internship part. But, now you know that it just means, skills to develop this summer for a prolific work life ahead.
---
I remember the time when summer meant vacations in school and college. 8-weeks of pure unadulterated fun, travel, indulge in your favourite hobby, or just simply relax and do nothing all summer.

But that ain't the life at a B-school. Our summer is a trailer of our future, in the form of an eight-week long summer internship.

While some might dread these eight weeks, most of us try to seize this opportunity to understand the corporate world.

You should use this opportunity to analyse and re-evaluate your career goals, enhance your skills & knowledge and get ahead.

What I learned from my internship experience is that real-world learning cannot be replicated in the classroom.
If you were to ask me the one thing that will make you stand out from the MBA crowd and, more importantly, will give you the confidence during your internship - it is a hard-skill.

In a situation where most engineers that graduate aren't employable, most BBA/BA graduates can't find a job, you can never assume that your graduation gave you sufficient hard-skills that you need.

Sure, a Chartered Accountant might be able to think that. Because what she possesses does qualify as a hard-skill.

But, engineers and other grads?

No, not a chance.
Moreover, I have seen students going into their summer internships from the best of the IIMs really worry whether they will be able to do well and get that coveted PPO.

Why is there a lack of confidence? Why do they worry?

Because there is a hard-skill-deficit that makes them feel vulnerable and replaceable by another B-school grad who, they fear, might grab the PPO instead.

Mind you, for the students going into their internships right now, your final placements starts in November/December. Your internship experience and the hard-skills that you acquire do make a difference.
So before you start your internship, you should read this blog and consult your seniors about the skills to develop in an internship.

Let me offer you my insights about the fundamental skills to develop in an internship. These are the skills that will help you perform your daily tasks on the internship (and on the job really well). Moreover, it will allow you stand out during your placement interviews.

The skills you need to develop during your summer internship are as follows:
Here's what I will tell you about...
---
1. Microsoft Excel Skills
MS Excel is not just about making tables. It helps you perform a wide array of a complex tasks, organize data, carry out mathematical functions, analyse data and much more. Some of the Excel skills learnt for an internship should include the following:
Using the VLOOKUP Functions
This excel function is a gift for every marketer. This function allows users to connect and compare across a wide range of data sets.
Mostly, this formula works if a particular value from a specific table is existing in the section of another table, and this provides value from the second table.
Marketers can use this function to compare if the new keywords you might be planning to utilize, are already in an account, or examine 2 different time frame.
Summary of Data Using Pivot Table
Pivot tables are an excel function which allows users to arrange and characterize tabular data. Pivot tables can help marketers to analyse, search and present and summarize their data.
Data is valuable only if it can be reviewed and extrapolated towards discovering and analyzing important trends from it. Pivot tables will precisely help you do this.
Programming Macro
Macros are programs which record and consequently execute a series of activities or commands with the click of a button.
You as a marketer can use macros to automate lengthy and time-consuming manual processes.
Creating Charts
Key stakeholders and decision makers don't have the time to go through numbers and raw data. They prefer data present in a visual form, such as charts. MS Excel allows you to create charts and infographics even with vast datasets using conditional formatting functions.
Now that I have shown you what are the skills required to do well while using MS Excel, let me share with you what I find is one of the best ways to acquire this skill.
How to gain this skill?
Frankly, in my life I have taken a good number of courses for Excel. That's because I always took a course, watched a video, and forgot what it was. But recently, I came across DataCamp's Spreadsheet courses. I will explain below why I find this course really good.
The difference that DataCamp made to my Excel learning was that they have a built in excel-like sheet in their dashboard which looks exactly like MS Excel. So you have actually got to solve that excel exercise at each step and therefore it sticks.
For DataCamp, only the first chapters of a course can be accessed from a free account. To learn this for your internship, I would suggest you to take a one month subscription (at $29) do as many courses as you can at that price itself, and then cancel it after a month.
---
2. Digital Marketing
Almost every brand and marketer is moving towards Digital Marketing. Why? Because almost everyone is on the internet! That is, on the social media and the other digital platforms and the number of social media users is only increasing.

I would say this is probably one of the most essential skills to develop in an internship whether your internship is in the field of Digital Marketing or not.
​"Why?", you may ask.
I mentioned the same reason in my article on Why MBAs should learn Digital Marketing that irrespective of the fact whether you actually work as a Digital Marketer or not, there will be a point in time where you will need to create business strategies.
For any product management, consulting and general management profile this begins right from your first job.
Now, in this world where digital is the way-forward, do you think you will be able to create a digital strategy without knowing capability of Digital Marketing? No! you won't be able to. Because, what you don't know, you don't know.
Most marketing programs in colleges provide limited learning opportunity about digital marketing. Digital Marketing skills gained from an internship can help you achieve a competitive edge during your placement interviews.

Heck. You could start your own blog!

Besides, digital marketing offers a wide array of benefits over traditional media. These include the ability of digital and social media to reach a broader set of audience in less time, ability to target a specific audience based on demographics and psychological factors.
Moreover, it is cheaper and flexible, and it provides detailed analytics and attribution.

No wonder more brands are dedicating a higher proportion of their marketing and advertising budgets towards digital media strategies.

How to gain this skill?
If you want to learn more about digital marketing in a formal way, I would recommend the Digital Marketing Mastery Course by Pixel Track, designed and formulated by Deepak Kanakaraju.
This one course takes you through a diverse range of topics. From the most important ones like Search Engine Optimization (SEO), Search Engine Marketing (SEM), Facebook Marketing to the often neglected ones like Email Marketing, Content Marketing etc.
For the sake of full disclosure, this is an affiliate link.
I can recommend this course to you because I am a beneficiary of this course as well, and you can say that this blog that you are reading developed significantly from this course.
What you need to do with this course (and every other course that you take) is that you should make detailed notes. I have mentioned it in quite a few of my other posts the importance of making handwritten notes from courses.
---
3. Data Science
Mark my words. While Digital Marketing is a must know, learning Data Science is like taking that next step forward which can take you to another level of pay check, recognition and job role. And it is heartening to see how more and more MBA students are waking up to this fact.
The role of data science and analytics in the field of marketing is not a new concept. Market research has been there around for decades and has contributed to the growth of the field of marketing.
Analyzing data helps marketers to detect consumer behaviour, buying patterns, spot and predict trends and effectively design marketing campaigns and other operational functions around it.
The optimized utilization of this data can be the critical differentiator between a successful brand and an average brand. Here are some data science skills gained from an internship which can be helpful in your future marketing career.
Consumer Segmentation
To reach the right target audience, marketers need to segment the consumers into homogeneous groups. This allows marketers to use data to create market structures and devise a single value proposition.
Data science will enable you to segment and target customers based on things like search history, consumption patterns, services and messages etc. This will enable brands to grow by catering to newer market segments and strengthening existing ones.
Messaging and Content Development
It is a known fact that delivering the message has been the holy grail of marketing since the beginning of time. Using data sciences, marketers can craft messaging and content as per whichever is having a higher probability of a response from the consumers.
It also allows customization of messages for individual, devices, media and platform. The present-day consumer does not need to be bombarded with marketing messages.
A customized and targeted message can be made visible to the consumer to grab their attention.
Predictive Analysis
Marketers have always used data to drive growth. However, data science can revolutionize the way brands, and marketers utilize data.
For instance, the development of predictive analysis for predicting and forecasting consumer behaviour and trends. Data science taps in the already available information and point brands and marketers towards the direction where the trend is heading.
Data science skills learnt from an internship can act as a critical differentiator during your placement interview.
How to gain this skill?
You can opt to enroll in online courses in Data Science such as UpDegree's course for R and DataCamp for Python.
While UpDegree will give you the entire course at that price, in DataCamp's free account you will only be able to access the first chapters of the courses. Therefore, if opting for DataCamp this summer then take just the one-month subscription and cancel it after you have learned.
---
4. Traditional Marketing
Irrespective of whether you are using conventional or digital marketing methodologies, what I learned from my internship experience is there is a reason Philip Kotler is referred to as the father of Marketing.
During my internship period, I usually found myself using some of the other concept written by Philip Kotler, in some way or the other.
From the planning stage, design stage, execution stage, follow-up and evaluation stage, I can't remember any process where we did not use Kotler's marketing principles. It's so intuitive that it gets ignored.
I would strongly recommend each and every MBA student (whether Finance, Marketing or HR), to read the entire Marketing Management book by Philip Kotler, page by page during this eight-week summer internship period.
If any Marketing enthusiast asks me what to gain from an internship, I would say treat Kotler's Marketing book as important. And to be frank, I would give the credit to this advice to one of my Finance professors, Prof. N. Vishwanathan.
He was the one who shared with us this piece of insight during our last Corporate Finance class of the first year that irrespective of whether you are aiming at Finance or Marketing, read up Kotler in these 8 weeks,
Concepts like marketing mix, segmentation, target audience, positioning is an everyday affair in marketing.
Besides, my learning from a summer internship in marketing and lessons offered by Philip Kotler were exactly the same. Here are some examples of these lessons offered by the Marketing Guru.
You should never go to the battlefield before having won the war on paper. The good news is that you can learn Marketing in an hour. The bad news, it takes a lifetime to perfect it.

"Every business is a service business. You're not a chemical company. You're a company of chemical services."

"The sales department is not the entire company, but the entire company should be the sales department".

"The best advertisement constitutes satisfied clients".

"Companies pay too much attention to the cost of something. They should be more worried about the cost of doing nothing".

"There is only one winning strategy: it is cautiously defining a target market and pushing a superior offer towards this market".

"Poor companies ignore their competitors, average companies imitate their competitors and winning companies lead their competitors

"Marketing is a race without a finish line"

"Every company should work hard to make their own line of products obsolete before their competition does"

"Marketing is the task we perform before creating a product. If three years is spent developing a product, then it won't be the correct product"

"The future of Marketing resides in marketing databases, through which we know enough about each client to make relevant and personalized offers to each one of them"

"Marketing is the task we perform before creating a product. If three years is spent developing a product, then it won't be the correct product"
How to gain this skill?
As I mentioned, for any MBA student it is extremely important for him or her to have read the entire Philip Kotler's book on Marketing Management. Therefore, I would advice you to create a simple schedule and read about 5-10 pages everyday for the entire 8 weeks of your internship.
This will help you revise the basics of marketing that you learned in the first year which will go a long way into the future.
---
---
5. Making Presentations on PowerPoint
While many people consider making PPTs a child's play, in reality, it is a skill. Some key learnings from internship taught me that presentations are one of the most effective ways to address issues and put forward proposals.
Decision makers and members of the senior management cannot dedicate much time sitting through presentations (to be honest, neither could I during my MBA presentations, anything over 10 mins and it would lose my attention).
What I learned from my internship experience is that a well made PPT is the best way to grab the attention of your audience.
Here is what Hubspot suggest are the qualities of a good presentation.
Adding visuals, graphs, infographic and creating an interactive PPT is what the audience prefers sitting through a presentation.
Well, this requires some serious skills. I suggest spending some time learning how to make professional and interesting PPTs during your internship as PPT skills can help you stand out of the crowd during your campus placement
How to gain this skill?
There isn't a need to do a course on PPT making. I learned PPT making by looking at the presentations made by others.
This includes looking at some marvelous PPTs on places like SlideShare as well as looking at some really bad PPTs of my friends and understanding from a viewer's perspective what all was amiss in them.
Therefore, get onto SlideShare and explore some really well made company presentations.
---
Some Tips to Gain the Most Out of Your Summer Internship
Your summer internship is mainly targeted towards providing you with real-life corporate experience, upgrading your skills & knowledge and develop some soft as well as hard skills.
Allow me to offer you some tips and insights from what I learned from my internship experience.
Connect With Your Faculty During Your Internship Period
Staying connected with your faculty during your internship period can help make the most of your internship experience. Your internship can be quite overwhelming as it is no way near your classroom environment.
You might face some difficulties during the initial days of your internship, and your faculty members can advise you to how to cope with the change in environment.
Your faculty can also help you with your internship assignment, resolving your doubts and offering guidance at different stages.
Have Your Lunch With Your Seniors
Trying sitting on the big boy's table instead of with a group of interns at lunch during your internship.
This can help you develop a rapport and a personal relationship with your seniors. The seniors might opt to mentor you and help you achieve the best possible learning experience during your internship period.
Choose your electives for the 2nd Year
Your 2nd-year electives can shape the future course of your career. The eight-week summer internship will help you obtain hands down experience in different aspects of marketing.
You can develop interest, liking and even a dislike for certain aspects of marketing and accordingly use this experience to select your 2nd-year electives.
---
Conclusion
Your eight-week summer internship will help you shape and develop your future career path. You should utilize this period to enhance your skills and knowledge and look out for different skills to develop in an internship period.
I listed 5 skills here but in no way are they listed in any preferential order. If you ask my opinion, you need to and really need to do at least 4 of them to really make your internship duration really successful.
Your skills gained from an internship can help you stand out in the crowd during your final placements and lay a strong foundation for your future career.
Something that might interest you!
With this post I would like to make an announcement. I am coming out with an e-book on how to do really funky things in your internships! That book is meant for the students going for their internships and looking for ways to leave the maximum impact there.
If you feel this e-book can really help you, feel free to leave a comment below suggesting what do you want me to cover in this e-book. I shall add that really quick before I launch it in a couple of weeks.
Cheers!
Found the article interesting? Share it with your friends: