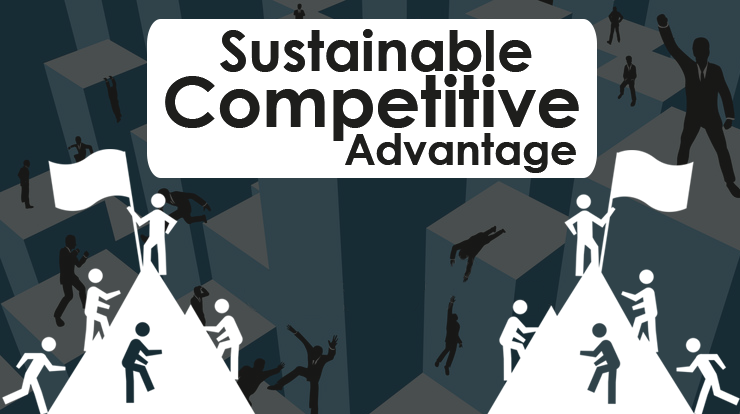 A Sustainable Competitive Advantage is the backbone of most businesses that are thriving today. Businesses that have understood this and followed a Sustainable Competitive Advantage strategy have remained to be the market leaders in their industry for an extremely long time.
The question is What is this Sustainable Competitive Advantage? Even more than that, the question would be how to develop this competitive advantage.
In the last Strategy article – Competitive Advantage – the Messi of your business, I talked about competitive advantage and the two types of it i.e. Cost Leadership and Differentiation.
A quick recap of that:
A firm enjoys a competitive advantage when it provides its customers benefits similar to its competitors but at a lower price. That's because it manufactures its products at a much lower cost as compared to the competitors. The lower cost of production gives it the cost advantage allowing it to price its products lower than competitors.
The same firm also enjoys a competitive advantage when it provides its customer's benefits superior to what is being offered by its competitors, but at the same price. These excellent benefits give the firm a differentiation advantage.
What do these advantages mean?
These are two strategies for the same objective. Both these advantages translate into superior value creation for customers and higher profits for the firm. The cost and differentiation advantages give the firm a positional advantage – either in any one or both.
How do firms gain a sustainable competitive advantage?
A firm uses its capabilities and resources to offer products and services that customers want. When a firm uses them optimally to produce a product at the lowest cost and with more features, then it creates a cost or differentiation advantage.
The concept becomes clear through the following diagram
The resource-based view dictates that the firm must have better resources and capabilities than its competitors to leverage them for a cost or differentiation advantage. If it is not so, the competitors would easily copy the firm's offerings.
The challenge to firms is to achieve a sustainable competitive advantage through deploying its resources capably. Porter suggests a way through his matrix incorporating a source of cost and differentiation advantage juxtaposed against broad and narrow markets in which the firm competes. This matrix helps to create generic strategies that can offer a competitive advantage to the firm.
Porter's Generic Strategies Matrix is as per the diagram below
Using the generic strategies, a firm can achieve either cost leadership or differentiation leadership or both to derive the maximum competitive advantage.
Porter further adds that a firm creates value through the value chain, which is the set of activities performed by the firm along with everyone else in the value system in which the firm operates.
In the earlier blog, we saw how Messi delivered the competitive advantage to Barcelona. We also introduced another thought – whether the competitive advantage is enough, or we need to sustain it.
Using the concepts as developed by Porter, let us see how they apply to real businesses.
What will Barcelona do when Messi retires?
In the last article – Competitive Advantage – the Messi of your business, I made an analogy as to how Competitive Advantage is like Messi for Barcelona.
As long as Messi is with Barcelona, the club has a competitive advantage. So, the club sustains the competitive edge by retaining Messi – he has not played for another club apart from his country. Of course, Barca can maintain its competitive advantage to remain successful if it can find a player such as Messi as a replacement when he retires, provided other elements remain constant.
Our example of Barcelona is an excellent representation of an entity sustaining competitive advantage. It has been at the top division of the football scene since it was founded in 1899 without ever being relegated to a lower division. Innumerable records of the team and its players speak volumes about the success of the cub.
Thus, from the Barca example, it is clear that the club acquires a competitive advantage for many years. This advantage that a company carries for many years is known as a sustainable competitive advantage.
The case of Coffee Day
A powerful brand can provide a sustainable competitive advantage to the company. It takes a lot of effort and investment to build a powerful brand, and Coffee Day is a good example. Its powerful brand equity helped it to overcome some disruption due to an IT raid in September 2017. It also has successfully warded off competition from other entrants and players – Barista, Starbucks, and Costa Coffee.
If a company can sustain its low-cost advantage, it can extend its competitive advantage as long as it has that advantage.
Here again, Coffee Day is an excellent example of its cost of making coffee is the lowest in the market. Its low-cost advantage comes from a business that is fully integrated into the back end and front end. It owns its own plantations, curing works, roasting plants, research labs, and cafes.
Low-cost advantage gives the company tremendous pricing power. It is a truism that cost is a fact and price is a strategy. Thus, with low-cost advantage, a firm can use the price element of the marketing mix judiciously to derive maximum profits for the firm without losing out on customers. This perhaps is one reason why Starbucks cannot easily break into Coffee Day's strongholds.
Over a period, a company acquires assets which can convert into strategic assets. In the case of Coffee Day, its plantations, curing works, and research labs have transformed into strategic assets giving it a distinct competitive advantage.
Another strategic asset is the quality of people working in Coffee Day. It has trained its people at its vocational training center set up in Chickmagalur, its manufacturing headquarters.
Porter's second type of competitive advantage is product differentiation. Here again, Coffee Day has distinct advantages in the form of its continually changing menus in line with seasonality and changing preferences of its customers. While brand loyalty can do so much, product differentiation lends a more considerable competitive advantage. The company has evolved from starting out as an Internet café to a style statement where youngsters just love being at the café to spend time with their friends with a lot happening over a cup of coffee.
There are several ways in which one can maintain a competitive advantage.
Look into the future and locate new markets to expand your business
Create entry barriers so that competition finds it difficult to enter your market
Continuously tweak the elements of the marketing mix to stay ahead of the competition. Launch new products, do aggressive pricing, stay on top of consumers' mind with appropriate advertising strategies, ensure your products and services are always available, listen to customers' feedback and act upon them
The moment Coffee Day fails to retain its competitive advantage, you can see a host of competitors entering the fray and carving a decent market share for themselves.
Found the article interesting? Share it with your friends: