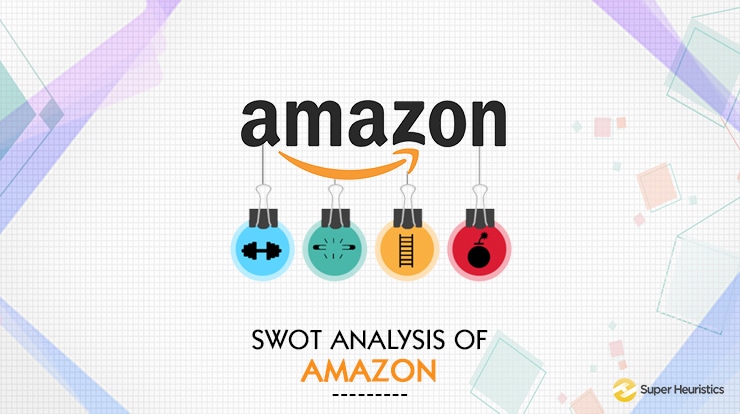 The most elementary form of company analysis is done through SWOT. SWOT analysis of brands helps identify company's untapped capabilities. It also understands the "Why" behind their operations and decisions. SWOT is a frequent topic you'll find across our website. Today, we will have a look at SWOT analysis of Amazon. We will uncover business lines and initiatives that the company is investing in.
We have already released SWOT analysis of few other companies which you might be interested in checking out, like Apple, Amul, and Patanjali.
---
SWOT Analysis: the What and the Why
If you do a SWOT analysis Wikipedia search, you will find that it is a strategic planning technique. This means that it is a strategic tool to help you understand a company, analyze the industry it operates in, and identify opportunities for improvements.
Any project that you work on will definitely require a SWOT analysis. This is a preliminary step to identify objectives of the project or venture. It will also help identify internal and external factors that are favourable or unfavourable in achieving objectives.
The SWOT analysis technique identifies four elements of a company, categorized as internal and external strategic factors. These four factors are represented in a matrix format.
Strengths and weaknesses are internal strategic factors that define dynamics, capabilities and limitations in internal operations and management.
Opportunities and threats are external strategic factors – those which define the characteristics of the industry or market which directly impact (whether positively or negatively) its operations.
Today, we will perform SWOT analysis of Amazon. The analysis will unravel fascinating facts about the company's capabilities and reasons for competitive advantage leading to its dominant position in multiple business lines across industries.
More often than not, a pre-cursor to SWOT analysis is reading the company background. This includes few elementary details about the company, origin, industry, offerings, competition, M&As, and revenue generation capabilities. Today's discussion will also include an overview of Amazon's business.
---
Amazon: Company Overview
Amazon is now a household name due to its retail giant Amazon Marketplace and the subscription-based Amazon Video service. However, the company serves three broad industries, which cater to different consumer types and their needs.
Business Lines
Internet – Amazon Web Services (for Businesses), and Amazon Video (for Consumers)
Retail – Amazon Marketplace, Amazon Prime, Whole Foods

Consumer Electronics (manufacturers and distributors of Fire tablet, Fire TV and Echo)
The global giant serves over 17 countries worldwide through their Marketplace alone. It serves businesses spanning over 190 countries through its cloud services platform AWS. It is based out of Seattle, US.
Founded by Jeff Bezos back in 1994, Amazon generates revenue from products (e-commerce, and home brands), services (subscription-based, and cloud services), and advertising. It features in the top 5 in global rankings of Most Valuable Brands, Most Innovative Companies, and Best Employers by Forbes.
Due to its scale and diversity in business, Amazon has many local and global competitors. I will categorize competitors based on the businesses Amazon operates in.
Competitors
Partnerships and Acquisitions
Amazon has made renowned strategic acquisitions and mergers over the years with popular brands. It is known to hint the market about its potential growth or expansion strategy through its acquisitions. The company currently owns IMDb, Zappos, Whole Foods, Blink, and Alexa. These are among many other well-known brands in media, digital retailers, and electronics & services.
Now that you understand the company background, let us analyze its internal and external strategic factors.
---
SWOT Analysis of Amazon
Finally, let us now dive into the SWOT analysis of Amazon, i.e. Strengths, Weaknesses, Opportunities, Threats individually. This section will comprehensively prove to you why Amazon is such a huge success story.
---
Strengths of Amazon
Strengths are internal to a company. They are points of competitive advantage, and includes the company's position and operations – the reason behind why a company is doing well. For Amazon, this is what is working out well for them –
1. Brand Name and Valuation
A global e-commerce giant, Amazon has a strong foothold and a successful brand image in its market (across 19 countries) due to its Marketplace distribution network.
In India, this was further enhanced by acquisition of a minority stake in Future Retail, owning one of the largest offline retailers – Big Bazaar.
Amazon's global brand value (based on Interbrand's Annual Global Brand Ranking) in 2020 stands at US$ 200.6 billion, ranked second only after Apple. The company is also the third highest in percentage value gain from the last year, only after Netflix and Chanel.
2. Customer-centricity
What do you do when you want to buy something, anything? You search for it on Amazon.
Most probably, you order through that friend's account who has an Amazon Prime subscription for the year. Do you know why you rely so heavily on Amazon for all your needs, be it groceries to electronics?
It is because of their mission statement – to be the most customer-centric business in the world. In line with this aim, the company offers highly competitive costs and a phenomenal shopping experience. Features such as Bestselling products, product/seller reviews and ratings, and seamless app experience offering customer satisfaction enhance experience.
This is why it is the Go-to choice for billions of people. Through insights from purchase data, Amazon successfully satiated the need for specific products, manufactured them under its own label – Amazon Basics, and has identified this new avenue of revenue generation – again through customer data.
3. Innovation and Cost Leadership
Amazon saves cost of maintaining physical stores due to its business model of online selling. It effectively controls its cost and lowers inventory replenishment time.
Through strategic alliances and partnerships with suppliers such as Cloudtail India, the company efficiently ensures the lowest cost structure, while exceeding quality and delivery expectations.
Despite competitive prices, Amazon surprises us with innovative additions to product line and service offerings. The latest addition is Amazon Fresh Store, a 2-hour grocery and essentials home delivery at select locations. It delivers all daily needs items such as milk, eggs, fresh veggies, etc. right at your doorstep.
4. Acquisitions
Amazon greatly profits from strategic alliances, partnerships, and acquisitions. The successful acquisition of Whole Foods, along with a strategic alliance with Evi Technologies offers significant competitive advantage in distribution, product placement, and service offerings to consumers, while bringing the money into the company.
5. Go Global and Act Local strategy
The greatest benefits possible for Amazon have been due to this strategy. Partnership with local supply chains, backward integration through strategic product placement, and understanding local needs before launching services in line with country's culture have helped it in competing cut-throat with various competitors.
6. Superior Logistics and Distribution Systems
Along with the largest merchandise collection, Amazon has a highly efficient logistics and distribution system. This ensures reliable, secure, and fast delivery of all kind of goods right at your doorstep.
It offers fixed rates for different delivery time periods. Also, special concessions in delivery charges are offered to subscription-based Prime service users. The Prime program has especially been a grand success. Amazon's network of warehouses made this possible. The company is responsible for order fulfillment and returns, hence making more products eligible for prime services.
---
Weaknesses of Amazon
Weaknesses are, again, internal to the company. Weaknesses highlight the problematic aspects and are road-blocks for the company's phenomenal success. Let's get on to the Weaknesses in the SWOT Analysis of Amazon. Amazon faces limitations due to the following points –
1. Easily imitable business model
Online retail business has gained high popularity in the digital world, even more so in the pandemic. Numerous national and local players have gained a strong foothold in market.
Due to lower customer switching costs, players easily attract customers to specific operational or core competencies. For instance, the grocery segment is currently highly competitive due to customer requirement. Numerous small and large players are competing to viably meet rising demands.
2. Lost margins and expansion challenges
Often called a major weakness of the entire industry, Amazon, like many other players, operates in near zero margin business model. This has severely affected the profitability.
Even though it maintains high volumes and huge revenues, it is unable to make meaningful profits for the company. In fact, the most competitive "Amazon Great Indian Festival" sale season, fail to translate to higher profits for Amazon. This is in spite of observing record sales every year at the mega sale.
While the company has managed to stay afloat so far, its free shipping and dirt-cheap prices might pose future threats.
3. Product Flops and Failures
More often than not, optimizing product search, ease of buying, and delivery speed lead to neglected product quality and validity of quality claims.
Amazon is notorious for fake ratings and reviews and that adversely impacts the brand image. Few products sold under the Amazon Basics brand name are also known to be of inferior quality.
4. Limited brick-and-mortar presence
In developing countries like India, absolutely no brick-and-mortar presence proves to be a limitation in reaching the full untapped market potential, especially in rural parts.
The concept of supermarkets through Amazon Go has taken off well in the US. Hence, a carefully modified version (a portable kiosk or hyper-store) would help the company reach to a much larger target customer base.
5. Loss of competitive advantage
Amazon started off as an online bookstore, and soon expanded into electronics. But it over-utilized its first mover advantage and its over-diversified product-line often leads to lower margins, higher losses, complex distribution channels, and higher returns, leading to lost sales at high logistical cost.
Amazon's full-fledged online retail marketplace model might be the reason it is struggling for profitability even decades after serving the largest customer-base possible.
---
Opportunities for Amazon
An external strategic factor, opportunities highlight aspects that could be the company's strengths, if they invest in it or implement it. These are targets that the company can reach through its capabilities, which might give it a competitive advantage.
1. Expand operations in developing markets
As also highlighted in the company's weaknesses, a huge untapped growth opportunity lies in developing nations, especially in rural and semi-urban India. Expanding distribution system such that it penetrates deeper into the geography is possible through higher warehouse touch-points in every state and a more extensive delivery system. A major challenge is the last mile delivery.
2. Expand physical stores
While buying a stake at Future Group was a good decision for Amazon, hey still need to expand the presence of their core brand "Amazon" by partnering with leading retailers. This will help in establishing a wider presence and visibility of the brand, much beyond online deliveries, and into a retail giant.
3. Backward integration
Expand offerings such as Amazon Basics into other segments such as electronics and essentials. This will again promote the brand to customers, offer differentiated product backed with the right customer demands and expectations (from customer analytics), and improve profit margins (since you will also earn from the product, rather than just supply).
4. New markets
The pandemic has led to exponential growth in specific sectors such as healthcare with a consistent growth in FMCG and essential commodities. While Amazon has ventured into the groceries business with Amazon Fresh, the hyper-local business model crash for companies like Dunzo has offered opportunities for Amazon to leverage its wide distribution network. It can also enter the pharmacy segment, which is currently having few scattered competitors such as 1mg.
---
Threats for Amazon
Another external strategic factor, threats challenge the company and can be mitigated through company's strengths. A competitive environment poses risks and threats to business success.
1. Cybercrime
Data theft is the most common modern-day criminal activity that is putting internet users at increased risk.
Further, due to lack of awareness of the consequences and repercussions of identity theft and hacking among the larger public, they can easily be conned by hackers into sharing personal details like bank account details.
Such incidents are drawing common people away from online purchase and more towards offline and store purchase, which provide security, along with the much-questioned quality assurance.
2. Aggressive competition and lawsuits
More and more online retail stores have cropped up, and the shift to digital sped up by the pandemic has made things worse for Amazon. While Amazon clearly dominates the overall e-commerce industry in India, few local, regional and national players such as JioMart that have recently cropped up, have the potential to overthrow the giant.
Due to this highly competitive nature of market, the aggressive price wars have led the e-commerce companies into lawsuits by sellers and rivals alike. The obsessive focus on cost leadership has led Amazon to play a very aggressive, albeit self-harming game of losses.
3. Fake products and reviews
The marketplace is overcrowded with a wide variety of products within each category, which is what has appealed to the masses.
However, the sheer lack of quality checks in seller ratings, and product reviews have led to customers losing trust on the platform to make a reliable purchase. Infact, more than 40% of purchased goods are known to be returned or exchanged by customers, which means double the logistical cost at the same product price.
4. Government regulations
The brand is notorious for its pricing strategies, and market policies with regard to fair play and anti-competitive practices. Due to lawsuits and serious expenses, and restricted operations due to multiple controversies, the company fails to become profitable any time in the near future.
The company is also often held liable for damages by counterfeit products sold through third-party sellers. Also, the restrictions in sale of non-essential items by the central government led to a loss of over US$ 398 million. With rising support for local sellers driven through the government schemes, companies like Amazon are facing the brunt in domestic growth.
---
Conclusion
You can now understand how a detailed analysis of different aspects of a business can uncover fascinating and opportunistic insights into the business model and future possibilities. SWOT analysis of Amazon, with in-depth view of strengths, weaknesses, opportunities, and threats to Amazon business provides a thorough company analysis before you dive int any further analysis or project research.
Only when you are clear about the business you are working for, can you perform well-informed projects and analysis from company data. So, basically, your project must always begin with SWOT, of the company, the brand, the division you are working in, or the entire business. Make sure to clearly specify the scope of your analysis, to remain in context.
Next, as an exercise, why don't you try gathering news and information to perform a SWOT analysis for Amazon Prime Video, or AWS? Follow the four-step guide to SWOT analysis, which follows the company overview.
Found the article interesting? Share it with your friends: