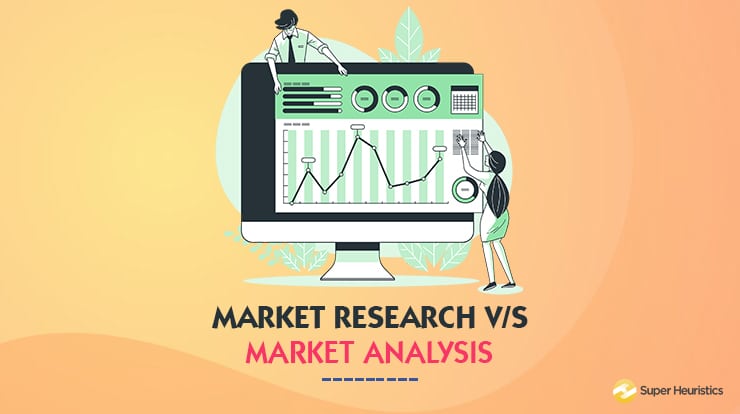 I recently wrote an article on How to Become a Market Research Analyst. After that, I had a lot of people writing in, asking me about something which I thought was quite an intuitive follow-up question. People often asked me – What is the difference between Market Research and Market Analysis.
I realized that many people don't know it. And maybe you might not know it too right now! Or you might have an inaccurate assumption of the difference.
Upon recognizing a plausible confusion among the two concepts, I put in a conscious effort in researching the internet about it. I found out that people often use these terms interchangeably. Which isn't correct, by the way.
It is common (and generally pardonable) to use these two terms interchangeably. However, for when someone, maybe your new boss, tells you particularly to do Market Research and you end up doing a Market Analysis, it just won't be appropriate.
Therefore, it is extremely important for you to know this difference to deliver the right results for your company in your projects.
---
So, What is the Difference?
If I were to give you a high-level view of the difference, I would say this.
The difference between Market Research and Market Analysis is that Market Research is more like a subset of Market Analysis. Market Analysis is a much broader exercise of analyzing the market, which could include your own company, competitors, the business context and the customers.
However, Market Research is usually, extremely focused in its nature and directed usually at testing a hypothesis or getting to know the customers.
---
Market Analysis is the exercise of observing and exploring a market or an industry.
The implicit objective is to understand or to model how the market works with the objective of knowing about the market potential, the competitors, the customers, and other stakeholders.
For market analysis, you sort of put together historical data across parameters to gather a sense of the market and to forecast what could happen in the times to come.
However, it will be wrong to say that Market Analysis is purely a secondary research affair. You could actively seek new data and do primary research on the market stakeholders.
Market Analysis is often (inaccurately) known as Industry Analysis. And this video, I am sure, will clear your doubts.
Few important elements to consider while doing market analysis for an industry are –
---
What is Market Research?
Market Research, on the other hand, is specific to a particular target market and to the customers. A market research is conducted with a particular question in mind.
Market Research begins with one or multiple research questions in mind. The research is conducted in order to get a quantifiable answer to the question.
In most of the cases, a Market Research solves the purpose of testing a hypothesis. Most of you who have learned statistics would have learned about hypothesis testing.
For Example, suppose a Marketing Manager needs to decide whether to launch a new product or not. He plans to conduct research to find out the product acceptance.
As I mentioned, it is good to have a quantifiable output to research, he plans to calculate a product acceptance rate and proposes that
Now, he could create a hypothesis that the product acceptance rate is below 30%. If after the survey, the statistical test suggests that the product acceptance rate is significantly higher than 30% then the null hypothesis will be rejected.
And therefore, the product will be launched. This small example from the field of statistics will help you understand how laser sharp in terms of the focus is a market research exercise.
The market research exercise involves various exploratory research in order to collect enough data to establish the hypothesis. The data can be collected through primary or secondary data sources, meaning data collected through some research or survey technique, or through pre-recorded information.
---
What isn't the Difference?
Students and practitioners often confuse the difference between market research and market analysis to be the same as the difference between primary research and secondary research.
The fact is, these two are not the same things.
Market Research, by its nature of being more closely associated with the customers, is thought to be the same as primary research. You would remember primary research is the method of collecting first-hand information by means of questionnaires, interviews or focus group discussions.
At the same time, Market Analysis is often thought of to be the same as secondary research. This is because Market Analysis is perceived to be a passive study with the help of the available data.
Both of the assumptions about Market Research and Market Analysis are incorrect.
Primary and secondary research is by no means a parameter for the difference between Market Research and Market Analysis.
The truth about this myth is what we will discuss next.
Market Research requires secondary research to take into account the context of the target market.
Similarly, Market Analysis involves a lot of primary research i.e. first-hand information collection from the various stakeholders in the industry.
In fact, here's an example from my experience of doing a Market Analysis for a business process outsourcing company. For the Market Analysis for the pharmacovigilance market, I had to eventually interact with the academicians and industry people involved in the pharmacovigilance automation process.
This is a classic example of employing primary research techniques in Market Analysis. I did it to bring out a concrete analysis of what is the current picture of the industry and of the competitors.
---
Conclusion
You must have cleared all your doubts about the difference between Market Research and Market Analysis. Often confused to be the same thing, my aim here was to explain the core conceptual differences (facilitated by examples) and to debunk a few myths about what they do not mean.
I hope the detailed infographic highlighting the differences between Market Research and Market Analysis will serve the purpose. You can download it from below.
Found the article interesting? Share it with your friends: