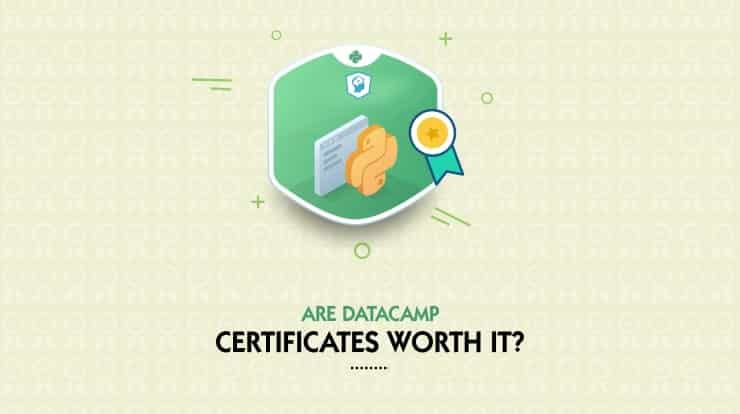 I had written on DataCamp courses a while back and about why I think DataCamp will be of benefit to you as an Data Science learner. Following that a lot of you who were curious about it asked me this – "are DataCamp certificates worth it?"
In that article, I didn't really put a lot of focus on certificates. One of the simple reasons for that is that a certificate should be the least of your concerns while taking a course.
But most people asked me, 'Is it worth it?'.
Now, here's the thing. Just like every other certificate, DataCamp certificates are meant to prove that you can do some data analysis and machine learning tasks. If you have the certificate but you still lack the required skill, it's definitely pointless to flash that certificate.
Do you notice the students who kind of know what the lecturer is talking about whenever there is a class? We all know that students like that tend to do a lot of extra reading just to gain more insight on the topic.
Does it matter if they have a certificate on that topic or not? No it doesn't at all.
However, if you pass out of your B-school and start applying for jobs, you do need a certificate/degree from your B-school to prove it to the industry that you really have completed MBA, don't you?
---
Does DataCamp Issue Certificates & Is DataCamp Credible?
Well, as an MBA student, I can boldly tell you that DataCamp will lay a solid data science foundation for you. And incrementally it will take you towards the expert level.
DataCamp certificates do not actually prove that you are an expert in that particular field, but this certificate (or any course certificate, for that matter) is a sign of your initiative towards your self-improvement and learning.
You will be taught the necessary skills and even their applications in real-life scenarios, all these are good, but another question to ask is; 'Is DataCamp credible?'
I believe credibility is a function of users' reviews. If you take time to go through the different online about the courses being offered by DataCamp, apart from my own personal experience, you would agree with me that a lot of people seem to be talking about it.
A review about DataCamp on Forbes will affirm my assertions to you.
Before you read further! Create a FREE DataCamp Account
Not many know that a few of the DataCamp courses are available for free! This way you can start learning Data Science with DataCamp right away without having to pay anything. Therefore, go and create a free account and then come back to explore your account with me.
---
DataCamp Courses
There are over 290 courses on DataCamp and this figure is growing steadily. The courses are powered by 6 great technologies specifically used for data analysis. They are:

R Language
Python
SQL
Git
Shell
Spreadsheets

For ease, the courses are segmented into 10 different topics to make it possible for you to easily determine the topic you want to learn and have access to the necessary resources that will set you on the right path.
Programming: Here, you will be introduced into the 6 technologies I listed above and how they relate to data science.


Import and Cleaning Data: In data science, there is a lot of data importation and cleaning. These topics will teach you how to do it using R language or Python.


Data Manipulation: All data must be organized and easy to read. This can only be done when you know how to manipulate the data without negligently introducing any error.


Data Visualization: Data is best expressed when it is put out in easy to understand graphs and visualizations. This process is suitably called data visualization.


Probability and Statistics: Drawing inferences from the available data and making forecast based on this data is one of the essential skills in data science. This topic will walk you through these steps.


Machine Learning: Here, you will be taught how to build, train and assess machine learning models like classification and regression.


Applied Finance: You need to know how to use data science for analysing financial data and making predictions based on the result gotten for financial trading, equity valuation, bond valuation, etc.


Reporting: Presenting automated reports with interactive web apps and dashboards is also one of the fortes of data scientists or analysts.


Case Studies: Earlier, I mentioned that DataCamp makes use of real-life scenarios just to drive home its point and also give you a hint of what the application of the concept looks like. There are exciting case studies you can go through like analyzing election and polling data, designing and analyzing clinical trials, predicting employee turnover, etc.

Management: This topic talks about data science and how you can use it to strengthen your organization by providing you with an understanding of data sources your company can use and how to store that data. This particular course was actually newly introduced a couple of months ago.
---
Are DataCamp Certificates worth it?
Finally, I will highlight what I already mentioned earlier. DataCamp is one of the most reputed brands, worldwide, for Data Science learning. Having said that, there are two ways to look at it.
1. Over a million people have the same certificate as you would
DataCamp has taught over a million people in all of these courses. Which means so many students have the same certificate that you are eyeing.
That doesn't make you unique, does it?

No, it doesn't. But why do you need to be unique when this is not a zero-sum game!

With almost 97,000 data analytics vacancies lying unfilled and with a 400% percent growth in the number of such jobs in 2018, do you think you need to really step on to anyone else's toes and be unique to make it big in Data Science?

No! In fact, the more number of people that get there makes the field even more interesting an booming. Therefore, let more people join the party and be happy about it.
2. You have a certificate from the best
That naturally shows a lot of thing about you. One of the founders of the company I currently work at mentioned it in one of his interviews that he regards these course certificates really highly as they show the intent of the candidate.

If someone has put in his or her time and also a hefty amount of money behind something, there are very less chances that he or she is fooling around. Their HR policies have started to assign weightage to these online certificates, the founder said.

That's what I want to mention here. Certificates are important because they prove you have gone to school. They serve as a qualifier in most cases.

But what you made out of your school experience is entirely up to you.

So, are DataCamp certificates worth it? I would say, yes, they totally are.
---
How do I add a DataCamp certificate to LinkedIn?
Now that we are talking about these certificates and about how important they are, you would want to add them on your LinkedIn, won't you?
Unfortunately, LinkedIn has enacted some changes in their policy regarding automatic certificate submission. Now, you have to do it manually. Not to worry, I will walk you through the whole process.
Log into your DataCamp account and hover over your profile picture
Select My Learning Progress
Click on the Track or Course that you would like to share on LinkedIn
Click View to the right of your course to view your Statement of Accomplishment
Copy the URL of the Statement of Accomplishment
After this, login to your LinkedIn account and follow these steps.
Log into your LinkedIn account and navigate to your profile page
Navigate to Licenses & Certificates and click on the '+' icon
Paste your DataCamp Statement of Accomplishment URL into the Credential URL field
The certification authority is DataCamp
The credential ID is the last part of the URL (it is a long string of numbers and letters)
Add the name of the certificate, and click Save!
---
Conclusion
During my MBA, I was in the constant quest of finding which kind of learning is going to be the most useful for me to drive my career forward. I had a vague idea about Data Science being a promising field.
It was only once I started learning Data Science that I realized that not only it is promising in terms of the job prospects but is also really interesting.
DataCamp made learning Data Science really easy. With the certificates in my kitty, it will forever be a proof that I dedicated time to know more about Data science.
Before you go! Create a FREE DataCamp Account
Not many know that a few of the DataCamp courses are available for free! This way you can start learning Data Science with DataCamp right away without having to pay anything. Therefore, go and create a free account and then come back to explore your account with me.
Found the article interesting? Share it with your friends: