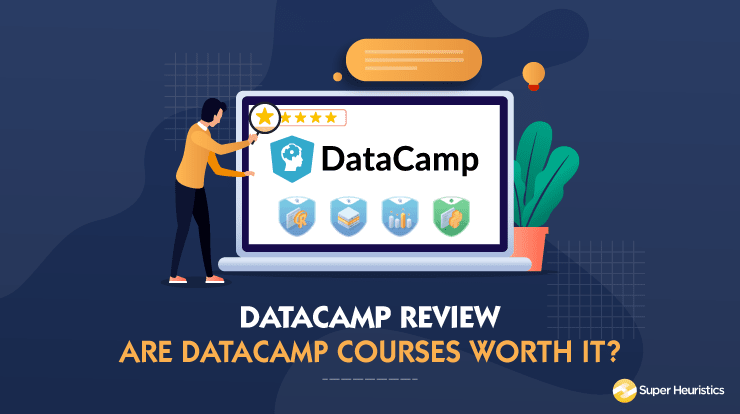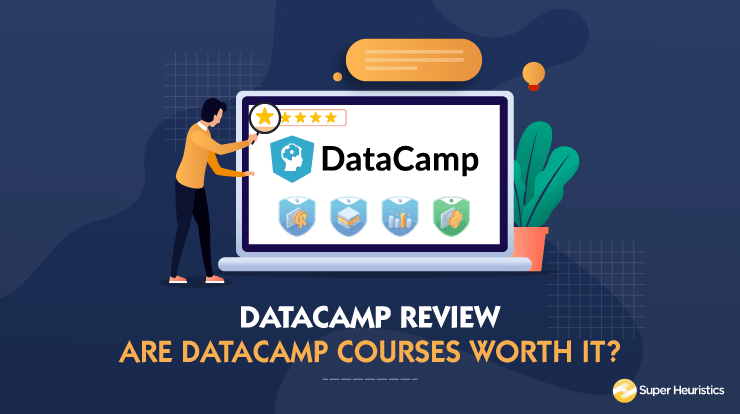 Latest Edit (September 2020): I have updated this DataCamp Review in September 2020 to talk about many of the new courses and course categories that DataCamp has come up with. Along with that I will now also be touching upon some of the news features on DataCamp like their latest round of funding.
The best way to understand all the features would be for you to go and create a free DataCamp account, which doesn't cost you anything, and then explore it while you read what I have mentioned below.
I decided to write this detailed DataCamp Review on the behest of so many of my friends who know that I have been a DataCamp user for the last so many years. Some of them who have been really determined to take up Data Science and Machine Learning as a career often asked me "...but is DataCamp worth it?".
Not just DataCamp but I have often discussed about and recommended my friends a few other Data Science courses as well that I took for my learning. Therefore, in this DataCamp review I bring to you my analysis of what makes DataCamp a good or bad choice of Data Science learners and is DataCamp worth it for you or not.
DataCamp does offer programs in quite a lot of skills and this is evident from the range of courses that they have namely DataCamp Python, DataCamp R, DataCamp SQL and DataCamp Spreadsheet. While I will not be talking about each of them in depth in this post, I will be giving you a fair amount of idea about the quality of each of them.
There are also a few things that you will not really appreciate about DataCamp. And I will be addressing those points too.
So all in all, in this interaction you will get to know everything you can learn from DataCamp (majorly Data Science) and how it will be benefit you as an MBA student. By the end of it, you will be able to make a decision as to whether you should go and buy DataCamp or not.
Before you read further! Create a FREE DataCamp Account
Not many know that a few of the DataCamp courses are available for free! This way you can start learning Data Science with DataCamp right away without having to pay anything. Therefore, go and create a free account and then come back to explore your account with me.
---
How I began my learning with DataCamp
With the number of resources out there for learning Data Science, and the pressure I was subjected to being an MBA student to embrace this field, I was so confused about the right direction to turn to.
This pressure wasn't from the B-school system, but from within me. I wanted to do something tangible being an MBA student that could make me stand apart from the rest.
I had to chart the course of my career. MBA was definitely going to be my terminal degree and whatever I did then was going to shape my entire career. And, likewise, you have to put in that kind of a thought for your career as well. The best way to do this (which I did too) was to combine my MBA course with quite a few other online courses, including those from DataCamp.
Now this was 2017 when I made this choice during my MBA days at IIM Udaipur. However, I have been familiar with DataCamp since 2016. That was the time when I had randomly created a free DataCamp account and has started off by watching a few of the free DataCamp. I never really took it up seriously back then until the end of 2017 when I became extremely serious about my upskilling.
Here I was sitting in front of my laptop in my hostel with my credit card in my hand while I was paying for their one month of subscription worth $24 (₹1800). I have always been extremely comfortable in investing on my learning. And DataCamp for me was a learning opportunity in which I believed with a lot of promise and hope.
Shortly after that, I was in my DataCamp premium account after which I browsed through their various DataCamp Career Tracks (will let you know about it later in this discussion). I chose one of the Career Tracks and began my journey of learning Data Science with DataCamp.
Now, as we proceed in this DataCamp Review, I will be sharing with you a lot in-depth insights about my first hand experience with DataCamp. The real-world DataCamp projects that I was exposed to in DataCamp is another aspect that I will be covering in this DataCamp Review.
Also, in order to make the experience of DataCamp real for you, in this DataCamp review, I will include a screenshot of my dashboard as well as pictures of one of my DataCamp certificates.
Here is what I will tell you about...
---
DataCamp - What is it?
DataCamp is a self-paced online learning platform that offers interactive courses, projects and practice assignments in R, Python, Sheets, SQL and Shell. It would be clear to you that DataCamp has a focus on Data Science. DataCamp claims to have just around 5.5 million aspiring data scientists who have benefited from their platform as of March 2020.
Their instructors have compiled the knowledge and experience they have gained over the years into comprehensive courses that can be applied in real life scenarios.
For those of you who are interested to know about who owns DataCamp, a Google search would tell you that Mr. Jonathan Cornelissen is one of the co-founders of DataCamp and the initial DataCamp CEO.
These DataCamp courses are available for you to learn in the comfort of your browser with video lessons and fun coding challenges and DataCamp projects.
Now, these are not some 10 or 20 courses that we are talking about. 325+ DataCamp courses that we are talking about! It will be obviously be impossible to talk about all of the 325+ course in this DataCamp review but I will soon be coming up with more such discussions and DataCamp reviews of different courses.
Now, one thing that makes DataCamp different from the rest is that unlike other online learning platforms, you are not required to pay for every course you take.
Instead, you subscribe to any of the plans and get full access to all of the courses at no extra cost. So you could see DataCamp as a college where you pay the fees and have a choice of the elective you would like to take.
While you are learning from DataCamp it is advisable that you make the most important choice that every Data Scientist encounters in the beginning.
Which is better, R or Python, for Data Science?
I know so many people who have gone into analysis-paralysis and have not begun their Data Science journey only because they are not able to decide which language to learn.
That is a really sad situation to be in. I was in the same situation. And therefore to help you out in this decision making process, I will give you a simple heuristic.
If you are an MBA student or a Data Science beginner who has some level of familiarity with anyone language, either R or Python, please stick with that language. It makes absolutely no sense to switch language just on the basis of some hearsay that one language is better than the other.
However, if you are someone who is just beginning his journey, you can choose Python.
Moreover, here's the reason why I love DataCamp. Provided that there are over 325+ courses and that there is a chance for you to get confused, DataCamp divides its courses into Career Tracks and Skill Tracks.
---
DataCamp Login - Insider's View
In this part of our discussion in this DataCamp review, I will show you what does it look like to use DataCamp. And the best way to do that will be by giving you an insider's View of the DataCamp dashboard.
Each DataCamp course is comprised of three elements. These elements are:
Learning videos
Multiple choice questions
Coding exercises
Here in this screenshot, you will be able to see how these three elements are quite beautifully stacked up in any DataCamp course that you take up. The icons signify what each part of the module is.
I am sure that a big part of the answer to you question 'is DataCamp worth it?' lies in the fact that how good their learning videos are. Each of the DataCamp videos have been shot with an instructor in the frame and the relevant text (code snippets) or images by the side of the instructor on the screen.
Let me give you a glimpse of what a DataCamp video looks like.
But the video are not yet the best part of the DataCamp courses. The reason why DataCamp course are really interesting and different is its inbuilt console where in you actually get to code everything that is given in the exercises. This inbuilt console is a smart coding console which will tell you when you code is incorrect.
If your code is incorrect, you can take hints and get help. Effectively, it is like a friend helping you how to code step by step. Each time you take a hint, you reduce some of your points which are referred to as 'XP'. More on what 'XP' is in DataCamp in the FAQs section.
---
DataCamp Career Track Review
Like I mentioned, there are over 325 courses that DataCamp offers. And naturally, you and I can get confused as to what are the courses that you should take to reach your eventual goals.
Therefore, DataCamp has created learning paths known as DataCamp Career Tracks. There are 14 Career Tracks in DataCamp right now when I am sharing this DataCamp review. They have added 6 of these in the last one year itself and it shows how responsive DataCamp is to the needs of the students and to the demands of the industry.
In these 14 Career Tracks, there are 6 DataCamp Career Tracks for R language as shown below.
And 7 DataCamp Career Tracks for Python Language as shown below.
Now, how do these Career Tracks really help you?
Some of us are sure of the fact that we need to be good at various fields of Data Science. Some of us are also clear that we want jobs as Data Scientists and therefore have clarity about what tools and language we need to pick to reach our goals.
Now, just like me, in case you are one of those who have no idea about which skills to master to become the kind of Data Scientist you want to become, joining a career track becomes crucial. Because it already lists out all the courses that you need to do (from different technologies) that will make you a complete Data Scientist.
In my journey, I chose the Career Track of Data Scientist with R which, when I did it, had 23 DataCamp courses. Let me also tell you about what are the DataCamp Skill Tracks, which is quite similar in terms of the idea to the Career Tracks.
---
DataCamp Skill Track Review
So on one hand where DataCamp has split its courses in Career Tracks to help you choose your career path and start learning, on the other hand it has DataCamp Skill Tracks.
These are learning paths for you if you want to master only a particular skill. For example, if you wish to master Statistics as a skill (which all the MBAs should be good at) go for DataCamp's Statistics Skill track which as 5 courses in it.
Further, if you are a Finance or a Marketing enthusiast and want to keep you Data Science skills limited to your domain then you can choose skill tracks on Marketing Analytics or on Applied Finance.
Therefore, the choice of the courses should be simple. If you want to stick to your domain of Marketing or Finance, you can choose their skill tracks. Whereas, if you wish to make mark as a full-fledged Data Scientist then the Data Science Career Tracks are what you should go for.
---
How DataCamp will benefit you?
If you are searching for any MBA student that was (and still is) a student at DataCamp, then there is no other perfect example other than yours truly (smiles!). Hence, in this DataCamp review, I will tell you how DataCamp benefited me as a student.
1. Experienced Instructors: All of the DataCamp instructors are one of the best data science instructors out there. I took the pain of checking the profile of some of my tutors and they were mind-blowing.
2. Visual Learning: You will have the opportunity of learning with instructor videos and interactive exercises. But isn't that something that every course offers? Tons and tons of videos? The next point will tell you why I like DataCamp as a good learning portal.
3. Inbuilt Console for Coding: The DataCamp course platform has an inbuilt console where you need to code the exercises. Therefore, you don't just watch the videos, you actually get to code whatever you learned (without which you can't move ahead).
Simply put, DataCamp is a cure for your laziness!
4. DataCamp Skill track: As i mentioned above, it is a feature of DataCamp that helps you select combination of different courses that will give you full knowledge on the particular skill you want to learn. It guides you to proficiency in a specific technology, as a result, you will only take the courses that are relevant to the skill you want to learn.
5. Data Science Career Track: Unlike skill track, you will have access to a number of courses carefully selected by experts that are combined to teach you everything you need to know to have a successful career in a particular field.
For example, if you want to become a Data Scientist using Python, there are 22 relevant courses tailored specifically for this, and you can complete them in 84 hours. Cool!
6. Interactive Platform: There is an online platform you can chat and share knowledge with more than 5.5 million peers and experts in your field.
Before you read further! Create a FREE DataCamp Account
Not many know that a few of the DataCamp courses are available for free! This way you can start learning Data Science with DataCamp right away without having to pay anything. Therefore, go and create a free account and then come back to explore your account with me.
---
DataCamp Instructors
Some of the DataCamp instructors are staff based in DataCamp as tutors but, there are other instructors too that are not from DataCamp. However, they are experts (Professors and Assistant professors) and some of the experts in their fields.
Instructors are from universities like Newcastle university, Oregon State University, University of Washington, etc.

Others are consultants and founders or co-founders of tech companies. The diversity of the tutors means that you get to experience different styles of learning all through your journey in DataCamp.
---
DataCamp Courses
The 325+ DataCamp courses are taught focusing on how to use 6 technologies for data science; DataCamp R language, DataCamp Python, DataCamp SQL, Git, Shell, Spreadsheets. Quite recently, DataCamp has also launched courses in Tableau which is another hot tool in Data Visualization.
As I had mentioned earlier, the courses combine short expert videos with immediate hands-on keyboard exercises.
I will still write a short note on each topic in this DataCamp review.
The courses are segmented into 10 topics;
Programming
Importing and Cleaning Data
Data Manipulation
Data Visualization
Probability and Statistics
Machine Learning
Applied Finance
Reporting
Case Studies
Others
All the DataCamp Career Tracks and DataCamp Skill Tracks a combination of these underlying segments of courses. So, let me tell you a little more about these courses.
Programming DataCamp Courses
This comprises course which get you going with the basic coding. I am sure a few eye brows would have raised and a few hearts would have skipped a beat.
"Coding? How are we supposed to do that?"
"I am not someone who is supposed to do coding, I am a Manager!"
"Programming has never been my cup of tea"
Fret not. This is not the complex coding that you think it is. Because what makes it really simple is DataCamp's pedagogy. Wherein you learn to code, even the relatively difficult things, bit by bit on their in build console.
Importing and Cleaning Data Courses
There are quite a few topics under this that will teach you how to import data in R and Python and how to clean it using R and Python.
Data Manipulation DataCamp Courses
Data manipulation, in simple words, is the process of working on data to change it to become organized and easier to analyse. This is what this topic is all about, using R, Python, SQL and Spreadsheets.
Data Visualization DataCamp Courses
Here is where your skill should lie as an MBA. To group and present your report, which would include the graphical representation of data and information using visual elements like graphs, charts, maps, etc.
All the courses are under this topic give you full insight into how to go about this.
Probability and Statistics DataCamp Courses
MBAs looking to make a career in the field of Analytics and Marketing should geek over these courses.
Here, it contains 50+ courses that will walk you through statistical modelling and how to draw inferences and make forecasts from this analysis using R, Python, Spreadsheets.
Machine Learning DataCamp Course
You will learn how to build, train and assess machine learning tasks like classification and clustering. It also goes as far as teaching you the fundamentals neural networks and building deep learning models.
This stream has courses handled by different experts.
Applied Finance DataCamp Courses
It covers financial trading, credit risk, bond valuation, equity valuation, analysis of financial data, etc. These courses will teach you everything on how to use data science for analyzing financial data and making predictions based on the result gotten.
These courses are taught by well experienced finance experts with abundant knowledge on data science.
Reporting Courses
You will learn how to create automated reports to build interactive web apps. Also, it features courses on how to build an interactive dashboards for reporting. There are 6 courses here using mainly R language and Python.
Case Study Courses
The courses in this topic contains case studies like analyzing election and polling data, designing and analyzing clinical trials, predicting employee turnover, analyzing US census data, etc.
Other DataCamp Courses
There are courses that contain lessons on other extra knowledge you may be interested in. E.g. Web scraping (retrieving and parsing information from the internet), how DataCamp built the platform they use to teach data skills.
---
DataCamp Plans and Pricing
Most of the times I tell people about DataCamp, I always hear one question. And this comes across as a big point of confusion. This question is:
Are DataCamp courses free?
The answers is No. DataCamp courses are not free and you need to take up a subscription if you wish to complete a course and get the certificate. However, for a select number of courses, the first chapters are for free. Again, to proceed to the next chapter you need to buy their subscription.
Having clarified that one extremely common doubt, let me take you to another question which is:
How much does DataCamp cost?
DataCamp pricing follows a three-tiered structure. I already told you about the free tier that doesn't give you any course completely.
Next up, is the Basic Plan which would cost $25 per month when billed for an year and $29 when billed monthly. But then comes the grand-daddy tier, the Premium Plan. This plan would cost you $33 per month when billed for an year.
DataCamp Subscription
DataCamp Free Plan
For this plan, you will get free access to;
Only the first chapters of all the premium courses on DataCamp
Basic level practice challenges
Real-world projects
---
DataCamp Certification
Will I get a certificate from DataCamp?
Yes, you will. And here is what a DataCamp certificate looks like. This is my certificate from the past from one of the beginner level courses in R.
You are not required to pay any additional fee to get the certificate, as long as you have completed a course, you will be able to download your certificate free of charge.
DataCamp certificate value is good, because the certificates issued by DataCamp can be uploaded to your Linkedin profile and used for other official purposes. But as I always say, the certificate does not matter. It is the knowledge that you posses that matters.
If you don't have the knowledge even after doing these DataCamp courses, the DataCamp certificate won't matter at all.
---
What I didn't like about DataCamp
We are towards the end of the discussion in the DataCamp review. So, while I did tell you about all the things that I liked in DataCamp, here are some really important things that you must consider when opting for DataCamp. These are some of the things that made me feel slightly uncomfortable about DataCamp.
1. If you find it difficult to learn from a platform that one of its lead executive is accused of sexual harassment, then DataCamp is not the right place for you.
2. The tutorial videos are short when compared with the written part of the tutorial. So, it seems the video does not cover all that has been written. Hence, watching the video will never give you a complete experience.
3. The practical aspect may not resonate well with someone who likes to learn without being giving too many clues. The inbuilt console is already pre-loaded with some codes and you only have to do less of the hard work to complete the work.
---
Conclusion
DataCamp courses are comprehensive and well-detailed, but they are presented in an easy to understand format for you.
As stated in this DataCamp review, you don't need to know anything about data science before you can get started. There are introductory courses for beginners to intimate you with everything you are required to know along the journey.

The major thing I liked about DataCamp (which is actually one of the reasons why I compiled this DataCamp review) are the Career tracks and Skill tracks features that generate relevant courses that can set me on the right path to a successful career.
You should definitely try it out too!
---
Frequently Asked Questions (FAQs)
Here are some of the most frequently asked questions about DataCamp that almost every new learner is curious about. I empathize with you for I had most of these doubts when I was starting out with DataCamp. Therefore, I have curated this list from my own experience and from the questions subjected to me by my colleagues and friends.
Q. Can DataCamp get you a job?
DataCamp, like any other course that is worth the money you spend on it, will give you the knowledge with which you can crack a job interview. However, since DataCamp doesn't offer you a job neither it promises that you will surely get one after completing their course. Make sure that you make the most of your learning from DataCamp, apply it on projects which are also inside DataCamp and build a portfolio or good projects.
Q. How to get DataCamp certificate?
Once you complete all the components of a course, the certificate will be visible to you within your dashboard itself. You don't need to do anything extra to get the certificate. It is totally automated.
Q. How to add DataCamp certificate to Linkedin?
You will have to manually add the certificate to your LinkedIn profile. LinkedIn has enacted some changes in their policy regarding automatic certificate submission. Now, you have to do it manually. Not to worry, I have walked you through the whole process in this article of mine: Are DataCamp certificates worth it?
Q. What is DataCamp 'XP' and what to do with it?
Each time you complete a DataCamp video, exercise or module, you collect some 'XP'. These are points that get accumulated as you proceed through a course. You can redeem the XPs to get hints for problem where you get stuck or to see the solutions when you are not able to solve something at all. You can not use XP to buy DataCamp content.
Q. How to cancel your DataCamp subscription?
Cancelling a DataCamp subscription is easy. All you need to do is go into the Billing section of your dashboard and remove your card card from there or just cancel it. If that doesn't work you can write to their support team and they will ensure that no further fee is deducted from your account.
Found the article interesting? Share it with your friends: