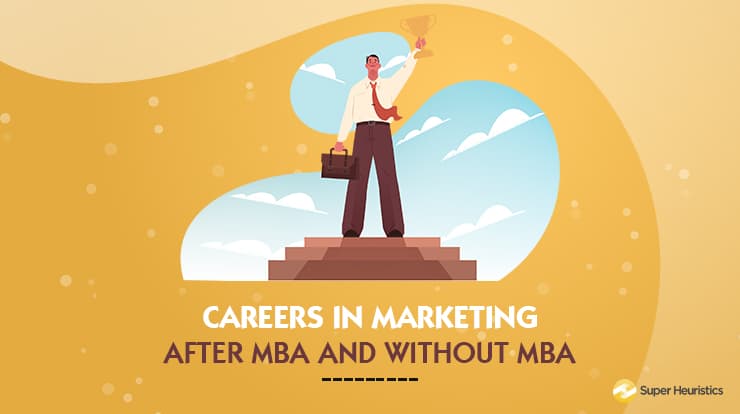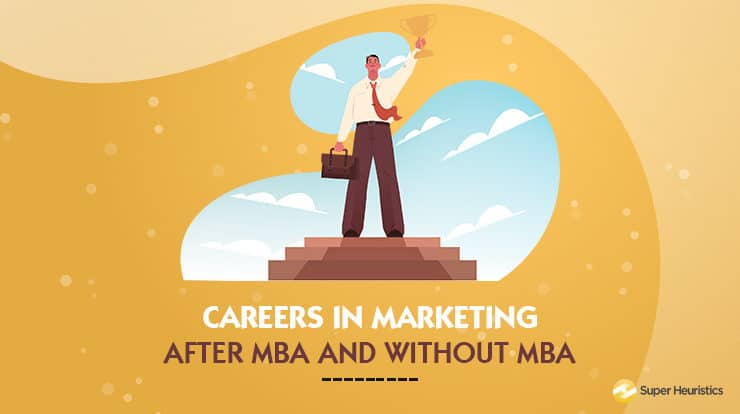 If you are a marketing enthusiast and are looking for careers in marketing after MBA then the very first question that you should ask yourself is where do you want to be in the next say 5 to 10 years?
Once you answer this question, you can start working towards the various ways to reach there. If your answer is to be someone who is at the helm of the marketing decisions of a company, then becoming the Chief Marketing Officer or CMO is not the only option.
A lot of the job profiles and careers in marketing after MBA can lead to Strategic roles such as Chief Executive Officer, Chief Brand Officer, Marketing Director, and in fact, can even help you start-up your own company! And trust me, each of these roles have a fair share of control over the marketing decisions of a company.
---
Careers in Marketing After MBA and Without MBA
Gone are the days when one can become the CMO only following a certain path. With the changing world and evolving businesses, there are various new types of jobs after MBA present today that can take you where you want to be.
Although one can get there with or without an MBA, an MBA can help one get there not just faster but, maybe, also better equipped to handle the new challenges.
Let's start by discussing each of the careers in marketing after MBA and without and MBA along with the various routes available at your disposal to pursue these careers depending on your interests and skill sets.
---
1. Traditional Marketing Route
The most traditional route is joining a company as a Marketing Executive which is an entry-level marketing job. As with any entry-level position, it would be highly operational and it becomes strategic as one moves up the ladder of hierarchy.
An MBA, in this case, can take you straight to a Marketing Manager or higher with relevant experience.
The responsibilities of a Marketing Executive would involve,
developing and overseeing marketing campaigns to promote products and services.
working with other employees in various areas such as advertising, market research, production, sales and distribution
Responsibilities would require creative, analytical, digital, commercial and administrative skills. If you are already pursuing an MBA and want to know the kind of work you would be up to as a Marketing Manager, I am sure that you would now know what is the kind of work that you are required to do and what would be your trajectory for the same.
---
2. Product Management Route
Product management is a function within a company that involves new product development, planning, pricing, monitoring the product across its lifecycle and also marketing the product. This function works intending to maximize sales revenues, market share, and profit margins from the product.
Many people in Product Management, and even a lot of our friends, are not even aware that as product people they are actually marketers and, in fact, are at the heart of marketing. Therefore, if you are a non-MBA in this area, be rest assured that you are working on an extremely crucial aspect of marketing.
The responsibilities of a typical Product Executive would involve,
monitoring competitors products and their actions
communicating the latest business trends with employees in the marketing and research department etc
communicating with people outside the company, clients and establishing relationships with business partners
Careers in marketing after MBA, especially if one who wants to pursue a career in Product Management as a Product Manager, the role would be a slightly more strategic and closely aligned to the objectives of the company.
---
3. Sales Route
Sales function of a company manages a firm's sales operations and is responsible for the execution of the strategic sales plan, forecasting demand, setting sales target and meeting timely quotas and monitoring important KPI's.
An entry-level position to get started in sales would be Sales executive or a Business Development executive whose responsibilities involve,
Helping build business by identifying new business prospects or leads and selling products to them.
Maintaining relationships with current clients and build relationships with new clients.
Now, here's the thing you need to know as an MBA student who is looking out for placements. A common concern for marketing enthusiasts is will a sales job be a good idea. In our opinion, sales people make really good marketers as sales gives you the real ground experience. You are much more closer to the customer and you get to build a knack for what the customer requires.
For an MBA, the potential position to be hired would be of an Area Sales Manager. For many marketing enthusiasts who are looking for careers in marketing after MBA, working as a Brand Manager for iconic FMCG brands is nothing short of a dream come true. Starting a career in sales is a great way to transition into a brand management role.
---
4. Creative and Designer Route
Communications management is an important function in an organization that plans, implements and monitors all channels of its communication. Communications management also includes developing brand communication strategies, designing internal and external creatives, and managing the flow of information both offline and online.
One can begin a career in communication management either as a Copywriter or as a Designer.
Copywriters create content that reflects a brand voice or message. They are required to work with people from PR, marketing, and customer service etc and adapt the points from a creative brief into persuasive copy for the client.
If you are more inclined towards art and design then you could start your career as a Designer. This would involve gathering of the required information, planning concepts and designing rough layouts and finally illustrating the concept art for campaigns.
This route is obviously for the creatives and artists. Add an MBA to the mix and you can get yourself a Communication Manager role.
---
5. AD Agency Route
An Advertising Agency, also called as Creative Agency is an independent firm that creates, plans and handles advertising campaigns for its clients. It can also handle promotions and branding strategies as part of their marketing.
If you love to reminiscence over those good old television ads and wish if you could be part of the creative world of advertisements then this is the path for you.
As an account executive one works directly with the executives of the client company to understand their needs and objectives from the campaigns. Then the account executive helps provide effective advice that is used towards the creation of successful branding and promotional strategies for the client.
---
6. Digital Marketing Route
As more and more digital platforms and devices are becoming part of our everyday life, more companies are going online making digital campaigns more prevalent. This has given rise to various digital marketing skills and jobs such as Search Engine Optimization (SEO), Search Engine Marketing (SEM), Content Marketing, Social Media Marketing, Email Marketing etc.
What is most unique about this route? This is probably the only route with so many different entry points. Therefore, as an MBA or a Non-MBA, you can pick your skill accordingly and take up this path into the career of Marketing.
With the vast amount of online courses and books, learning and experimenting with these skills have become quite easy. With an MBA, one can get hired directly as a Digital Marketing Manager with the following responsibilities,
Developing and monitoring campaign budgets, planning campaigns and their execution.
Evaluating and monitoring important metrics such as website traffic, target audience, campaign performance etc
Overseeing the overall work of the Digital marketing department and keeping up with the latest industry trends.
But please note, Digital Marketing is purely about the skill. Even if you are an MBA and do not have the requisite skills and experience in Digital Marketing, then you will obviously be starting off at an entry-level position.
If you want to get into it anyway, our suggestion is to learn these skills and take up some pro-bono or live projects during your MBA to build a work profile.
---
7. Analytics
Probably, one of the newest routes to the top position in Marketing and for a sprawling career in marketing after MBA or without an MBA. We remember that in our MBA days just a couple of year back, all of us used to be extremely excited about learning Analytics and Data Science. This is because we all had an inclining that this skill was here to stay.
This was reinforced by how Analytics and Data Science was a part of our curriculum and how almost all top-level marketing profiles that came to our B-schools required us to have some footing in Data or Marketing Analytics.
Therefore, if you are someone interested in Marketing with a technology background, with or without MBA, get started with Analytics and chances are you will reach a top position much sooner.
Marketing and Data Science converge really soon in your journey. That is because the initiative of any organisation as a unit is sales and customer delight. You as a Data Scientist or an Analytics person would be responsible to dig these insights.
Naturally, you will develop a good acumen of the customer insights which will take you to newly emerging roles such as Chief Data Officer or even the Chief Marketing Officer.
---
8. Entrepreneurship
The world that we live in is changing fast and thanks to technology a lot of rules are becoming less applicable. The same is the case with people wanting to start up. Conventionally, what you see in the image below would be your journey towards becoming an entrepreneur.
The conventional advice of finishing your education, getting a job for experience and then building something of your own is becoming a thing of the past.
Job profiles after MBA in marketing are no longer just day jobs. One can work as a freelancer or provide marketing services full time to people who need them.
Entrepreneurship today looks a lot different. You have the opportunity to build any marketing skill of your choice and work on creating something of your no matter where you are or what you are doing. And exactly because of that the competition is immense.
---
Conclusion
For anyone looking to pursue a career in marketing after MBA or is wading through the various job profiles, it is of utmost importance that one chooses a path that is more aligned to not just the ultimate goal of becoming a CMO but also matches the skills and interests that one has.
We discussed the various routes to become the Chief of Marketing and the roles of responsibilities that each path entails, in
Traditional Marketing
Product Management
Sales
Creative/ Designing
Ad Agency
Digital Marketing
Entrepreneurship
Once you know where you want to be and how you are planning to get there, it is just a matter of hard work and determination before you kick your way through life to get there.
Found the article interesting? Share it with your friends: