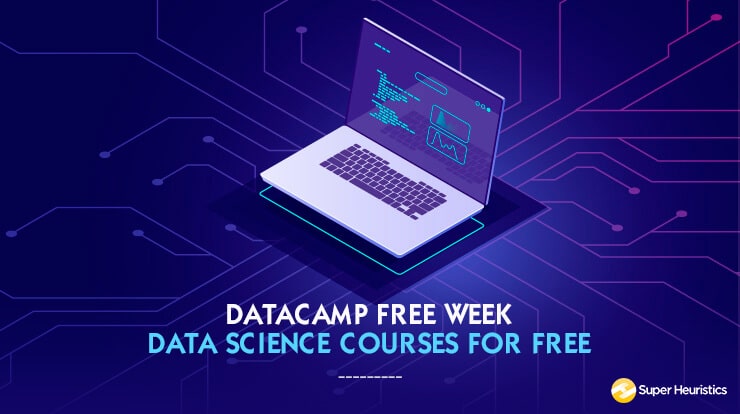 In continuation to the last DataCamp Free Week, DataCamp returned for a second edition of the DataCamp Free Week in the first week of September 2020.
The company reiterated the same goals which they set out last time. They are hoping to become an essential tool for people in academic and corporate circles for learning. DataCamp wants to positively contribute to people's personal and professional growth.
---
What is DataCamp Free Week?
DataCamp has realized the importance of conducting these super accelerated learning weeks with the hopes that users from a varied background will get hooked to their courses. If you are someone who is on the edge, figuring out whether should you should use DataCamp and study data science long-term, this is your time to explore the DataCamp premium courses for free.
Many professionals have either been motivated by their peers, or articles on the internet, about the reliable job future, by successfully acquiring the skills of data scientists. Especially, against the backdrop of Corona virus pandemic, people have taken this advice, strongly. Seeing uncertainty in the market, people want reliability in their employment and are looking towards data science as a lucrative opportunity.
If you are also one such individual who wants to test the waters of data science, but are not ready to make the financial commitment, then this DataCamp Free Week is a golden opportunity to grab onto. For free, at the end of the week, you would have assumed clarity whether this field of work is meant for your temperament, or not.
When is the upcoming DataCamp Free Week?

DataCamp doesn't announce their free weeks in advance. But the latest one is between September 1st to September 9th, 2020. In this period, they are promising the same fast-paced learning environment. Do check the on the link below to know whether the DataCamp Free Week is currently underway or not.
---
History of DataCamp Discounts
Capitalizing on the trend of massive sales like Cyber Monday and Black Fridays, DataCamp too have utilized these opportunities and underneath you would find the history of DataCamp Black Friday and Cyber Mondays.
DataCamp Cyber Monday and Black Fridays are usually launched subsequent to each other.
*These are DataCamp discounts on the annual subscription.
The table represents the various DataCamp discounts of the previous years. The dates and the discount percentages have been accumulated from various different sources.
---
How to Get DataCamp for Free in the DataCamp Free Week?
The DataCamp Free Week has been designed to motivate more people towards joining the service on a permanent basis, hence, the company behind the campaign has not barred anyone from availing this chance.
The courses are designed for people hailing from all industries and require no prior knowledge.
Also, no matter on what stage are you on the data science ladder, there are courses that cater to all of your needs.
Did you avail this offer last time as well?
And if your answer is a 'yes', you might have a question that 'Can I get DataCamp for free?' Luckily, users that have utilized the first stint of the free week and do not have an active membership plan against their account are too given unrestricted access to the entire digital library and course material of DataCamp.
---
DataCamp's Product Philosophy
Data Science and Analytics holds the power to make working class professionals aspire and yearn for higher career growth and successful trajectory.
Data Science happens to be a tool that has revolutionized every aspect of the professional world. Industries with traditional high data footprint ranging from banking, insurance, automobiles to industries with low organized data outlook like education and government have realized its efficacy in delivering high standards. That is why they are compelled to work alongside the principles of data management, extraction, and interpretation.
Trained Data Scientist is a professional that is extremely malleable, allowing him/her to provide their skills to any industry without having a lot of prior knowledge about the field of work. Which means you too, have the same ability to transform your professional life and cater to the dynamic labor market that is emerging worldwide, especially after the COVID-19 pandemic.
Your drive should be the same of aiming to inform and make yourself aware of the challenges and subsequent opportunities that are present in the market and capitalize on this open access week.
---
Pre-Requisites for Availing DataCamp Free Week
In order to access the full library of DataCamp, usually users are required to pay the fee upfront through a registered DataCamp user account. However, during the course of this DataCamp Free Week, you can get it for free, yet you still need to possess a DataCamp user account (which is fairly easy to open) to access the full benefit of the academic resources.
So, pre-empting your question, 'How much of DataCamp is free?', the answer to it is the entirety of service for a limited period of time.
---
Industries capitalizing on Data Science
Modern Aviation industry has witnessed growth in passenger traffic many times over in the last few decades. This growth can be positively attribute to their holy alliance with Data. They even have 'Data is the new Oil' written on a mantle in their international headquarters. (Not literally, I am just joking)
Did you know that due to this humongous amount of data, they are able to figure out how should they price their tickets at each time interval, how much tickets to sell, what routes to close and what routes to launch. In essence, all of their customer, financial and other business-related questions and forecasts are fueled by the visionary power of Data.
If numbers and workings of the financial sector mesmerizes you then take the opportunity of DataCamp Free Week because it can provide you with the tools to enter the banking industry if you want to envision yourself as a financial wizard.
It will be crucial in getting your first foot through the door and inspire in you the confidence that you have the ability to take on this industry with the mammoth skills of data science you possess.
Financial Industry for a millennium was very protective of their data and worked on the orthodox model they had built centuries ago. However, of late, they have come out of their shell, and utilized big data to bank the 'unbanked' population and also provide financial instruments tailoring to their customer's needs.
In cohesion with data scientists, they have now developed tools that collect banking data of their customers like their utility bills and transactions to suggest them the soundest financial advice. Reports suggests that this has enabled people to invest more money and after application, banks have reported promising growth in their deposits.
Data Science has charted into previously thought to be off-limits and unchartered territory. Yet, while the opportunities might be incalculable, at the same time, there a numerous challenge to face.
Hence, after the free week, DataCamp offers affordable yearly plans which might be helpful for you if you earlier found DataCamp pricing a bit out of range.
So, if you intend to bite into the annual fee plan, it would be wise that you can get a hang of it during the DataCamp Free Week!
When is the upcoming DataCamp Free Week?

DataCamp doesn't announce their free weeks in advance. But the latest one is between September 1st to September 9th, 2020. In this period, they are promising the same fast-paced learning environment. Do check the on the link below to know whether the DataCamp Free Week is currently underway or not.
---
Conclusion
Applicability and immense penetration of Data science and its study has transformed the way we used to live our lives and conduct our businesses.
Today's labor force is expected to possess various trade skills and traits in order to land high-paying and rewarding jobs. One of the skills that is becoming increasingly most sought after is data science tools.
However, if you are still unsure whether this area of expertise aligns with your own goals and temperament, then access DataCamp for free for an entire week.
Found the article interesting? Share it with your friends: