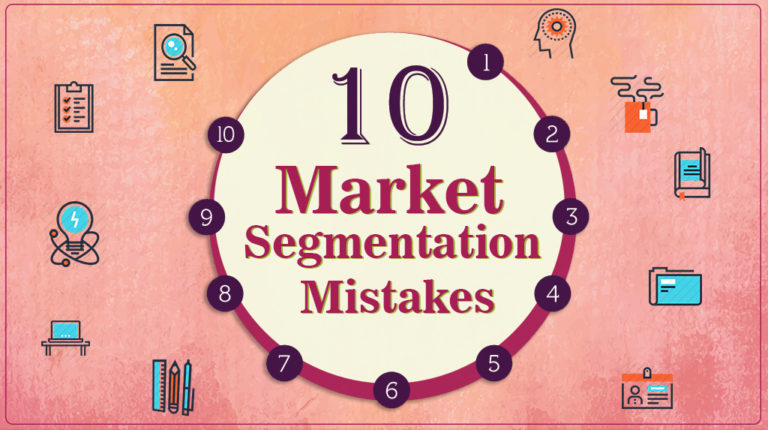 Irrespective of whether you are doing market segmentation for a commodity or a luxury product, marketers often tend to be myopic to a product-to-segment fit. This means only those market segments that seem to have a direct fit to the product are the segments that are targeted. This post brings to your attention 10 market segments that you are probably ignoring but must consider in your market segmentation plan.
Market Segmentation is the classification of the customers comprising the market based on some broad or narrow variables. The idea is to create segments such that in each segment all the customers have a strong homogeneity in their needs and wants. Different variables give marketers different kinds of segmentation.  
Marketers follow this market segmentation exercise up by identifying the appropriate segments to target. These certain segments are then pursued by target marketing by adjusting the marketing programs to address the needs of each segment.
Now, the identification of the segments has a big challenge. Marketers usually only go for the segments which have a direct product-to-segment fit (their mainstay segments). "This product will interest only this segment. This product will kindle the purchasing intent of only this segment. And this product will eventually be bought only by this segment".
These happen to be the first three myths that I would break in this article. You can sense a similar presumption by a lot of brands around you.
The interesting part is that the marketers tend to be focused on a product-to-segment fit while choosing the segments. We forget that in market segmentation a segment is after all just a criterion.
There are certain people who meet those criteria today and therefore fall into that segment. But, when you are looking at a product-to-segment fit, be conscious of the fact that you are basically talking about just a product-to-criteria fit and nothing more than that.
So, this realization tells us that tomorrow new customers could join that segment once their realities change and they gradually fulfill the criteria. Also this tomorrow need not always be the metaphorical tomorrow used to represent the future. It could very well be just the next day. So while the marketing segmentation is correct, are we targeting all those segments that we could?
Now, there are two solutions to deal with this challenge of targeting the right market segments:
Make market segmentation a dynamic process and do it regularly to ensure your segment is not redundant or,

Target those other segments that affect your mainstay segment and also those segments which will evolve and eventually become a part of your mainstay segment
On second thoughts I would say that the first point is not a solution but a factor of basic hygiene. It is a must do! And this is true across industries and products, especially in rapidly changing industries.
For example, if you are mobile phone manufacturer you must revisit your market segmentation on a frequent basis. Who is actually buying my phones? Should I target the lower segment because the economics have improved and they are probably willing to pay this much? Shall I confirm it with a marketing research and get going with it?
Or it could be something as simple as replenishing your mailing lists every year because the customers have passed a certain life-stage for which you are offering your product. Now, these things are a given. But what creates differences is the second point. Are you as marketer pandering to certain allied segments, so to say, that is today closely associated with your mainstay segments or might tomorrow be there?
I elaborate on this idea using three examples that how three important allied segments should be a big target in your marketing plan. And how everytime you do market segmentation for your product, you must consider these segments. These three allied segments are an influencer, a buyer in the future, low-income group.
Mistake #1: Ignoring the Influencers

Not all the products bought by customers are for themselves. Also, not all the purchase decision are made by the actual user of the product.
As per Philip E. Kotler, often regarded as the father of marketing, people play five roles in a buying behavior: initiator, influencer, decision maker, buyer, and user. A big case of marketing myopia is marketers being fixated to the decision makers, buyers, and the users. But, initiators and influencers segments are where the sparks really start flying. That is the first touch point of your buyer – the source of word-of-mouth, the earner media.
Are you doing enough awareness-stage marketing or brand building with the influencers?

Are you ensuring that the people around the men with big pockets are talking about you?
Mistake #2: Ignoring the Future Buyers

Now, I talked about a segment being a cohort of customers satisfying particular criteria. In this regard, one must wonder that can something be done about those who aren't a part of the criteria today but are certainly the future of our market? What sort of efforts must we put in to garner those future customers to create a build-up towards our brand?
The German car manufacturer BMW exemplified it beautifully through one of its marketing campaigns.
In 2016, BMW released a series of action-packed short films by the name The Hire. The series was split up into 8 – 10 episodes and continued for 3 seasons. The various episodes were directed by different short filmmakers and starred Clive Owen as 'The Driver' who was contracted by different people to transport valuable things from one place to another.
I have discussed this particular marketing campaign of theirs in another blog post I wrote in the past – Segmentation and Targeting Success story at BMW. Have a look at that blog post to see a couple of the videos from The Hire series and a complete analysis of the campaign.
What these movies are more than branding content for BMW, one would wonder? What purpose do these serve? Why not a simple and classy advertisement minus the hoo-ha which is pretty much what BMW is all about. The answer lies in the segment that BMW is targeting through these segments.
BMW is targeting the age group of 15 – 22 years, from the mid-teens to those who are yet to make it big in life. The idea is to capture their imagination and position BMW as a brand that connects with them. They get to see the BMW  in the way they love seeing cars the most.
So while no other car manufacturer was targeting this age group, BMW came about and sort of created a palpitation in their minds about the car. So that when they grow and earn their moolah, they aspire for BMW, the car which they fancied about since years.
Are you 'catching them early' in your marketing plan?

Are you on the lookout for nurturing your customers of tomorrow?
Mistake #3: Ignoring the Low-Income Segment

This is true in regards to most of the products and services. You are probably intentionally overlooking or not even considering the low-income segment while marketing your product.
You might be working on the marketing plan for a luxury product and might be thinking this low segment group is certainly not the segment where I'm supposed to market this product. But you could be missing out on a chance to create an aspiration for your luxury product.
Taking an example quoted by Prof. Darren Dahl, Senior Associate Dean at Saunder School of Business of a luxury lingerie brand Agent Provocateur.
Now, Agent Provocateur is a really high-end lingerie brand. In a market research which the brand conducted some years back, it realized something interesting. It came about that not only the super-wealthy women had the desire to buy from the brand but also the women of the really low-income group saw that lingerie to be an aspirational product.
The desire was such that these women would save for months and months together or maybe even years to buy a piece of lingerie from Agent Provocateur.
Are you creating such an aspiration for your product?

Do you think that it is viable to market your product to the low income group?
Mistake #4: Relying on the obvious
When creating the consumer groups, most of the companies tend to rely mostly on the stated needs, purchase behaviors as well as the demographics of their consumers. While this may seem like an effective method to create the consumer groups, it doesn't help when it comes to informed messaging or targeting for the communication purposes.
This is a common market segmentation mistake. Companies that base their market study on these factors are generally tactical but forget to think harder and dig deeper that will help build on a consumer strategy around the business.
The primary reason why such an approach may prove fruitless at the end of the day is; it's unlikely that the customers will make their decisions depending on age or the behavior depicted in the past. And that is why it beats logic to hang on data that doesn't drive the choices of individuals.
The truth is; most of the consumers view the brands and make decisions depending on factors like beliefs, values and how individuals play a vital role in the consumer influence. Therefore, there are fewer things obvious that you would think there are.
The solution for avoiding this market segmentation mistake is to assess attitudes and mindset for the segmentation strategy.
When you use attitude and benefits as a segmentation strategy, you will be able to not only cluster consumers that have certain similarities, but also consumers that have a similar kind of thinking.
Dedicate a considerable chunk of time and effort when exploring your consumer's mind-sets before settling for the actual development of the segmentation survey.
But, how to do this?
Consider using qualitative research methods that will help you unfold the fears, motivations, and aspirations that will visualize the kind of consumers you have. Deepening your understanding of the various mindsets of your consumers before commencing the segmentation study will help you to animate them in a way that will help you develop the strategies driving your business.
With an upfront investment, a thorough exploration of the consumer base will give you a more detailed segmentation which is more distinct. And this will bring in more successes to your pursuits.
Mistake #5: Not using Clean Data when segmenting
Most times, marketing data comes in a massive velocity and volume. As the data keeps trickling in, it becomes hard to determine a correct procedure to create metrics, analyze which data drives performance and which relationships matter.
Ensure that every information is well streamlined, accurate and clean. Below are a few procedures you can use to make this possible;
Take an audit; with the help of a spreadsheet, create a list of any data sources that you feed in your market database. The next step is you determine how often they may need updates and what are the data fields supplied by every data source.
You can decide on the data field that is not needed and which one will require constant updates.
You can also find out new places where to collect data that will help in your segmentation (for instance your Instagram page can be a good source or your official website)
Next, make simple a list of the data sections you will require to segment your clients and any other platform you may need to collect the data either through surveys, blogs, emails, social media, web forms or any other avenues.
I know when you start this process, it may seem like a lot of work but remember the final results are more beneficial and this will be just a one-time thing.
Strengthen your Data; Now that you've created a list of different data fields and the data sources, you will need to determine which of the data sources are correct and identify any duplicate fields.
Last but not least, clean each of your data fields; once you are through with the above procedure, any of these sources that pass as optional data fields, for instance, middle phone numbers or initials, can be eliminated. They're merely cluttering your data.
Mistake #6: Relying on the old Segments while everything is new
In the past few years, industries have undergone so many changes in the segmentation strategies. Whatever was the ultimate template for success a few years ago can now be your recipe for failure.
These categories are changing so rapidly, and the consumer's expectations, preferences as well as the wants are no exception.
And still, you will find that most of the companies today are still relying on the strategies from years ago to build on this current segmentation strategy. For that reason, an old playbook will be your downfall in this fast-changing environment.
This is one of the biggest market segmentation mistakes.
Some segmentation just needs to be scrapped off though that will not always be the solution here. All in all, if your company lies in the fast-changing categories, you need to stay updated and make the necessary changes to your market segmentation strategies.
Schedule an annual audit to take care of the segments by ensuring that they still fit and are valid.
Mistake #7: Segmentations that is not similar to the goals of your Business
This on of all market segmentation mistakes happens to be another common one when trying to build market segmentation. While you are trying to generate market segments, make sure that they are targeted and in line with most of the goals in your business.
After that, you can now market to the segments once you have a precise definition according to your business goals.
For instance, if you have segments that are based on customer renewals, so you will have to send them ideas that are based on renewal related topics and any promotional offer if your primary focus is on renewal.
All in all, once your audience renews their accounts, you need to move the audience to a different segment and then send the audience information based on their criteria or segmentation. Therefore, goals are should be in line with your business goals.
Below is a smart way to determine and set the goals of your business;
Measurable; you will need to define specific criteria to measure your goal's success.
Specific; select goals that are specific and clear to everyone in your work team that is from frontline staffs to senior management so that everyone focuses towards a common objective
Achievable; Make sure to set reasonable goals.
Relevant; be sure to make goals that are compatible with your stakeholders' desire, for instance, product development or sales.
Time-based; when you start setting your goals, make sure to give them a start as well as an end. This way, you will be able to have a precise evaluation of the goal's success.
Mistake #8: Creating segments that are based on scarce data
Well, without a doubt, if you are going to create segments that are based on small amounts of variables and data fields, then your marketing segmentation strategy will naturally be influenced negatively by that specific factor.
You should at least access your target audience regularly as well as the customer profile too. Additionally, evaluate segments to be able to recognize any new information you will require to grab during the data collection process. The result will be a more effective marketing strategy.
Mistake #9: You have not put in a time factor
Time factor should be one of your most primary features when planning for market segmentation. You should segment your target market according to the given engagement time.
Overall, every segment has a different response especially when analyzed at different times of the day or different days of the week. For instance, you will find that most of the professional workers are more prone to answer to email notifications during weekday nights while moms who spend their days in the house are prone to respond during a weekday in the afternoons. Take your time to go through the best timing.
The time factor is more pronounced when you are engaging in social media platforms to reach out to your audience since you will have to upload your new updates when the time is right.
Additionally, not all types of social media networks work in a similar way. Therefore, you may need to make adjustments to your time depending on the platform you are planning to use.
Mistake #10: Defining the segments too broadly
And finally, the whole idea behind market segmentation is to focus on the users in a way that will increase the engagement and conversions. For that reason, you should avoid making the segments too broad.
Too broad and vague segments are more likely to waste your time as well as your resources. This may, in turn, make you miss out on the specific segments hence disadvantaging the business because your segments are placed in narrowly.
Initially, the segments were introduced to define the different audience groups and reduce them into smaller specific groups with shared characteristics. The demographics were then the most popular way to define the particular groups.
In our current world, the segments are now more flexible, and there are more emerging ways used to segment the different groups. Some of the strategies today like the personalized emails can only work if the company targets the prospective audience accurately.
Conclusion
Taking a closer look at your segmentation to reconsider these 10 market segments could be a worthwhile exercise. These segments can not only give your marketing an edge but could go a long way in building brands that last for long.
Found the article interesting? Share it with your friends: