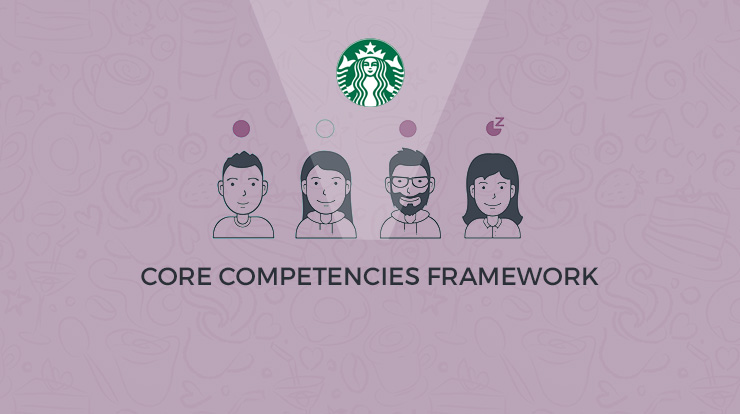 Starbucks makes for a great example of a good marketing strategy. But what makes a good marketing strategy really good is something that you need to understand. After writing the article on Zoho's Marketing Strategy, I came across this – the Core Competency Framework.
This is one more in the series of important marketing frameworks that I am sharing with you. At the bottom of this article, you can access all the other frameworks which I have discussed.
There is a common thread between the Zoho and Starbuck examples that really gives away the answer to what makes a marketing strategy great.
Also Read: Zoho Corporation – the best Marketing Strategy example? [Case Study]
I plan to extend the idea of strategic marketing by sharing with you the idea behind why Starbucks wants to be your 'third place' after home and office.
More than just being an example of this framework, the Starbucks story serves really well as an example of a case of good strategic marketing.
One of the things that we learned in the Zoho Corporation article last week was that the marketing strategy shouldn't be just a cosmetic tool.
For any marketing strategy to really lead you to success, it needs to come from much more within the organization. And not just from a marketer's annual presentation deck.
Specifically, any marketing strategy needs to be aligned with four really important aspects of the organization. These are the Culture, Systems, Structure, and People.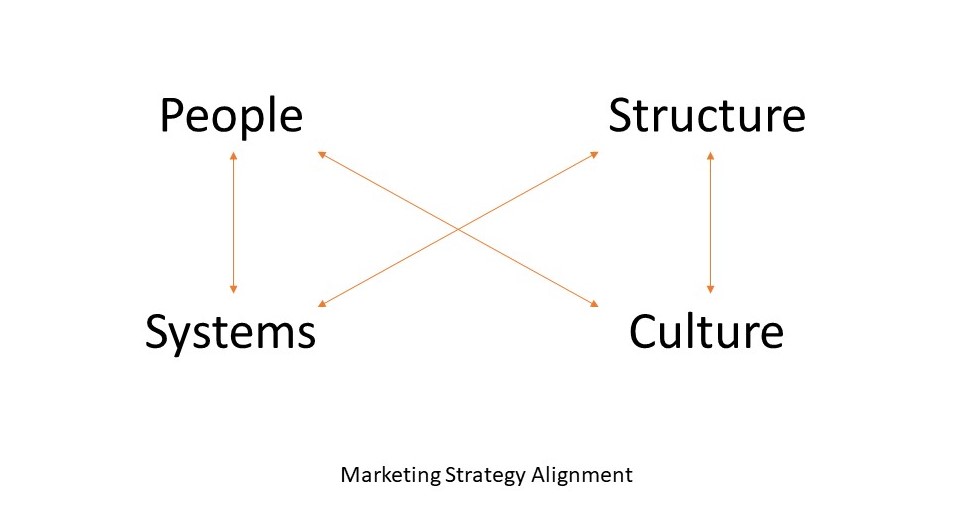 So today I want us to look at a key framework that is based on exactly this – the Core Competency framework or the competency framework.
Starbucks wants to be the 'third place' in your life
Back in Delhi, I used to frequent the Starbucks at Sangam Courtyard multiple times a week. This was when I had finally taken a break from work at my office and I was counting my days left before joining my B-school.
During this time I was making myself useful by working on a startup project with a friend of mine. And Starbucks seemed to me as the perfect choice for putting together hours and hours of work.
Also, my pretentious self was fascinated by the image of working out of cafes. The laptop fired up, earphones plugged in, and I whiling away the time with on their plush sofa.
Frankly, each day that I was going to Starbucks, it was only for a few things that made up the entire experience for me. Things like comfortable sofas, sweet aromas, calm environment and peace of mind. The free Wifi was a bonus.
And now that I think about it now, Starbucks was never about coffee for me. Never.
It was my place for leisure, whenever I wanted to isolate myself from a lot of things to work on something important. Coffee was something that I bought from them just to subdue my guilt of occupying a part of their seating capacity.
But why not 'the best coffee'?
Starbucks promises to be your third place after home and work. It does its homework in what the customers need and delivers on that promise like a charm. My experience at Starbucks is a small testimony of that.
But, what would it be like if Starbucks promise you to serve you 'the best coffee you will ever have in the world'?
Probably, you, I and many others would have believed that. Because a cup of coffee that I am buying for 300 rupees better be the best damn coffee in the world.
But then here's the thing.
Let's be honest. You and I, we have had better coffee at places less famous than Starbucks. If I were to recall my best coffee, probably the images of so many not-so-famous cafes might flash in front of my eyes.
And I am sure that if even you begin to think, setting aside the lens of price positioning that makes expensive equal to great, you would find a great coffee experience that was most likely not Starbucks.
Also Read: Price Positioning – Why my expensive Fossil is better than your Fastrack
So, the answer to why Starbucks wants to be your third place instead of being the place of which sells the world's best coffee is this.
It is because Starbucks knows that they would do a better job in positioning themselves around something which really comes from within the organisation and not something which does not.
What comes from within the organization is a great sense of consumer understanding, merchandising and retailing. And these inherent strengths come together to bring out the brilliant 'third place' experience.
What is the Core Competency Framework?
Having set the context with the Starbucks example, this is a good time to discuss the Core Competency Framework. To begin with, you must realize that this is a framework that is borrowed from the world of strategy.
But given the kind of positioning and marketing strategy failures that we see in the field of marketing, it becomes crucial for a marketer to know of this framework.
To put it briefly, the Core Competency Framework is a model which describes excellence in performance within an organization which eventually drives key strategic decisions.
The purpose of this framework is to highlight a number of competencies i.e. the best abilities and capabilities of the organization.
If you were to use this framework, you need to start by putting down the company's values, in words, that capture the true meaning. With these values setting the context, you need to evaluate the capabilities and the resources of the organization.
Capabilities relate to the possibility of building core competencies. Resources, on the other hand, relate to the resources that are needed to develop or acquire skills and technologies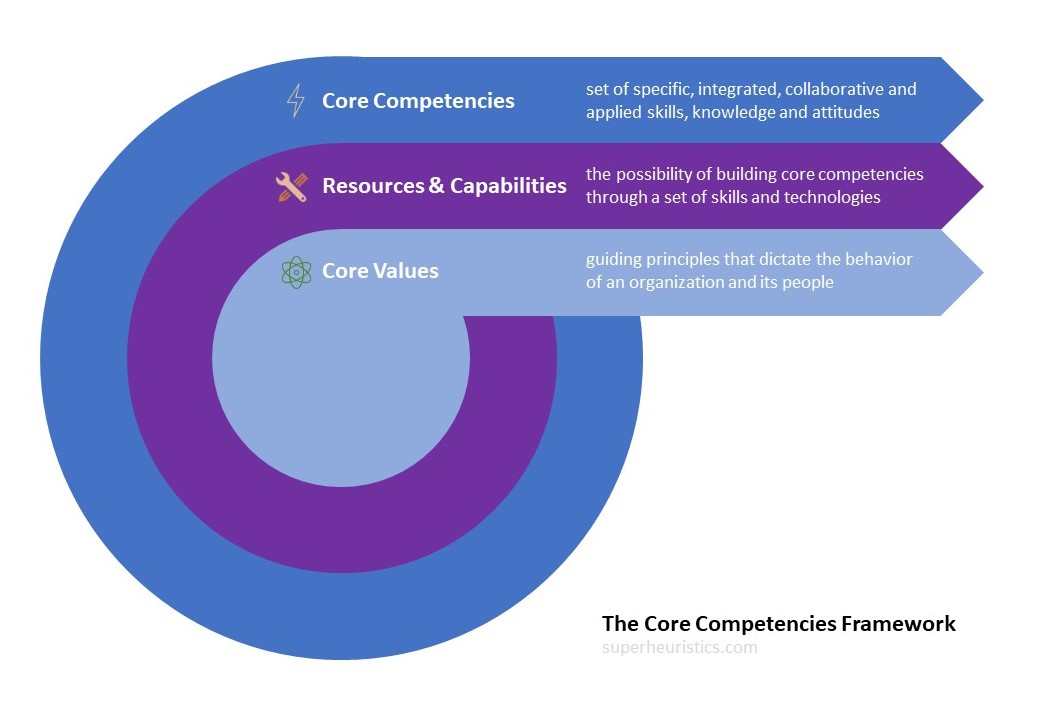 These capabilities and resources, with the backdrop of values, will give you the core competencies.
Each of these core competencies defines, in general, working behavior excellence, which in turn establishes a benchmark based on which you as a marketer should create your marketing strategies.
How to apply the Core Competency Framework in Marketing?
The core competency framework in marketing is focused on a set of specific, integrated, collaborative and applied skills, knowledge and attitudes. The core competency framework allows an organization to not only focus on one aspect such as fighting off competition, but rather on a mix of strategic outcomes designed to effectively create competitive space.
Through this framework, the organization's personnel and you as a marketer are cognizant about what are the highlights of your company's purpose and identity.
Further, every marketing strategy, or even every single marketing communication piece, is in alignment with that purpose and identity.
Now, this seems as extremely intuitive and commonsensical. But as it turns out companies do goof up in this aspect.
Zoho Corporation is an example of how this point has been taken care of. But there are many examples of companies with confused positioning, misdirected marketing strategies and rudderless campaign that have led to total failures.
Conclusion
From a marketing standpoint, a sound core competency framework will enable the marketing manager to ensure that the marketing strategy has to be aligned with the culture, systems, structure, and the people, which will, in turn, enhance marketing success.
In the article, I shared the example of Starbucks to explain how its positioning and marketing strategy are in alignment with the company's core competencies.
I also mentioned the example of Zoho Corporation and how it also brings out a great case for a good marketing strategy. However, while
we have these companies who understood that marketing strategies have to be much more deep-rooted within the organization, there are other companies that mess up on this understanding.
One of my next articles will be a detailed analysis of one such company that proves how important it is to stick this philosophy or core competency.
Read about the other important marketing frameworks here.
Found the article interesting? Share it with your friends: